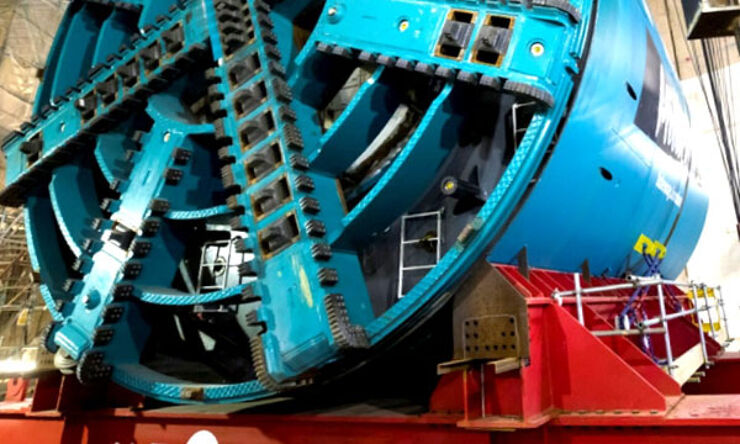 The six tunnel boring machines (TBMs) for the £4.2 billion NEC-procured Thames Tideway 'super sewer' in London UK have been bought from France, Germany and the UK using the NEC3 Supply Contract. Ordered in 2015, the first of the six machines started tunnelling the 25km long, 7.2m diameter, 35–65m deep sewer under the tidal River Thames in November 2018.
Worth an average of £15 million each, the TBMs are named after inspirational London women from the twentieth century. The largest four – Millicent and Ursula (8.84m diameter), Selina (8.8m diameter) and Rachel (8.0m diameter) – are driving the main tunnel between shafts at Acton storm tanks in the west and Abbey Mills pumping station in the east. Annie (6.6m diameter) is driving a 4.5km connection from a shaft at Bermondsey to Greenwich, while Charlotte (3.4m diameter) is making a 1.1km long connection from a shaft at Fulham to Wandsworth.
French and German suppliers
The Millicent and Ursula earth-pressurebalance machines (EPBM) were supplied by NFM Technologies in Le Creusot, France to FLO, a Ferrovial Agroman UK and Laing O'Rourke joint venture. They were shipped up the Thames via Hamburg, Germany in September 2018. Together they are driving the 12.6km central section which FLO is delivering under an NEC3 Engineering and Construction Contract (ECC) Option C (target contract with activity schedule) for licenced infrastructure provider Tideway. Launched in opposite directions from a shaft in Battersea, they weigh some 1300t each and measure over 100m long.
EPBM Rachel and slurry TBMs Selina and Annie were made by Herrenknecht in Kehl, Germany. Rachel arrived in 2017 and in early 2019 started driving the 7km west section from Fulham to Acton, which is being delivered under ECC Option C by BMB, a Balfour Beatty, Morgan Sindall and Bam Nuttall joint venture. In 2020 Selina and Annie will start driving the 5.5km east section from Bermondsey to Abbey Mills and the Greenwich connection respectively. Both drives are being delivered by CVB, a Costain, Vinci and Bachy Soletanche joint venture, also under ECC Option C.
Charlotte is a Lovat EPBM which has been refurbished at Morgan Sindall's factory in Staffordshire. In is currently driving the Frogmore connection to Wandsworth, which forms part of BMB's west section contract. All tunnelling is due to be completed by 2021 and the whole project should be operational by 2023. It will intercept 34 existing combined sewer overflows, provide a storage capacity of 1.6 million m3 and reduce untreated discharges into the Thames from an average of 18 million m3 a year to just 2.4 million m3.
Key subcontracts
The Tideway programme manager and NEC project manager Jacobs, engaged under an NEC3 Professional Services Contract, was closely involved in the review and acceptance of the NEC3 Supply Contracts for the six TBMs. The TBM supply contracts were all classified as critical packages, which means they had critical importance to successful achievement of the project's objectives. They were also defined in the main NEC3 ECC Option C works contracts as 'key subcontracts', requiring the contractors to seek the project manager's acceptance prior to issuing tenders or appointing suppliers.
Furthermore, the TBMs were defined as 'exceptional equipment' and were therefore compensated as subcontracts rather than operating the schedule of cost components, as would traditionally been done to ascertain the amount due for equipment (though the direct fee and subcontractor fee percentages would be the same).
Supply contracts
There were no significant concerns expressed by the TBM suppliers when tendering for the NEC3 Supply Contracts at prequalification stage, and expressions of interest were received from tenderers (all from outside the UK) with adequate qualifications. The contracts excluded legal jurisdiction and dispute resolution procedures under secondary option W2.
Herrenknecht had already supplied eight TBMs to the NEC-procured London Crossrail project and one for the similarly procured Lee Tunnel project, which Tideway will flow into, so was familiar with the provisions and administration of the NEC3 Supply Contract. NFM Technologies had not previously had NEC3 exposure but recognised its obligations under the contract.
Both successful suppliers were fully on board with the core values of NEC, including the clause 10.1 obligation to act, 'in a spirit of mutual trust and co-operation'. The NEC3 Supply Contracts included the transportation of the TBMs with associated key dates and delay damages. The contracts provided for the shields and cutterheads to be transported by ship and the back-up system components by a mix of ferry, lorry and barge.
Effective delivery
According to Tideway programme delivery director Andy Alder, 'The use of the NEC3 Supply Contract on Tideway for the TBM procurement has been very effective, with the flexibility to tailor the contracts to meet project needs. This included accommodating the logistical complexities of transporting TBMs over 100m long from Europe to the heart of London, as well as removing the financial risk from suppliers prior to delivery.
'It has been demonstrated on Tideway that the NEC3 Supply Contract encouraged the right philosophy to deliver these high-risk, high-profile subcontracts collaboratively and therefore efficiently. NEC's use of simple English has supported its application for the procurement of the TBMs with international suppliers without the need of costly legal intervention.'