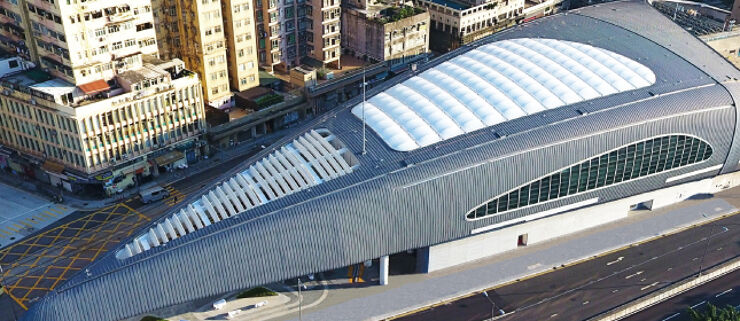 In 2014, MTR awarded Paul Y the main contract for the Kennedy Town Swimming Pool phase II development in Hong Kong under a HK$671 million (£68 million) NEC3 Engineering and Construction Contract (ECC) Option A (priced contract with activity schedule).
The contractor's management extended their full support to the project team, being aware that the partnering principles and good working practices promoted by MTR for many years were effectively bound into the NEC contract − which was being trialled for the first time by MTR.
Ultimately the project was a great success: it was completed 2.5 weeks ahead of schedule, the final account was agreed at completion, it won the NEC Large Project of the Year Award in 2016 and Paul Y receiving a high commendation for the NEC Contractor of the Year Award in 2017.
Changing mindsets
However, there were some teething problems at the outset and initial efforts to develop an environment of mutual trust and collaboration were unproductive. Staff working on the project failed to understand fully the collaborative approach needed to manage NEC and continued to defend their own interests to protect contractual positions. Fortunately the project team leaders soon became aware of the need for a fundamental mindset change through all levels of the team.
Workshops were quickly arranged to educate all staff on NEC behavioural requirements and to build up trust. The project team leaders also worked together collaboratively to set an example for other team members to follow. The contractor's staff were encouraged to be proactive in reporting design deficiency issues and the design team were praised for early resolution rather than criticised for the original errors.
Solutions to design and construction issues were discussed openly at team meetings attended by the employer, designer and contractors, and solutions were discussed then and there, jointly through working meetings, rather than taken away for review, amendment, rejection, amendment, submission, further disagreement and agreement and so on, which is the normal silo-approach adopted in conventional 'us and them' contract forms.
Pre-empting early warnings
As the team became accustomed to the correct NEC working approach, they came to know each other better. Many issues that would normally have been formally submitted causing delay and friction in a traditional contractual environment were resolved 'off line' in one-on-one discussions without even making it into the NEC early warning system.
The team went further and introduced a 'potential early warning' (PEW) system to preempt straightforward technical issues at the outset, thus avoiding unnecessary discussion of compensation events at design meetings. In the event of PEW confirmation of a compensation event, the team leader who raised the issue would immediately be assigned as the task owner. They would then proactively lead the site planner and commercial team to work out details of its effect on programme and price, and prepare the team for a formal risk-reduction meeting.
Balancing cashflow
Continuous training in NEC workflow resulted in improvements in team efficiency throughout the project. An Option A activity schedule payment system enabled the contractor to align the planned interim payment with the planned work schedule to maintain good cash flow. The contractor put in extra effort to complete the weekly critical activities to balance expenditure with the paid activities. The planning and commercial team prepared a weekly list of the activities with the amount due required for completion.
The project manager also collaborated with the team to find solutions for difficulties that would obstruct completion of critical activities. The project manager allocated and monitored team members and subcontractors to complete the assigned individual tasks with the same team goal of achieving the macro objective of project cash-flow balancing.
One-team mentality
Client, contractor and consultant teams shared the same office and socialised together. Partnering events were genuine celebrations that project team members looked forward to and enjoyed. They were held regularly and were always well attended by staff from all levels, from senior management right down to the site security guards.
Bonding was evident across the team, with members trying their best to help each other and the project, with greater understanding of each other's needs. Paul Y demonstrated that projects using NEC can effectively engender a one-team mentality with tangible benefits to administrational efficiency, dispute reduction and project outcomes.
Gearing up for NEC4
The Hong Kong government is encouraging the use of NEC3 and, more recently, NEC4 in its projects and has recently published practice notes and standard amendments for general use on all NEC projects. With further adoption by clients such as MTR, the construction industry in Hong Kong will become increasingly familiar with the changes in project management and the collaborative practices necessary to implement NEC contracts successfully.
Future performance of Hong Kong's NEC projects, where the parties are already aware of the benefits and requirements of collaboration, show even greater potential for improvement. Paul Y equips its project managers for effective implementation of NEC contracts by providing them with extensive formal NEC training and accreditation in both NEC3 and NEC4 contracts.
NEC users should be adept in not only taking steps to modify the contracts carefully when amendment is considered essential, but also in making good use of the mechanisms in the contract for proactive time and cost management. These procedures require full engagement of the team throughout a project.
In recent times, Paul Y has participated in numerous NEC contract tendering works. Paul Y hopes to continuously demonstrate the benefit of NEC contracts for the future of Hong Kong's construction industry.