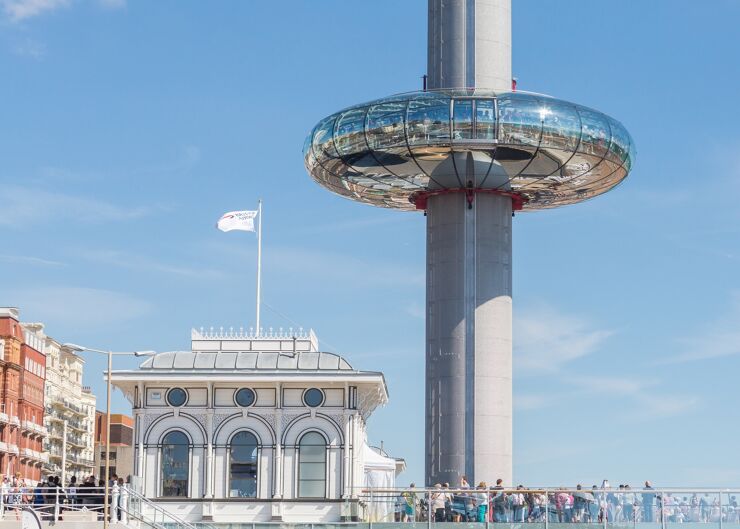 NEC has once again dominated the British Construction Industry Awards, which was held at the Grosvenor House Hotel in London on 11 October 2017. British projects procured by NEC contracts won five of the 12 main UK project awards, including the Judges Special Award for the £38 million British Airways i360 visitor attraction in Brighton.

Delivered by a Dutch, French and English team under an NEC3 Engineering and Construction Contract Option A (priced contract with activity schedule), the judges described the 162 m tall vertical cable car as a 'world first that succeeds in every aspect' and, 'an amazing collaboration of engineering and architecture.'

London Underground's £500 million ECC Option C (target contract with activity schedule) Tottenham Court Road station upgrade won the Major Civil Engineering Project of the Year Award and the City of London's £6 million ECC Option A Tower Bridge bascule re-decking and approach viaduct waterproofing won the Civil Engineering Project of the Year (up to £10 million) Award.

The Economic Infrastructure Project of the Year Project Award went to Lancashire County Council's £140 million ECC Option C Heysham to M6 Link Road project and the winner of the Carbon Reduction Project of the Year Award was Anglian Water's £28 million Graham Water Treatment Works resilience project.

Two NEC projects were also highly commended for Carbon Reduction Project of the Year Award. These were Barn Energy/Yorkshire Hydropower's £5.3 million ECC Option A Krikthorpe hydropower station and the University of Cambridge's £38.5 million ECC Option A David Attenborough Building refurbishment.

By value NEC contracts delivered nearly three quarters (£712 million) of the winning £1 billion total. The other contract forms used were JCT (four) and one each for PPP, Scottish Government NPD and bespoke. Of the 47 shortlisted UK projects, 16 were delivered by NEC contacts and accounted for £1.2 billion of the £3 billion total. The seven shortlisted bespoke contracts were worth £754 m with £559 million for 19 JCT projects. Other forms used were Fidic, ICC and ICE.

| | | | | |
| --- | --- | --- | --- | --- |
| Project | Result | Category | Contract | Cost £ million |
| British Airways i360 | Winner of Judges Special Award | Building Project of the Year (£10m to £50m) | NEC3 ECC Option A | 38 |
| Tower Bridge- Bascule Re-decking and Approach Viaduct Waterproofing | Winner of category | Civil Engineering Project of the Year (up to £10m) | NEC3 ECC option A | 6.0 |
| Grafham Resilience | Winner of Carbon Reduction Project of the Year Award | Civil Engineering Project of the Year (£10m to £50m) | NEC3 ECC Option C | 28.0 |
| Heysham to M6 Link Road | Winner of Economic Infrastructure Project of the Year Award | Major Civil Engineering Project of the Year (over £50m) | NEC3 ECC option C | 140 |
| Tottenham Court Road Station Upgrade | Winner of category | Major Civil Engineering Project of the Year (over £50m) | NEC3 ECC Option C | 500 |