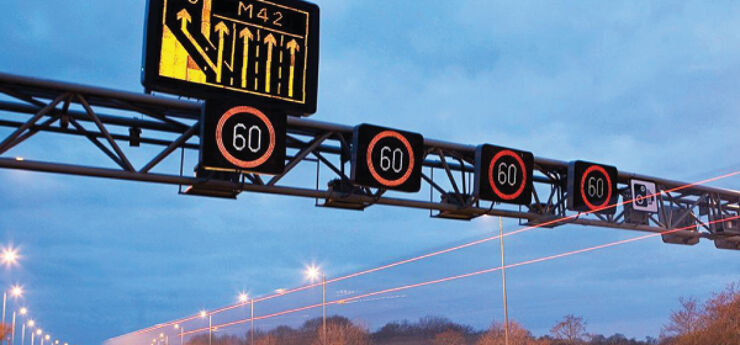 NEC Users' Group platinum member Highways England has chosen to use the NEC4 Alliance Contract (ALC) to deliver up to £7 billion of smart motorways work over the next decade.
The government-owned company will create a hybrid alliance with six partners to develop, design and construct England's smart motorways programme for 10.5 years. The aim is to increase lane capacity on England's 7000km strategic road network using roadside technology and converting hard shoulders to all-lane running.
There will be a strong focus in the alliance on standardisation and offsite construction, including creation of a central production hub, and partners will have specific roles. One will be responsible for managing the production hub while two will cover digital design (north and south) and three will provide on-site assembly (north, midlands and south).
The production management and designs roles are worth up to £350 million each while the total budget for the on-site assembly 'lot' is up to £5.95 billion. Initial tenders were submitted in March 2019 and the winning bidders will be announced in early 2020.
Model contract
A Highways England spokesperson said, 'The majority of our contracts are based on NEC and, as a major user, the evolution of NEC3 to NEC4 made the transition straightforward – a model contract document that can be customised to reflect our needs. As such the Smart Motorways Programme Alliance will be based on the NEC4 Alliance Contract but with a bespoke work allocation process.
'Since we require potential partners to tender for a place on individual lots and not as preformed consortia for the whole, this technically creates a 'framework' for the purpose of regulation 33 of the Public Contracts Regulations 2015.
'We have therefore introduced a more detailed work allocation process than currently exists in option X26 of the NEC4 Alliance Contract. This bespoke drafting avoids the need for mini-competitions between partners while still complying with regulation 33 and maintaining the ethos of a pure alliance model.
'Overall the intention in drafting has been to preserve as much of the core principles of the NEC4 Alliance Contract as feasible in light of Highways England's requirements'.
ECC and TSC contracts
The Smart Motorways Programme Alliance is the second part of Highways England's new 'Routes to Market' procurement approach. This started last year with the award of 13 framework contracts worth nearly £9 billion for delivery of major motorway and A-road projects using the NEC4 Engineering and Construction Contract Option C (target contract with activity schedule).
Highways England has also recently let a £205 million road and bridge maintenance framework using the NEC4 Term Service Contract. Twenty contractors covering 10 areas of work started operating under their four-year term contracts in April 2019.
The framework covers all Highways England's roads and bridges structures in Greater Manchester, Merseyside, Cheshire and South Lancashire. The specific work areas include road lighting, civil engineering, technology, landscaping, road markings, barriers, drainage, temporary traffic management, structures and expansion joints.
Planned maintenance and renewal schemes will be instructed as work orders using NEC4 TSC option C (target contract with price list), while rapid response and other works − such as early contractor involvement and community schemes − will be let using NEC4 TSC option E (cost reimbursable contract).