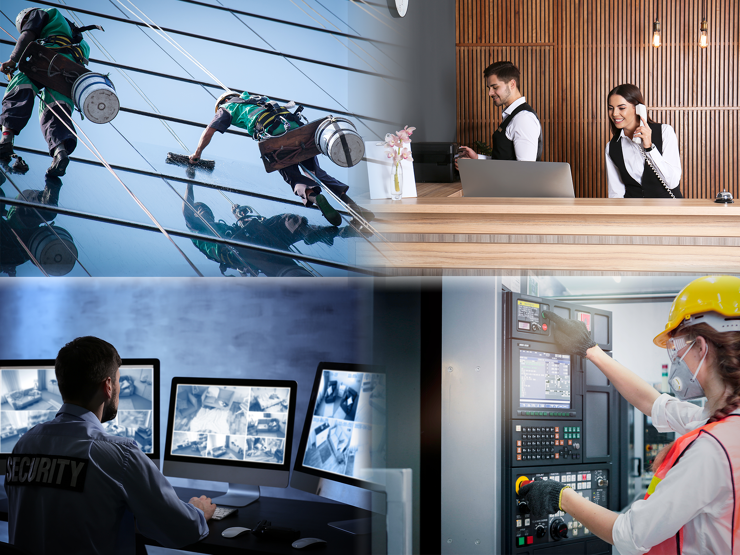 Launched exactly two years ago in January 2021, the NEC4 Facilities Management Contract (FMC) has proved to be a valuable addition to the NEC contract suite.
As described in detail in a special issue of this newsletter published in December 2022 (Issue 122), the contract is providing assurance to a growing number of facilities management (FM) clients. It gives them a tried and tested contract form that clearly sets out the contractual arrangements between parties and covers a diverse range of FM services and sectors, both in the UK and internationally.
FM Contract Challenges
The reality is that FM service delivery has not always been smooth and an exemplar of industry capabilities. While built asset owners often get fantastic support from their FM service providers, there have been systemic issues with contractual relations and expectations. These need to be addressed urgently if the sector is to realise its full potential and truly showcase the great work FM teams can deliver.

For example, partnership and collaboration is not always experienced over the life of a typical FM contract. The initial ground swell of positivity and progressive behaviours can soon be replaced by complacency and dissatisfaction, such that contracts can become overly transactional and only focused on cost. Furthermore, if FM contract performance data is not structured correctly and maintained accurately over time, there can be a lack of transparency in what is being delivered and what is being paid for, leading to trust issues.


In addition there can be an imbalance of understanding of how the contract works and what the precise deliverables are from both parties. Historically FM contracts have struggled to track changes related to service delivery and scope accurately, and there have been issues with dealing with the unknown – both in day-to-day, reactive work and with changes in law and scope. Finally there is often a lack of common interest and shared goals between the parties, so even if local relationships are strong, the FM cannot maximise its potential to support the client and deliver outstanding service.
Drivers for change
With the advent of international standards both in FM and adjacent sectors such as asset management, there is now an increasing awareness of the need for effective professional approaches to the management of assets and facilities to ensure organisations provide built environment users with safe, secure and fit-for- purpose buildings that enable them to be as productive as possible.


Other drivers for change include external sector-wide issues such as: environmental targets and the focus on net zero carbon dioxide emissions and climate change; increasing regulation and need for compliance; volatility and increased risk in global supply chains; increased expectations from building users on how built environments support their needs; and the skills, training and knowledge FM professionals now need to keep pace with industry developments, particularly technology.


The challenges are not easy to resolve, and the NEC4 FMC should not be seen as a silver bullet or panacea however well written, instigated or managed it may be. But there are key principles inherent in the NEC approach that make the NEC4 FMC stand apart. They embody the sorts of positive behaviours and joined-up approach that will help the FM sector achieve its ambitions, and they wholly align with best-practice procurement approaches in FM.
Clarity and Collaboration
FM clients need clarity on how to structure and measure their requirements. They need clearly set targets for achievement that translate into specific measurable activities for service providers to understand, so that everyone can experience and benefit from the positive outcomes. In 2018 the International Organization for Standardization(ISO) published the first of the ISO 41000 facility management suite, the first time the profession has been represented in ISO standards and a global consensus achieved in language and approach.

The NEC4 suite of contracts is also a globally recognised standard, renowned for championing clear and consistent language in use. The format and approach of the NEC4 FMC provides the basis for clearly written and understood contract terms that all FM stakeholders can understand.


The challenges highlighted above also demand an integrated collaborative approach to overcoming them. FM has had a chequered history in this space, just like other built environment professions. In my experience much of this friction has occurred due to the different interpretations and misunderstanding of what is to be delivered for a particular sum of money. But the wide variety of contract forms, schedule structures and content descriptions (e.g. specification and performance mechanism) across the sector has hampered FM contracts from delivering what the industry sorely needs − an integrated common approach to delivering a range of essential services that consistently demonstrate value for money.

All parties have their part to play in this, clients and service providers, whether as main party to a contract or as part of the supply chain. Furthermore integrated FM contracts are now considering outcomes rather than the more transactional outputs, reflecting the maturing expectations from client, the trust placed in service providers to deliver what is needed, and a recognition that FM impacts more than bricks and mortar but the people that occupy the space between. The NEC4 FMC requires all parties to act in a 'spirit of mutual trust and co-operation', working collaboratively to achieve the best outcomes possible.
Flexibility, good management and support
The important principle of flexibility in how an FM contract can be put together – again reflecting the variety of needs across the FM industry – as well as the importance of providing a framework for good management practices, are further examples of how the NEC4 FMC approach to contracting is particularly well placed to support FM.

Often railed against for being something that 'gets in the way of doing the job' if undertaken in a structured and diligent manner, the administration of an FM contract can help to clarify responsibilities, both client and service provider, and avoid misinterpretation or misaligned expectations. It is a crucial element of successful FM service delivery irrespective of the scale or length of contract term and should be seen as an aide to successful contract relationships.

The requirements the NEC4 FMC places on the parties to work together helps to improve contract administration as well as reduce administration costs. However, built environment professionals accountable for FM service delivery are not always able to dedicate their full working week to understanding contract preparation and management. Guidance and support in this space is therefore very important to help protagonists understand key elements of FM contracts – often related to scope, performance measurement or pricing.

NEC continues to develop material that supports NEC4 FMC clients to tailor contract clauses to focus on some of the key issues noted here, as well as other increasingly important areas such as social value and of course, the environment.
Conclusion
All of the industry challenges noted above are underpinned by a common thread of uncertainty, of not knowing enough of what is going to come next and how to prepare for it. But with a clearly laid out form of contract, with terms recognised and understood by clients and service providers alike, and drafted by people who understand what good looks like, the growing number of NEC4 FMC users can look forward to the future with confidence.