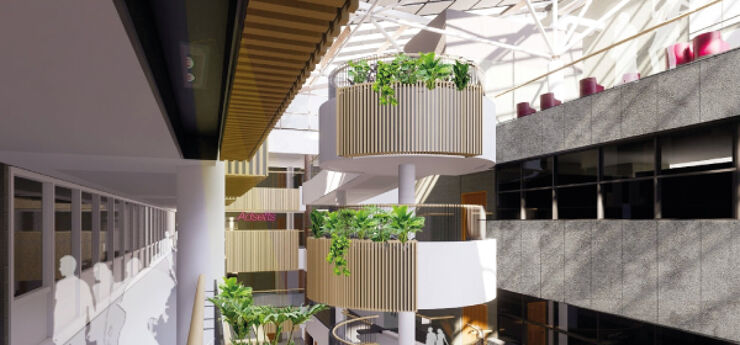 Sheffield Hallam University in northern England has chosen the NEC4 Alliance Contract (ALC) for the first phase of a proposed £700 million, 20-year redevelopment of its city centre campus.
The three partner suppliers appointed for the £220 million, 5-year first phase are a BDP−Arup joint venture for design, Bam for construction and CBRE for facilities management. Mace and Fulcrum are providing scheme and programme management services.
The so-called Hallam Alliance started work in June on renovations to the university's Owen Building atrium. A variety of new buildings, teaching facilities, staff facilities and green spaces for the Sheffield Business School and social sciences will follow.
Delivering long-term value
Daniel Ladbury, the university's director of estates and facilities, says the partners are working collaboratively through all stages of design, construction and operation to maximise transformation and deliver best long-term value.
'The model provides an opportunity to reform the way major projects are created and designed. The collaborative and cohesive mindset in construction procurement and delivery is designed to better deliver well-designed, well-built and well-managed buildings.
'Crucially, the partnership shares profits and losses so that its incentives to work efficiently are aligned from the outset and throughout the delivery of the schemes. The alliance will operate under a clear governance structure, with formal cooperative boards which require unanimous agreement, making decisions on issues on a "best for project" basis.'
Aligned goals and objectives
Bam construction director Paul Cleminson says, 'This new type of framework means the clients, designers, construction contractors and facilities management providers all have the same goals and objectives, with benefits such as transparent open-book costs approach, and improved risk management. This builds mutual trust which will then the drive efficiencies, standardisation and continuous improvement that we are all seeking.'
Sheffield Hallam is the first university to adopt NEC4 ALC and hopes its new alliance will inspire others to follow suit. Other users of NEC4 ALC are EDF and its Chinese partner CGN for £1 billion of services on the £22 billion Hinkley Point C nuclear power station, and Highways England for its £7 billion smart motorways programme.