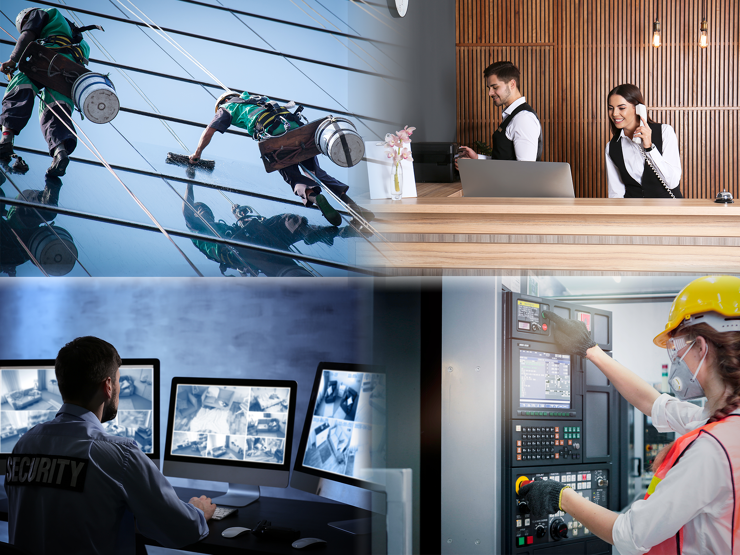 John Welch is Deputy Director of Crown Commercial Service (CCS) for Construction and NEC Users' Group chair. Here he shares his predictions for what's in store for the facilities management (FM) sector this year.
Procurement contracts must now take a flexible approach to cope with industry changes
Buyers will need to consider what they want to be delivered from an FM services contract, but also how they will enable the supplier to ensure quality, innovation, appropriate use of technology and sustainability are adhered to during the contract period.
Setting the procurement strategy to take account of the impacts of COVID; reduced building occupation, cleaning regimes and smarter ways of working will reap greater benefits for both parties.
Legal changes, such as National Living Wage, will need to be considered during the contract term, as this will affect staffing solutions, recruitment and retention, which may be a considerable challenge where there is a reliance on low skill-sets and present opportunities to transfer into other higher paying roles.
Skills shortages also need to be given consideration for technical disciplines; the buyer will need to consider how they can enable the supplier to provide best value where this is a particular issue.
Suppliers often feedback that longer term contracts drive better value. The general market trend is a preference for 3-5 year contracts, although some customers are now seeking longer term contracts to encourage innovation and investment from suppliers by taking a strategic approach to procurement and contracting behaviours.
Longer term contracts allow for suppliers to develop relationships with customers, understanding the culture of the organisation and allowing more time for return on investment for project works, or asset replacement and maintenance strategies.
There is a definite trend to extend contracts where the option is available, maintaining service assurance and reducing the impact of undertaking complex procurement activities, due the impact of COVID and other pressures on buyers and suppliers.
Buyers and suppliers have undoubtedly been impacted by the pandemic, which has meant a change to the way that buildings are used and FM services are provided, so procurement of services needs to take account of the customer needs and supplier risks when considering opportunities in the market.
What the future holds for procurement in the FM sector
There is more emphasis on quality and sustainability throughout the contract period than in previous years, where there has been more of a drive to reduce costs.
Buyer reference to The Sourcing playbook, alongside a more strategic supplier approach to selective bidding, will benefit the market to deliver more sustainable contracting solutions.
Fewer contracts which constrain suppliers financially and do not deliver the output requirements for the buyer should be the clear and obvious goal. More focus on sharing risk or allocating appropriate risk to each party, for example, the Crown Commercial Service (CCS) FM framework includes clauses to allow suppliers to increase prices in-contract, to account for change in Government policies such as the introduction of national living wage.
Government departments are considering contract solutions that focus upon changes in the market which will encourage recovery from the COVID pandemic, such as regional contracts; to enable SME opportunities and to comply with Carbon Net Zero requirements, reducing the impact of travel / commuting.
We'll also see more of a focus on social value; introducing apprenticeship schemes and encouraging employment from underrepresented communities and areas. Enabling these types of opportunities is key to the work that CCS are undertaking to develop commercial agreements and support the national recovery.
What are the most significant changes over the last 10 years in the industry?
The fall-out caused by the collapse of Carillion cannot be underestimated. The sector was renowned for low profit margins for suppliers, and may not change in the near future as the industry remains as competitive. However, the Carillion collapse has introduced a more cautious approach from buyers; requiring assurance of supplier financial standing.
Suppliers now require more assured information during the procurement process and an appropriate sharing of risk.
The Public Sector has a focus on contract management and supplier performance through better use and implementation of key performance indicators (KPIs) with, for example earn-back mechanisms being included in contracts to ensure collaborative working between both supplier and buyer, moving away from a culture of "penalties" with the introduction of incentives to improve services delivery, standards, and overall quality.
The introduction of the Sourcing Playbook, and a drive to ensure that Social Value is now seen as an effective measure of success, with increased recognition of the added value that such initiatives can bring to an organisation, is emerging as positive change that has been welcomed by most suppliers. Social value has become mandatory in all Central Government procurements with a minimum of 10% weighting required for all social value quality questions.
Recovering from COVID: What the industry can learn from the last two years
The FM supply market has been able to support in several key areas during the COVID pandemic, helping to aide the national recovery, such as involvement in Nightingale Hospitals and Test Site provisions, for example.
Suppliers have needed to utilise resources flexibly with staff having to be deployed in multiple ways using transferable skills to differing requirements, emergency service delivery etc.
Ensuring that relationships and provisions are in place to access resource banks - allowing suppliers to safely flex resource to quickly stand-up services has been of benefit to all of those involved in finding the need to find urgent solutions.
The benefits of collaboration, understanding where expert advice and support can provide quick and sustainable solutions should encourage this approach as the future normal practice. We are already seeing some case studies that will demonstrate good practice and enable lessons to be learned.
Where contracts have needed to be stood up and down quickly, more flexible contracts utilising more suitable terms and conditions, with shorter termination clauses for identified services need to be considered.
Customers should be open to change and more eager to adapt to future new ways of working - for example, COVID has forced smarter ways of workings and home working whereas these programs have been around for years, the COVID pandemic has just highlighted the benefits such as an increased focus on staff wellbeing. Especially with added responsibilities during the pandemic of home-schooling, caring for family and friends and working from home.