NEC4: Term Service Short Contract Flow Charts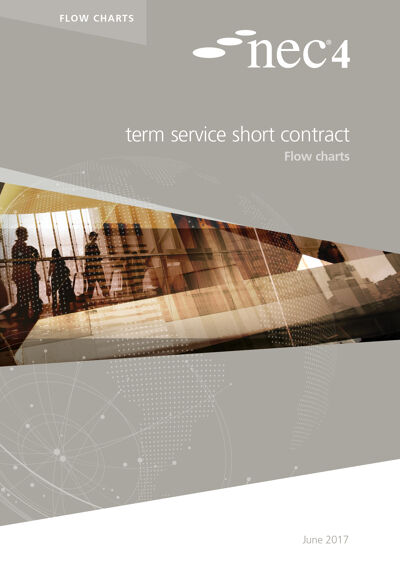 GBP £
eView gives you
Digital document versions to view and search for a period of up to 12 months
eView doesn't give you
The ability to print your contract
eView gives an unlimited view facility for an individual user to search and view as many times as necessary. Valid for 12 months
ePrint gives you
Digital documents that can be accessed and printed for a period of 12 months
The flexibility to administer a number of NEC projects on a day-to-day basis
ePrint doesn't give you
Access for multiple users or devices
Cannot be used for third party training, conferences or in the external digital environment
ePrint gives an unlimited print facility for an individual user to print as many times as necessary for the purpose of obtaining tenders, awarding and administering contracts. It may not be used for third party training, conferences or in the external digital environment. Valid for 12 months.
These flow charts depict the procudures followed when using the NEC4 Term Service Short Contract (TSSC). They are intended to help people using the TSSC to see how the various TSSC core clauses and Options come together to produce clear and precise sequences of action for the people involved.


Contents

13 Communications 3
14 The Client's authority, delegation and
Client's Agent Sheets 1 to 4 4
15 Early warning 8
16 Client provides right of access and things 9
17 Corrupt Acts 10
20 Providing the Service 11
21 Subcontracting and people 12
22 Other responsibilities 13
30 Starting and the service period Sheets 1 and 2 14
31 The Contractor's plan 16
40 Tests and inspections 17
41 Notifying Defects 18
42 Correcting Defects 19
43 Accepting Defects 20
44 Uncorrected Defects 21
50 Assessing the amount due Sheets 1 and 2 22
51 Payment 24
52 Price adjustment for inflation 25
60 Compensation events Sheets 1 and 2 26
61 Notifying compensation events 28
62 Quotations for compensation events 29
63 Assessing compensation events 30
70 The Parties' use of equipment and things 31
80 Client's liabilities 32
81 Contractor's liabilities 33
82 Recovery of costs 34
83 Insurance cover 35
90 Termination and reasons for termination 36
91 Procedures on termination 37
92 Payment on termination 38
93 and 94 Dispute resolution Sheets 1 to 4 39
Copyright Policy
Users should note that the NEC Forms of Contract are protected by copyright and may not be reproduced, stored in a retrieval system, or transmitted, in any form or by any means, electronic, mechanical or photocopying, recording or otherwise, without the prior permission of the copyright owner. However, Contract Data forms may be reproduced for the purpose of obtaining tenders, awarding and administering contracts.
Likewise, plagiarising any copyrighted document is illegal. For users seeking to prepare their own bespoke contracts based on the NEC Forms of Contract, please contact NEC at info@neccontract.com to discuss and obtain a copyright licence.
eView
Product code: L48035-V
ISBN: 9780727762726

ePrint
Product code: L48035-P
ISBN: 9780727762726