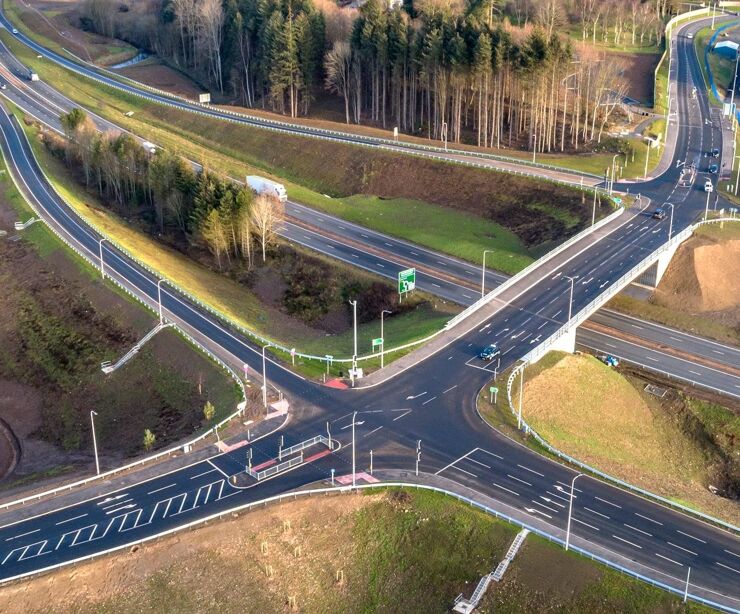 This case study is part of the Spotlight Campaign for Transport. To read more on how NEC Contract suite has been utilised in the Transport Spotlight, please click here.

Perth & Kinross Council has successfully used an NEC contract to deliver the first phase of its Perth Transport Futures Project. Opened to traffic in early 2019, the new A9/A85 junction and link road to Bertha Park won the 2019 NEC Contract of the Year Award.
The £38 million scheme involved building a new 2.6km single-carriageway link road from the A85 Crieff Road in Perth to the Inveralmond industrial estate and Bertha Park urban development area northwest of the city. It includes a new grade-separated junction with the A9 dual carriageway, just north of the existing A85 junction, and a new crossing over the River Almond.
In addition to the link road, the project included 1.8km of approach roads, five major structures, 500,000m3 of earthwork embankments and extensive provision for cyclists and pedestrians. The second phase, known as the Cross Tay Link Road, is for a new road over the River Tay between the A9 to the north of the city to Scone in the east, and is due for completion in 2023/24. Both schemes are vital to the sustainable economic growth of Perth.
Following a 9 month early-contractor-involvement stage, the Council awarded the first phase to contractor Balfour Beatty in August 2016 under an NEC3 Engineering and Construction Contract (ECC) Option A (priced contract with activity schedule) via the NEC-based Scape Civil Engineering and Infrastructure Framework. Work started on site in October 2016 and was completed in just 28 months and within budget.
Early Contractor Involvement
Jillian Ferguson, the Council's Roads Infrastructure Manager, says, 'During the early-contractor-involvement stage Balfour Beatty provided an open-book collaborative approach to pricing as well as scrutiny of our design to ensure its efficiency. The company also provided invaluable support in developing the earthworks strategy and securing the best local source of fill.'
She says the contract was then jointly drafted, ensuring that risks were properly allocated in the contract data. 'This also allowed agreement of a Z clause for value engineering, providing for savings found by the contractor to be shared equally, and this is now a standard clause in the NEC4 contract suite.'
Ferguson says the early contractor involvement stage ensured that both parties were clear on the contract and showed an early commitment to the ECC clause 10.1 obligation to act "in a spirit of mutual trust and co-operation".
'Between the contract date and construction start, both parties continued with the collaborative approach, holding an NEC3 workshop to kick off the project. This ensured that everyone had a good understanding of their roles within the contract and how it works to mitigate risks for all parties.'
Good Use of Early Warnings
According to Ferguson, collaboration continued into construction, with both parties aware of their roles and the processes to follow. 'The value of this was evident when some discrepancies were discovered in our design, some of which were on the critical path and could have caused major issues if not effectively managed.
'Through good use of early warnings, risk-reduction meetings and the compensation event process, these and all other issues were addressed quickly with minimal effects on the programme, price and contract administration. The end result was that the project was completed three months early in February 2019 and within 7% of the initially agreed price.'
She concludes, 'The proactive use of the NEC contract on this project not only ensured that it was delivered early and within budget but it helped both parties to deliver an enduring legacy of community benefits and nearly £13 million of additional social value.'
Benefits of Using NEC
NEC facilitates early contractor involvement, promoting early collaboration, enabling checks on design efficiency, refining of earthworks strategy and ensuring proper allocation of risks in the contract data.
NEC early warning and risk management processes ensured design discrepancies discovered during construction were resolved quickly with minimum impact on cost and programme.
NEC collaborative environment enabled project to be completed three months early, within 7% of budget and with a maximum legacy of community and social value.