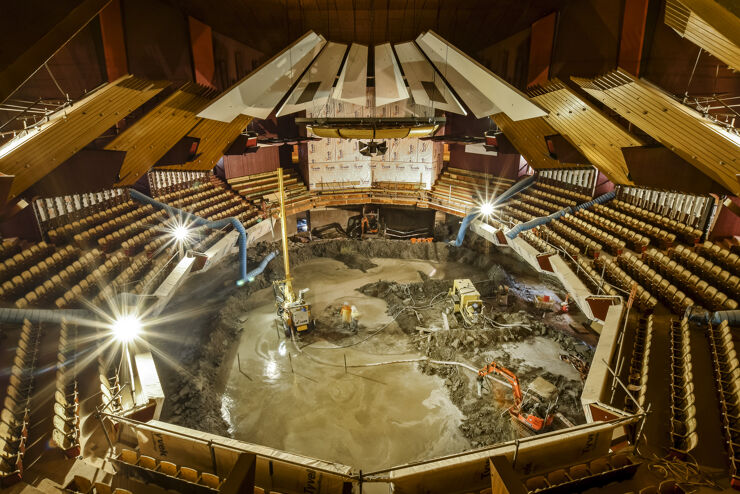 Christchurch Town Hall of the Performing Arts in South Island, New Zealand opened in 1972 providing a 2500 seat auditorium, 1000 seat theatre, four conference rooms and a restaurant. The iconic grade 1 listed heritage building is currently undergoing a major NEC-procured restoration following extensive earthquake damage suffered in 2011.

The 6.3 magnitude Christchurch earthquake of 22 February 2011 killed 185 people, destroyed 10,000 buildings and damaged up to 100,000 more. Much of the ground beneath the Town Hall liquefied, resulting in differential settlements occurring across the site of between 300 to 600 mm. The upstairs function room, known as the Limes Room, and restaurant also slid towards the River Avon by around 150 mm and lifted 300 mm at one end.
NEC Used Throughout
In 2013 Christchurch City Council agreed to go ahead with repairing rather than demolishing the building and embarked on a five-year, NEC-procured NZ$127.5 million (£72 million) conservation project. The Council engaged the original architect Warren and Mahoney and consulting engineer Holmes (civil, structural, fire) along with commercial manager Rider Levett Bucknall, mechanical engineer Aurecon and electrical engineer Cosgroves under the NEC3 Professional Services Contract (PSC) option A (priced contract with activity schedule).

Enabling works contractor City Care was then engaged under the NEC3 Term Service Contract (TSC) to remove existing heritage fabric for later reinstallation and to prepare the Town Hall for the main contract. As part of the enabling works package, the Council worked with City Care, under an early contractor involvement arrangement, to develop an indicative construction programme as well as highlight any buildability issues.

In June 2015, main contractor Hawkins Construction was employed under the NEC3 Engineering and Construction Contract (ECC) Option B (priced contract with bill of quantities). The repair strategy required the installation of 1100 jet grouted columns 6–8m long under the building, structural repairs, re-levelling of the Limes Room, reinstatement of all removed heritage fabric, and installation of new mechanical and electrical equipment and infrastructure.

A total of 27,000 m3 of concrete has been placed under the ground floor to provide an earthquake-resistant wall of 'soilcrete' which will protect the building from future ground movements. The existing ground floor concrete slab was then replaced with a new slab with an average thickness of 900 mm across the whole building. Work is due for completion in mid-2018.
Encouraging Collaboration
Christchurch City Council project director Patrick Cantillon says, 'NEC was selected as the preferred form of contract as we required a higher-than-normal level of collaboration, not just from our main contractor but also from the design team and supply chain partners. There is no other contract suite in New Zealand that offers this level of collaboration – it is hard-wired into all NEC contracts.

'Though Hawkins had never used NEC before, the contractor has embraced the philosophy of the contract wholeheartedly with weekly risk reduction meetings and an overall positive approach to collaboration. In addition we have had construction methodology meetings, where the design team has sat down with the main contractor to remove buildability and design assumptions from each other's understanding of the project. This has resulted in a number of savings in time and effort.

'At the half-way point of the three-year construction programme, the relationship between the employer and contractor is still strong with mutual trust and respect being demonstrated at all levels. We have managed to create an environment using the NEC philosophy that is designed to ensure the project will succeed, along with a 'no surprises' and strong safety culture. We are still tracking to budget and time for a mid-2018 completion.'

Hawkins project manager Paul Youngman says, 'In over 40 years of being involved in major construction, the unprecedented collaborative manner in which this contract has been administered is a credit to Christchurch City Council and in particular to its project director'.
Benefits of NEC
NEC engenders a high level of collaboration between the employer, design team, main contractor and supply chain, essential for a complex restoration project.
NEC philosophy permeates throughout the design and delivery process by use of back-to-back PSC, TSC and ECC forms.
NEC encourages problem solving, promotes mutual trust and respect, reduces conflict and leads to stronger relationships.
Risk reduction meetings and 'no-surprises' culture help to ensure the project remains on time and budget together with improved health and safety performance.

Photography: DeNada Creative