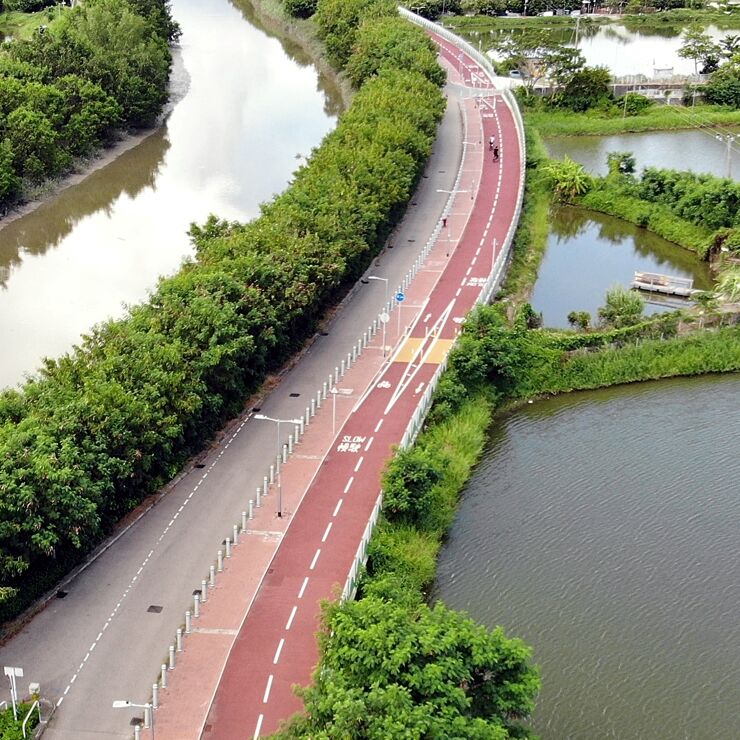 By Simon Fullalove

The Government of the Hong Kong Special Administrative Region has successfully used NEC to procure the challenging final section of a major new cycle route around the New Territories.

The government's Civil Engineering and Development Department (CEDD) engaged contractor Sang Hing−Kuly Joint Venture in June 2016 under an NEC3 Engineering and Construction Contact (ECC) Option B (priced contract with bill of quantities) to build the 11 km cycle route between Yuen Long and Sheung Shui.

NEC project manager was the chief engineer of CEDD's west development office (WDO) with Mannings (Asia) Consultants as NEC supervisor. Despite numerous potential risks including a major typhoon and the Covid-19 pandemic, the HK$582 million (£54 million) scheme was completed on time and within budget in September 2020.

The final section included construction of three cycle bridges, two cycle subways, three resting stations and a public toilet. It provided the final link in a spectacular 60 km cycle track between Tuen Mun and Ma On Shan via the northern edges of the New Territories, which is expected to play a major role in promoting cycling in Hong Kong.

STRONG COLLABORATION

CEDD WDO engineer Derek Chiu says NEC was chosen as it was realised from the outset that success would require strong collaboration among the employer, contractor and consultant. 'Due to the many risks identified in the design stage, it was clear that the NEC obligation on the parties to act in a "spirit of mutual trust and co-operation" would be critical to successful delivery.'

He says provisions for partnering workshops and cost-saving designs were included in the contract to facilitate collaboration. 'We held two partnering workshops for frontline and management staff at the outset to promote the NEC partnering spirit and establish shared objectives. In addition, annual workshops were conducted to review partnering performance for continuous improvement. Overall feedback from these workshops was good, proving successful implementation of mutual trust and co-operation in the project.'

After the contract had been awarded, Chiu says the contractor proposed a cost-saving design to modify the conforming soldier-pile wall adjacent to a busy carriageway to an engineering slope with soil nails. 'This provided a great advantage from a construction perspective due to the spatial constraints of the site. It also shortened the overall duration of temporary traffic arrangement and thus minimised the inconvenience caused to the public. While the design modification required lengthy endorsements by various government departments, with the project team's continuous and collaborative effort, it was finally accepted by all relevant departments in a timely manner.'

TYPHOON RECOVERY

Super typhoon Mangkhut struck Hong Kong in September 2018 causing widespread damage. According to Chiu, 'The project team collaborated to make a significant contribution to the post-typhoon recovery to restore normal site conditions and as well as many areas outside the project boundary, including rapid reopening of blocked roads from Yuen Long to Sheung Shui and from Tsuen Wan to Kam Tin. Similar collaboration helped minimise the impact of the Covid-19 pandemic on the construction cost and programme since the outbreak in Hong Kong in February 2020.'

Following the successful opening of the cycle track in September 2020, a series of final enhancement measures were needed, such as provision of additional temporary toilets, a vending machine, additional directional and safety signs, and repaving of damaged footpaths. 'With a collaborative effort by the project team, all these enhancement works were promptly completed,' he says.

'In conclusion, through continuous collaboration, the project team overcame many site difficulties and territory-wide incidents to achieve successful completion on time and within budget of a scheme that has been widely praised by local communities.'
Benefits of using nec
NEC obligation to work in a 'spirit of mutual trust and co-operation' ensured strong collaboration among the project team on this challenging project, with numerous risks identified during the design stage.
NEC flexibility enabled partnering workshops and cost savings designs to be included in the priced contract with bills of quantities, facilitating collaboration.
NEC-inspired collaboration enabled typhoon recovery, Covid-19 constraints and post-completion enhancements to be dealt with quickly and efficiently.
Further Information
Contact: Derek Chiu, Engineer, Civil Engineering and Development Department (CEDD) of the Government of the Hong Kong Special Administrative Region, Hong Kong
Tel: +852 2417 6528
Email: chchiu@cedd.gov.hk
Web: www.cedd.gov.hk