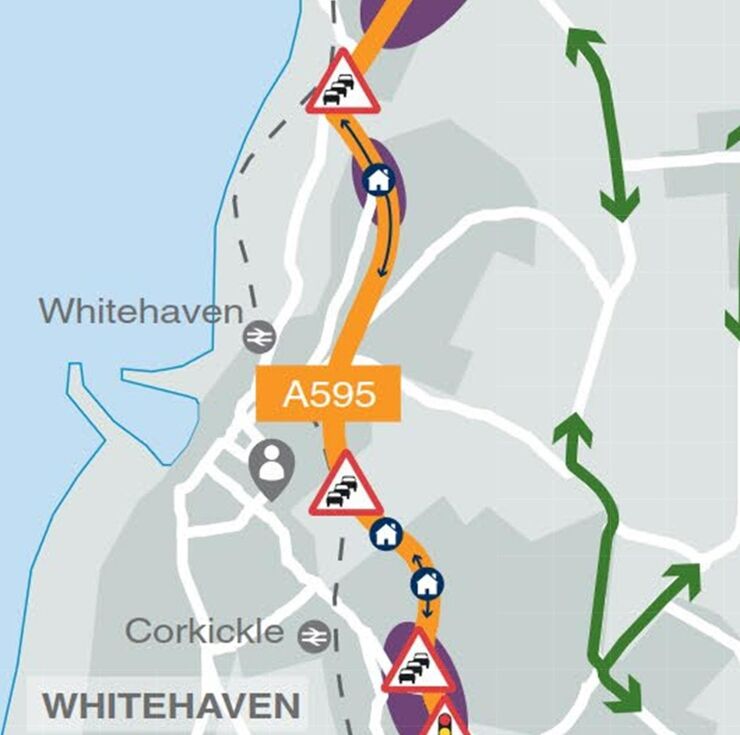 By Simon Fullalove

Highways England has used NEC to procure a study of design options to improve the busy A595 in Whitehaven, Cumbria, UK.

Technical professional services provider Jacobs was engaged under a £1.9 million NEC3 Professional Services Contract (PSC) option C (target contract) in May 2019 and completed the work on time and under budget in June 2020. The contract was highly commended for the 2020 NEC Transport Project of the Year Award for setting a 'good example of collaborative working'.

The A595 is the primary route through the Copeland district of Cumbria and forms part of Highways England's strategic road network. It is also the main road to Sellafield, Europe's largest nuclear site, and a further £60 billion of investment is proposed in the area including a new clean energy hub at Moorside. The single carriageway road gets particularly congested in the main town of Whitehaven, which is around 16 km north of Sellafield.

As part of the Department for Transport (DfT) road investment strategy for 2015−2020, various studies were carried out on the capacity, resilience and safety of the A595 and other routes in Cumbria. A public consultation in 2018 on the A595 around Whitehaven found general support for a £330 million relief road, for which Jacobs was engaged to deliver stage 1 option identification for the project control framework.

The PSC scope included identification of options to be taken forward to public consultation; assessment of those options in terms on environmental impact, traffic forecasts and economic benefits; and refinement of cost estimates of each option.
Collaborative Approach

According to Highways England project manager Jon Stokes, 'We use NEC as our preferred contract suite across our programme of major projects and at all stages of the project lifecycle. The contracts offer a comprehensive, clear and collaborative approach that assists us in achieving our commercial objectives of predictable, efficient delivery and our aspiration to become a more integrated enterprise with our supplier partners.'

He says from the outset of the A595 Whitehaven stage 1 options identification contract, Highways England adopted a collaborative, people-focused approach. 'This also extended to our contract administration and strategy. Before procurement, the client team undertook a scope and risk-identification exercise so that we could fully understand what would sit within scope and what would be allocated as risk. This enabled us to clearly estimate the budget we would require to deliver the stage and to have an appropriate change budget.'

Stokes encouraged use of the NEC early warning process to ensure effective risk management. 'Both parties discussed new early warnings as they were submitted and then on a weekly basis. We created risk management proposals for each early warning and allocated tasks and owners to these to ensure that risks were being effectively managed. All potential compensation events were discussed fully by the team to ensure that everyone had the same understanding of the event and impact. Due to this regular and effective communication, quotations could be reviewed together and amendments made as required with minimum fuss.'

He says commercial information was completely transparent. 'In line with the NEC target cost option, Jacobs operated an open-book approach and shared details of all costs, contracts and forecasts. This meant that forecasts were reviewed, scrutinised and challenged on a regular basis, which led to improved accuracy and clear, transparent reporting. Jacobs kept track of every discipline and briefed their teams on our joint commercial strategy, which was to finish under budget and ensure Jacobs received a gain-share incentive. This was a win-win approach that ensured that both parties met their commercial objectives.'
Integrated Working

Jacobs senior associate director Naomi Brace says the NEC obligation on contract parties to act in a 'spirit of mutual trust and co-operation' was supported by holding a 'collaboration academy' within six weeks of the contract award. 'The aim of this one-day workshop was to bring together key people from both organisations as an introduction to the scheme and each other.'

She says integrated working was a key theme, for which Insights software was used to profile delegates prior to the academy. 'The workshop then focused on understanding individual behaviours and communication preferences, while also exploring combined team dynamics and how this may have influenced our ability to work collaboratively. We kept this learning alive throughout the contract by having 'Insights moments' at the start of meetings, where we discussed which style preference we might need to call on more strongly to achieve the meeting objective.'

Brace says Highways England's project control framework process was transactional in nature with products passed back and forth between multiple parties to achieve sign off. 'It was recognised at the first collaborative planning session, held the day after the academy, that building relationships between Jacobs' and Highways England's key team members would be crucial to ensuring a smooth and timely delivery of products. Each pairing was documented and actively encouraged to maintain regular dialogue and clear understanding of individual accountabilities.'

She says a series of digital tools, including ProjectMapper, ensured that the project team had real-time access to geographical survey information and design options as they progressed. 'A weekly project-wide production call encouraged open and honest reporting of progress against programme activities by all parties. This forum enabled joint resolution of any blockers to progress, with quarterly collaborative planning sessions held to review the wider project schedule.'

While frequent co-location of the project management team fostered strong working relationships, regular dialogue successfully switched to virtual video-calling following the outbreak of the Covid-19 pandemic in March 2020. Brace says the overall result was a project that hit every major programme milestone and was completed under budget. 'This success is largely attributable to the NEC-inspired collaboration between both parties' project managers, and their shared outlook and vision is a great example to all.'
Benefits of Using NEC
NEC3 PSC gave the client a contractual foundation upon which it could build a truly collaborative and successful design contract with its consultant.
NEC allowed the client to align its belief that people are the key to successful projects with a complementary contract that provided a proven, fair approach to contracting.
Using the NEC Early Warning system effectively allowed both parties to operate a transparent and effective approach to risk and change management helping to deliver the project on time and on budget.
By embracing the collaborative ethos of NEC, the project team was able to work in a trusting, effective and efficient team and deliver a project that not only met its objectives but also the objectives of both parties.