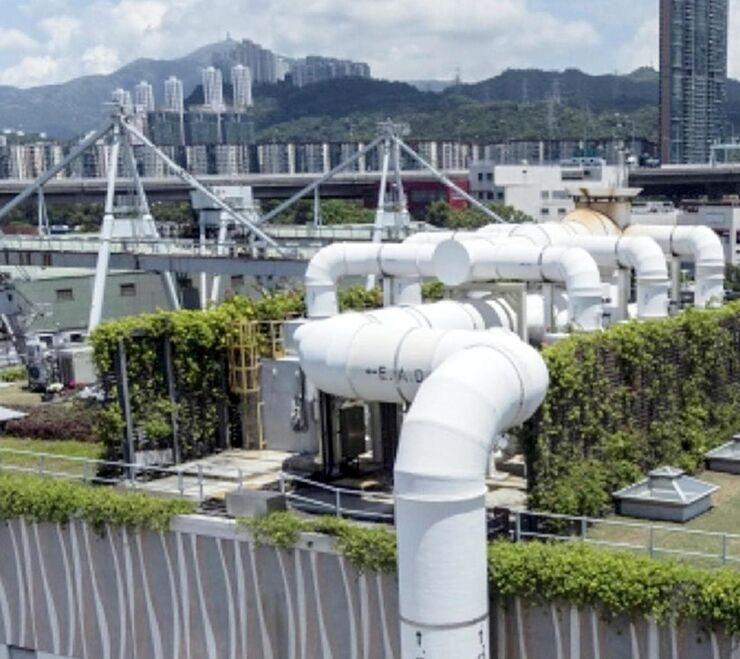 By Simon Fullalove

The Government of the Hong Kong Special Administrative Region has let a five-year NEC4 Term Service Contract (TSC) to maintain a portfolio of about 360 sewage treatment plants, pumping stations, flood control facilities and sewage and drainage tunnels in Hong Kong. The contract also includes maintaining and improving existing drains and sewers on Hong Kong Island and around 20 smaller islands that make up the Islands District.

The government's Drainage Services Department awarded the HK$500 million (£46 million) contract to contractor Shun Yuen Construction Company Limited in December 2020. DSD's Hong Kong and Islands Division is NEC service manager and Mott MacDonald is providing NEC consultancy support.

For its innovative combination of TSC option A (priced contract with price list) and TSC option C (target contract with price list) on the contract, DSD was awarded runner-up in the 2021 NEC Contract Innovation Award of the Year.

Target Cost-Pilot
David Leung, the chief engineer of DSD's Hong Kong and Islands Division, says the hybrid contract is a pilot for introducing a target-cost approach into public-sector maintenance in Hong Kong, where all NEC TSC contracts to date have used fixed-price options.

'To enable a more manageable step change in maintenance delivery, we formulated an innovative hybrid arrangement of options A and C. Under this arrangement, a designated portion of the service is to be procured under option C with the remaining portions delivered under option A.'

He says effective use of the innovative approach will inevitably demand a change in people's mentality as well as contract administrative skillsets. 'We envisage this will provide an excellent opportunity to drive the contract parties to further strengthen their collaborative working, helping them overcome operational challenges and achieve successful delivery.'

Leung also believes the learning experience to be gained from the first ever use of TSC option C in a government term maintenance contract will offer invaluable insights for promoting NEC target-cost options in future maintenance contracts, both for DSD and other government departments.

Enhanced Collaboration
He says the target-cost element enhanced collaboration between the parties from the outset. 'Since the start date, the senior management of the contract parties jointly attended key project meetings to encourage all project staff to work as, "one team" for "our project," and to act in a "spirit of mutual trust and co-operation," as stated in clause 10.2.'

The management also directed all staff to act as, "stated in the contract," as required by clause 10.1. 'This includes ensuring every contract issue is resolved within the required timeframe, and that proactive notification of early warnings is followed by joint participation in early warning meetings to agree the way forward,' says Leung.

A 'champion group' has been established, within which the senior management meet on quarterly basis to focus on partnering development and resolving any overdue issues. 'We also arranged a series of NEC training sessions for our project staff and invited the contractor to join in. Outside these classes, the project team had every opportunity to put collaboration into practice.'

Rapid Procurement
He cites rapid procurement of the first subcontract, which was for unmanned inspection of drop shafts and approach channels at various sewage treatment facilities, under TSC option C as an example. 'A prerequisite for starting any subcontract tenders is the service manager's acceptance of the contractor's subletting procedure, which normally takes a few weeks. The parties worked collaboratively to enable the procedure to be accepted just 2 days after the contract starting date, enabling timely appointment of the first subcontractor and ensuring on-time completion of its work.'

A further example of collaboration was joint planning. 'As the whole of the service was being implemented via task orders issued during the service period, the contract parties were in discussions shortly after the starting date to jointly plan for the works ahead,' says Leung. 'This was to help optimise the contractor's resource deployment to align with delivery requirements. Such collaborative planning is helping with timely and cost-effective delivery of the maintenance works.'

Leung concludes, 'With the collaborative momentum established within the "one team" in the early stage of the service period, the contract parties are confident in delivering "our project" with success.'

Benefits of Using NEC
NEC obligation to act in a 'spirit of mutual trust and co-operation' helped create a 'one team' and 'our project' ethos.
NEC requirement to work 'as stated in the contract' has ensured every contract issue is being resolved within the required timeframe, with proactive notification of early warnings followed by joint participation in the early warning meetings to agree the way forward.
NEC flexibility enabled a hybrid version of the TSC to be developed, enabling a gradual introduction of a target cost approach for the first time to a public-sector maintenance contract in Hong Kong.
Partial introduction of option C for services enhanced collaboration between parties from the outset, leading to earlier subcontracting, joint planning and cost saving.