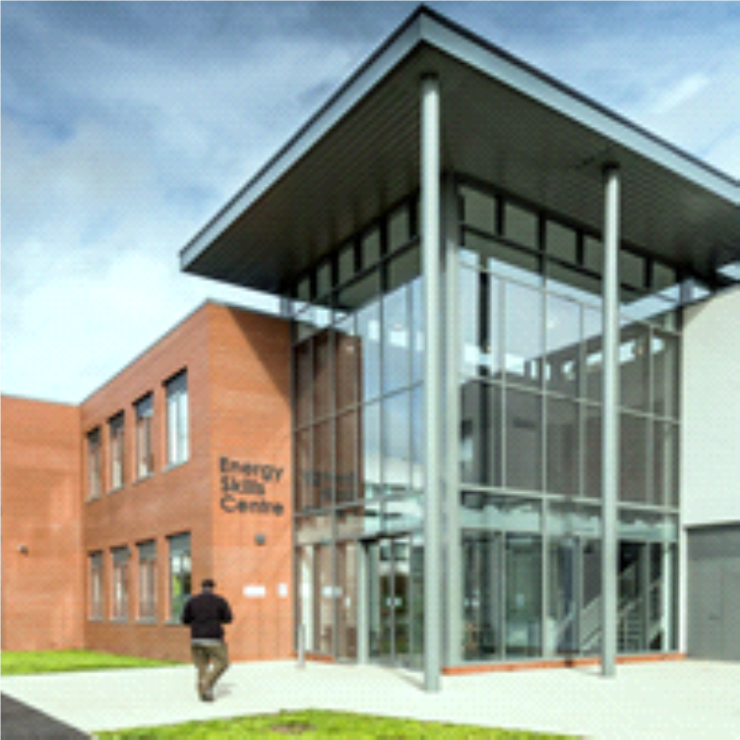 Britain's East Coast College, which has further education and sixth-form college campuses in Great Yarmouth in Norfolk and Lowestoft in Suffolk, has used NEC to procure a state-of-the-art vocational training centre serving the fast-growing local energy sector.
Completed ahead of schedule and within budget in August 2019, the new £11.3 million Energy Skills Centre in Lowestoft was funded by the UK government through its New Anglia local enterprise partnership. The aim of the centre is to boost the number of suitably skilled workers for large local energy projects, such as the 3.6GW Norfolk Vanguard and Boreas offshore wind farms and 3.2GW Sizewell C nuclear power station in Suffolk.
East Coast College engaged contractor Morgan Sindall in October 2018 through the LGSS public-sector procurement framework. The £6.9 million construction phase of the two-stage design-and-build procurement was let under an NEC3 Engineering and Construction Contract (ECC) Option A (priced contract with activity schedule).
The two-storey, steel-framed building has a total floor area of 2,656m2. Facilities include two workshops for engineering and clean energy training, a marine simulation suite, an events and conference centre, classrooms and offices. External equipment is housed in a 635m2 enclosed service yard.
Architect Chaplin Farrant and consulting engineer Canham Consulting were both novated to the main contractor while Fusion Project Management was engaged as NEC project manager through Perfect Circle UK.
Tight Cost Control
College project manager Adri van der Colff says one of the main reasons for choosing NEC was the tight cost control required throughout the project lifecycle. 'There was absolutely no scope to increase the fixed budget, so we needed cost certainty from the start, with very close cost monitoring all the way through,' she says.
'We simply had no capacity to withstand any surprises or claims at the end of the project, as we had no means to access any further resources. We also wanted to spend every last penny of the grant to make the best use of the rare opportunity to buy the best equipment we could afford to enable us to stay ahead of the technological curve.
'We knew the tight fiscal control afforded by the NEC would help us to walk the cost tightrope successfully. Because the contractor effectively produced something akin to a final account every month, we were able to release the contingency budget gradually for "nice-to-have" items as cost certainty increased. As it turned out, we came in a few pounds under budget.'
Collaborative Approach
She says another key reason for choosing NEC was the college's desire for a collaborative approach and true teamwork. 'Right from the start we made it clear we wanted to work closely together with every team member to deliver a truly inspirational facility that would motivate everybody − from directors to labourers on site and the whole supply chain − to feel invested in the project's wider aims and ambitions.
'For instance, at tender stage, 50% of marks were awarded for quality criteria, with a strong focus on sustainability, workforce development and innovation. We wanted the project to be delivered in the spirit of Sir Michael Latham's seminal report "Constructing the team": there was to be no "them" and "us".
'NEC was the natural choice to facilitate a mindset where everyone was committed to produce an exceptional end product. A deep sense of pride was palpable when the project was completed on budget and ahead of schedule, and very well received by end users.'
Early Warnings
Once construction got underway, Van der Colff says ground conditions at the site posed innumerable risks − from underwater springs and unexploded bombs to contamination and very poor soil conditions. 'NEC's system of early warning notices proved to be invaluable, especially during the early stages of the project when our client-owned risks below ground were significant. It meant that as soon as an issue reared its head, the project team quickly pooled its extensive combined knowledge and skills at a risk reduction meeting to find an innovative solution.'
She adds that the NEC's approach to risk − with a fair distribution of risk, production of a single shared risk register and regular risk reduction meetings − also assisted value engineering. 'It helped to ensure the whole supply chain was involved in seeking more cost-effective materials and products that would not compromise whole-life functionality or quality.'
The project also had to be delivered to a tight schedule to meet the college's academic calendar and income targets, so it was important the new facility should not be delivered late. 'The fact that the programme is a key contract document in NEC projects and the requirement for the contractor to produce an updated programme every month enabled us to exercise tight control,' says Van der Colff.
'We had real confidence that the project timescales would be achieved because there was such a spirit of transparency and openness throughout. As it turned out, the building was handed over a few days ahead of schedule, snag free.'
Benefits of Using NEC
NEC obligation to work in a 'spirit of mutual trust and co-operation' promotes collaborative working between the parties and avoids adversarial practices, ensuring a genuine team spirit permeates the whole project.
NEC's core requirement for a regularly updated 'accepted programme' helps clients keep track of anticipated completion date. The need to update the anticipated final account every month when payments are claimed also helps clients to monitor predicted outturn cost.
NEC early warning mechanism obliges parties to notify possible future risks as soon as they become aware of them. This enables prompt action to be taken to avoid or reduce compensation events, ensuring there are no unpleasant surprises at the end of the contract.
NEC shared risk register and risk reduction meetings help both parties to consider ways of avoiding or reducing risks, decide which party is best place to mitigate the risk and collaboratively seek solutions that overcome those risks in all parties' best interests.