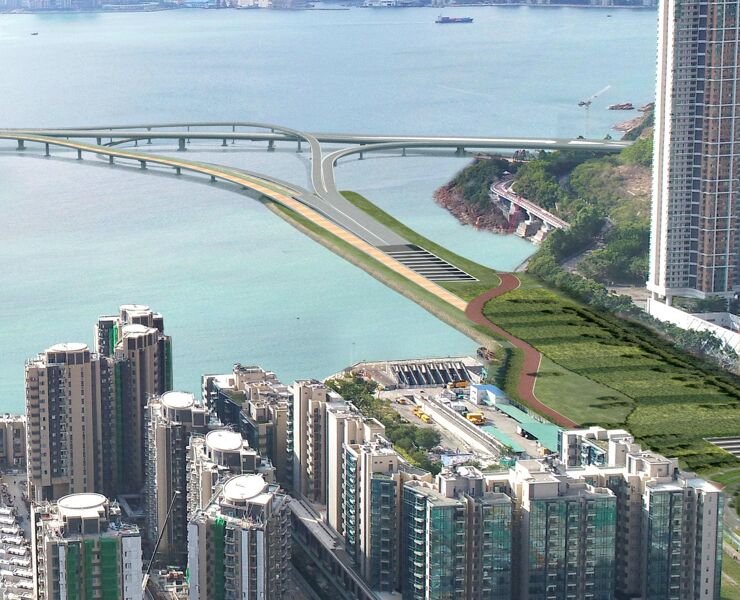 The Hong Kong government is using four separate NEC contracts to procure the eastern approaches to its new 2.6km long dual two-lane road tunnel between Lam Tin and Tseung Kwan O in eastern Hong Kong.
Due for completion at the end of 2021, the Tseung Kwan O−Lam Tin Tunnel will form part of the 12km Route 6 between west Kowloon and the Tseung Kwan O development area. In particular, the project will provide much-needed relief to the 1990 Tseung Kwan O Tunnel on Route 7 to the north.
The eastern approach works mainly consist of a new grade-separated interchange on viaducts built over Junk Bay next to the tunnel portal, a new 800m dual carriageway linking the interchange to central Tseung Kwan O, and two major footbridges. Known as Road P2, the new stretch of dual carriageway includes 3ha of reclaimed land and a 200m long landscaped deck.
In 2022, the interchange will also connect with a new 1.8km long road, cycle and pedestrian crossing over Junk Bay, linking the southeastern part of Tseung Kwan O to the new tunnel. Known as the Cross Bay Link, this HK$5.6 billion (£560 million) project is also being procured using NEC contracts.
The government's Civil Engineering and Development Department (CEDD) engaged AECOM Asia to provide engineering design and project management services on the project. Mannings (Asia) Consultants supported by TKR consultancy was employed to advise on selection and use of the NEC3 Engineering and Construction Contract (ECC).
Flexible Procurement Options
According to CEDD project manager Sunny Lo, 'We recognised from the outset that coordination between contractors undertaking different parts of the project would be a major challenge. We therefore chose NEC contracts for the eastern approach works to encourage the project teams to work in a "spirit of mutual trust and co-operation" to achieve successful delivery. NEC also provided greater clarity, simplicity and flexibility in procurement approach than traditional contracts.'
CEDD decided to procure the eastern approach works as four separate packages so as to engage as many contractors as possible and enrich local experience of NEC implementation and pricing options. 'We chose ECC Option C (target contract with activity schedule) for the HK$2.4 billion (£240 million) Road P2 contract – the largest of the four − as the extent was not accurately defined and risks included uncharted utilities, flooding during heavy rain, unforeseen geological conditions and excess dredging. Option C enables a fair risk allocation between the parties and provides a good incentive for the contractor to minimise the cost of the works and to achieve better cost and programme control.' The contractor is a joint venture of China Road and Bridge Corporation and Build King and work started in July 2016.
'For the HK$728 million (£72 million) interchange contract, our requirements were more accurately defined and the contractor's design elements were significant, so we selected an ECC Option A (priced contract with activity schedule),' says Lo. The contractor is a joint venture of Chun Wo, Shanghai Tunnel and China Metallurgical and work started in January 2018.
For the two footbridge contracts, CEDD opted for a target contract for the HK$257 million (£25 million) Southern Footbridge contract at the junction of Road P2 and Po Shun Road. 'ECC Option D (target contract with bill of quantities) accelerated the tender process and helped us to manage foundation risks,' says Lo. 'Finally, for the relatively minor HK$66 million (£6 million) Northern Footbridge contract over Po Shun Road, we opted for a traditional lump-sum approach, using ECC Option B (priced contract with bill of quantities).' The contractors are Zhen Hua Engineering and Wing Lee (SK) Construction respectively, with start dates of November 2017 and December 2016.
He says the NEC mechanisms for early warnings and risk reduction meetings encouraged all parties to take the necessary actions at the earliest opportunity to address potential problems. 'The discussions in risk reduction meetings enabled effective mitigation measures to be developed and implemented in a timely manner to minimise the impact of risks. All queries and practical issues on the contracts are continuing to be promptly resolved by the project teams in a mutually co-operative manner.'
Encouraging Collaboration
Mannings (Asia) Consultants was involved from the outset on the four contracts to assist the in-house project managers, supervisors and contractors' management and staff become familiar with NEC principles and processes. An NEC partnering charter was also formed at the early stage of each contract for strengthening the contractually required "spirit of mutual trust and co-operation", and this was supplemented by a series of training workshops.
According to Simon Ng of Mannings, 'We convened frequent NEC partnering and collaboration workshops not only for senior managers but also for other levels of the project teams to promote a partnering spirit and encourage exchange of ideas. The initial partnering and collaborative workshops focused on developing cooperative working skills, attitudes and behaviours among the project team, as well as promoting teamwork, dispute avoidance and efficiency in delivering the works.'
He says practical workshops were held to enhance the parties' understanding of implementing the relevant ECC main option and to address contract-specific roles and responsibilities. 'In particular they elaborated how to set up protocols for communications, early warnings, risk registers, programmes, defects, payments, audit processes and compensation events.'
Cost-auditing workshops facilitated the parties on the target cost contracts to understand the contractual and practical requirements of ECC Options A and C and to develop and implement audit procedures and protocols. 'They also explained how the open-book approach works in practice and the necessary auditing procedures, as well as activity schedules, prices for work done to date, defined costs, disallowed costs and fees as defined by NEC,' says Ng.
Value, Safety and Coordination
Ng says the collaborative spirit developed on each contract provided numerous opportunities for value engineering. 'For instance, when planning to build the 4.3m thick structural base slab of the U-shaped trough for Road P2, the contractor notified an early warning on the significant risks of early thermal shrinkage. At a subsequent risk mitigation meeting, the project team decided to replace the slab with a 1.5m thick structural slab overlain by lean concrete backfill as floatation control. This mitigated construction risks as well as reduced costs.'
In addition to value engineering, Ng says a common goal in the NEC partnering charters of all four contracts was for zero accidents. 'This has been achieved and maintained since the starting date of the first contract in July 2016.'
He says the NEC requirement for regularly updating the programme provided a powerful means for monitoring and coordinating key dates specified for interfacing arrangements between the various contracts. 'Project managers and contractors met regularly to review the programme before each formal submission so as to streamline the review and acceptance process. Any potential delays in the key dates could therefore be identified as early as possible to enable resources to be deployed to alleviate those potential issues. Regular interface meetings were also held to establish collaboration between interfacing contractors. This enabled the various contractors to coordinate the interfacing issues and understand the conditions that needed to be met for each key date in a practicable manner.'
Ng adds that the project teams extended their NEC collaborative approach to public engagement. 'A number of community liaison groups have been established for improving the interaction and exchange of ideas between the project teams and local committees, residents, schools and the members of the district council. This has enhanced the image of the Hong Kong government in serving the community.'
Benefits of Using NEC
NEC contracts provide a flexible range of procurement options including pricing by activities or bills of lading, payment by lump-sum or target cost, and design by employer or contractor.
NEC enables better risk allocation and risk sharing than traditional contracts.
NEC's use of plain English and avoidance of subjective terminology provides a better understanding and more certainty in interpretation.
NEC requires the development of a 'spirit of mutual trust and co-operation' among contracting parties, encouraging them to work in an effective and collaborative way to achieve successful project delivery.
NEC's collaborative approach provides opportunities for value engineering, improved safety and more effective public engagement.
NEC early warning mechanism encourages parties to identify and mitigate potential technical risks at the earliest opportunity to minimise disruption to the works programme.
NEC enables common goals among all parties to be achieved.