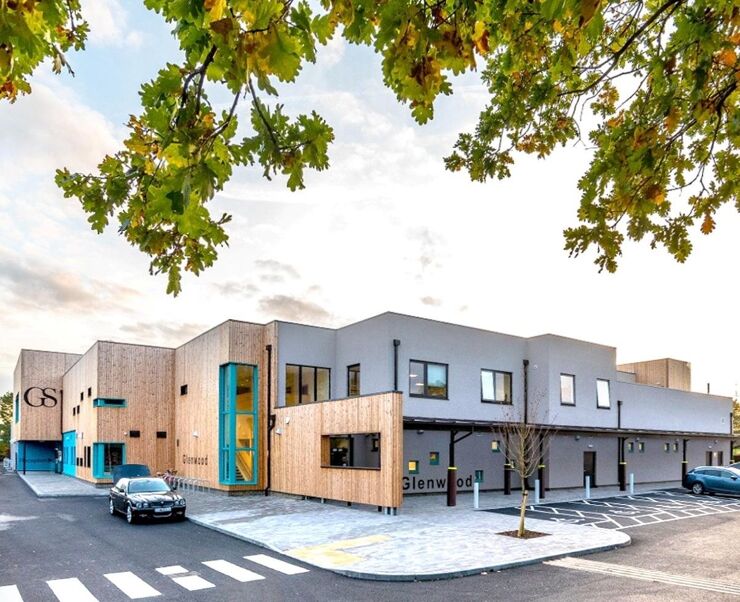 Glenwood School is a new NEC-procured school for 3- to 19-year-olds with severe or multiple learning difficulties in Benfleet, Essex, UK. Completed in August 2017, the 210-place local-authority-maintained facility replaces an existing 150-place school on an adjacent site.

Essex County Council engaged its framework contractor Morgan Sindall under an NEC3 Engineering and Construction Contract (ECC) Option A (priced contract with activity schedule) to deliver the new school in March 2016. Pick Everard provided project management, cost management and design technical support.

The £15.4 million project involved building a state-of-the-art facility next door to the existing school in just 17 months. It houses 26 classrooms, music rooms, design technology facilities, soft-play rooms, hall spaces, swing therapy rooms, a trampoline room, a hydrotherapy pool, an independent living area and an immersive room.

The two-storey, timber-frame structure is clad with a mix of timber and rendered board. External works include outdoor play areas and a 110-space car park.
Collaboration Vital
Essex County Council has already procured nearly £1 billion of capital projects since 2008 through frameworks based on ECC Option A. The current framework of 10 contractors, which runs from 2016 to 2020, continues the focus on collaboration and value for money.

Pick Everard has been sole supplier of project management, cost management and design technical support for the frameworks since 2012. Its framework management team is co-located with the council's project delivery teams in Chelmsford.

Essex County Council senior project manager Bryony Dick say the collaborative nature of NEC was particularly appropriate for the Glenwood School project. 'The nature of the project was inevitably going to see multiple design changes throughout the build. As such it was only going to be a success with all parties operating in a fully open and collaborative manner,' she says.

To encourage collaboration, the council generally omits retentions and liquidated and ascertained damages from their ECC Option A contracts. 'We believe that by putting our faith in our framework contractors' ability to complete projects satisfactorily without these helps to create the required NEC spirit of mutual trust and co-operation,' says Dick. 'Our contractors are then more focused on completing projects on time and resolving any defects pre-handover.'
Controlling Change
Pick Everard project director Garry Buick said NEC was crucial in tracking the change process on the fast-moving Glenwood School project. 'The school was heavily involved in the build process and, as the building was coming together, it was clear there were parts of the design which would not work for them. A major benefit of NEC is that it provides a structured and simple change-control process to track the changes in tandem with time and cost.'

He says any issues which were identified by the school were highlighted during weekly site walks. 'Each change was instantly raised as an NEC early warning notice and a risk reduction meeting was held shortly afterwards.

'The risk reduction meetings focused on providing the school with a solution which would work for them. Any changes were captured with an NEC project manager instruction, with compensation events raised in a timely fashion and priced to allow for decisions to be implemented quickly.

'For example, the floor finishes were initially specified as all carpet. However, after further consideration, it was decided this was not suitable in certain areas and that alternative finishes would be more appropriate.'
Collaborative Tools
To help support collaboration further, the project used a system called IE2 for storing and sharing project and performance information. 'This single information repository reduces the time and effort required to access and send documents, engendering a partnership mindset between all project team members,' says Buick.

Information was audited weekly by the client and project manager to assess quality and completeness. Areas for improvement were identified and discussed at lessons-learned workshops with the project team to improve the flow of information and communication.

'Another tool we used to facilitate collaborative working was Sypro, an online system for NEC contract administration,' says Buick. 'Any events with time or cost impact were raised as NEC early warning notices on the system and reviewed initially by conference calls then, if necessary, in risk reduction meetings attended by the client and contractor.

'Early notification, collaborative discussion, clear decision making and re-programming in this way have enabled any project delays to be minimised and ensured timely and on budget completion.'
Benefits of Using NEC
NEC contractual obligation to work in a 'spirit of mutual trust and co-operation' ensured a collaborative approach on a project where numerous design changes were likely.
NEC provided a structured change-control procedure, ensuring that the risks and consequences of design changes were minimised and agreed as they occur.
NEC procedures ensured all information relating to design changes was provided to tight timescales, helping to keep the project on track and on budget.