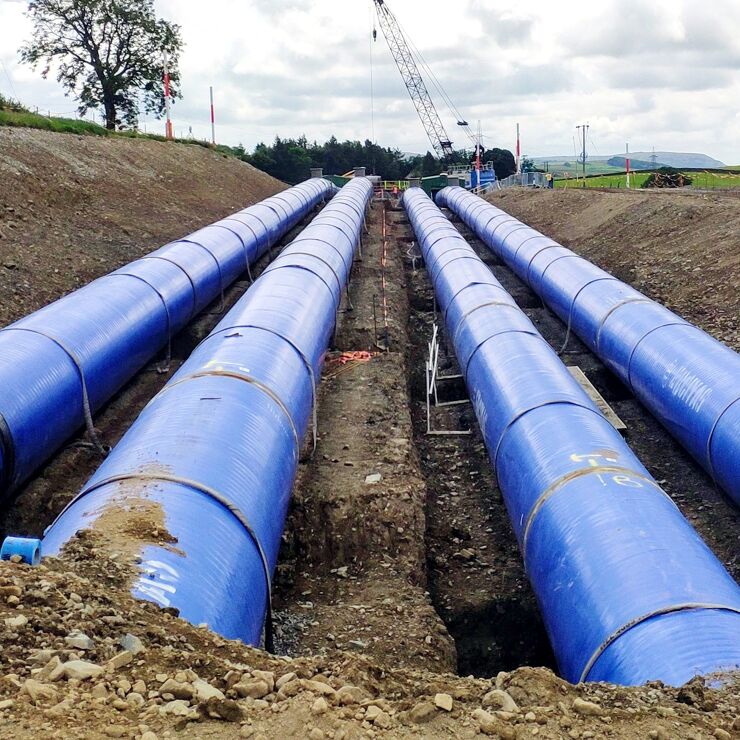 By Simon Fullalove

NEC contracts have been used to replace part of a major 70-year-old water supply pipeline in northwest England.

NEC Users' Group gold member United Utilities engaged its construction delivery partner Mott MacDonald Bentley to undertake the £25 million project under an NEC3 Engineering and Construction Contract (ECC) Option C (target contract with activity schedule) in October 2018.

The work involved replacing a 2.5 km tunneled section of the 109 km Haweswater aqueduct, which since 1955 has been supplying up to 520 Ml of potable water each day to over 2 million people in Greater Manchester from Haweswater reservoir in the Lake District.

As part of a programme to replace all ageing tunneled sections, the existing twin 2.6 m diameter concrete-lined tunnels between two siphons at Hallbank near Kendal in Cumbria were replaced with four 1.6 m diameter steel pipes laid alongside. The new 12.5 mm thickness coated pipes were then connected during an 8-day outage to an existing four-line siphon in the north and, via a new manifold and 2.2 m diameter steel pipe, to an existing single-line siphon in the south.

The pipes were delivered to site as over 800 14 m lengths, which were then were lifted into a typically 5 m deep trench by an 80 t crane and joined by external metal inert gas welding. The material excavated from the trench was graded and re-used as bedding and surround for the new pipes. Gate valves were installed at the southern end, with each valve measuring 4.5 m tall and weighing 10 t.

United Utilities was project manager for the main contract, while all main subcontracts were let using the NEC3 Engineering and Construction Subcontract (ECS). The project was completed on budget and programme in August 2021 and was shortlisted for Utility Project of the Year in the 2021 British Construction Industry Awards.

Sharing Risks

Project manager Mike Addison says NEC was chosen as it is United Utilities' standard procurement contract suite for its major capital construction projects. 'We adopted ECC Option C as the design was not fully defined at contract award and the project had a large number of unknown risks.'

He says the strategy was to allow the contractor to carry out further site investigations and develop the design as more knowledge was gained on site, which would also allow for contractor innovation.

'Given the many unknowns we decided that the commercially optimum approach was to share the financial risks between ourselves and the contractor on a pain/gain share mechanism under ECC Option C.'

He says a key benefit of Option C was that it allowed both parties to work in collaboration and develop the correct solution for the project. 'It gave both parties the flexibility to add value through to completion and an incentive to keep costs below target.'

Collaborative Approach

According to Addison, the NEC obligation for the parties to act in a, 'spirit of mutual trust and co-operation' provided the required high level of collaboration. 'The parties worked closely together, both on site and off, resulting in a great team effort.'

Both parties also made full use of NEC early warnings. 'These and regular associated risk reduction meetings meant issues were resolved quickly and efficiently between the parties, some of which resulted in a number of compensation events as expected of a project of this duration and value.'

He says the major employer's risks were identified and stated in the contract data and these were subsequently realised. 'The most high-risk element of the project for us was the planned 28-day outage for connecting the new pipes to the existing aqueduct. To incentivise the contractor to complete the connection works within or before the required timescales, option X6, bonus for early completion, was included with that element of sectional completion. This worked particularly well, resulting in the connection being made in just 8 days. It meant we benefited from a significant reduction in risk while the contractor gained a bonus: a win-win.'

Addison adds that the team also held regular programme review meetings throughout the duration of the project. 'This enabled the majority of programmes to be accepted upon submission. Completion was just over just over two months later than the completion date on the original programme, which for a project of this size and duration is exceptionally good.'

Benefits of Using NEC
NEC obligation for the parties to act in a 'spirit of mutual trust and co-operation' provided the required high level of collaboration, both on site and off, resulting in a great team effort.
ECC Option C enabled unknown risks to be shared between client and contractor, with the pain/gain mechanism encouraging both collaboration and innovation to deliver the right solution.
Option X6, bonus for early completion, resulted in the highest risk part of the project – the outage required for connections − being reduced from 28 days to 8 days.
NEC early warnings and regular risk reduction and programme review meetings ensured the project was completed on budget and within two months of the original programme completion date.