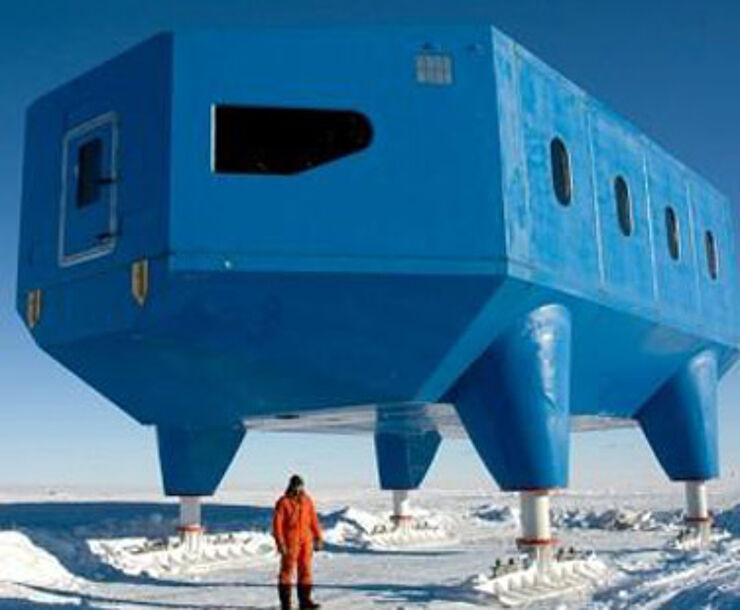 Halley VI is the latest British Antarctic Survey (BAS) research station located on the Brunt Ice Shelf in Antarctica to monitor the Earth's atmosphere. The first base was built in the International Geophysical Year of 1956/7.
The pioneering new station is designed to support 52 staff at any one time. It consists primarily of seven standard 80t steel-framed modules and a 180t double-height module. The standard modules provide science facilities, sleeping accommodation and energy-generation facilities and the double-height module provides recreational facilities.
Mounted on hydraulic legs and skis, the station is able to keep itself above the 1.5 m annual accumulation of snow and to be relocated to new positions during its design life to counter the flow of the moving ice-shelf it is built on.
ECC Option C Selected
In September 2006, BAS parent body National Environment Research Council signed a £22 million NEC3 Engineering and Construction Contract (ECC) option C (target contract with activity schedule) with Morrison Falkland Ltd, now part of Galliford Try, for the design and construction of Halley VI and for demolishing the existing Halley V station. Engineering consultant Faber Maunsell and Hugh Broughton Architects provided the design.

BAS had previously employed the contractor under an NEC Professional Services Contract (PSC) to provide technical input to the international design competition for Halley VI. A total of 86 entries were received and, through a multi-stage competition, these were whittled down to three finalists, which were then engaged to develop their designs with Morrison under the PSC. Mott MacDonald was retained as a procurement consultant to produce contract documentation.

Construction started in the 2007/08 season (December to February) and handover will be in February 2012. As an Antarctic specialist, BAS provides life-support and logistics for the project and Morrison provides design, procurement, fabrication and construction under the target cost contract.

Delay and Weather Clauses

According to BAS Project Manager Karl Tuplin, "The ECC target cost option was chosen because it is a technically challenging project with complex logistics chains set against the unpredictable nature of working in the Antarctic."

'The construction season each year is limited to approximately nine weeks between December and February, with the weather during that time being unpredictable. Once planned and procured, the cost of a season is fixed no matter how much or how little work is actually completed", says Tuplin.
'Any delays no matter what the cause can only be caught up the following season a year later. Delay and weather clauses were added to the contract data to suit this unusual situation, together with worked examples included in the works information'.
Benefits of NEC3
Provided a common, collaborative procurement approach for both design and construction.
Provided an ideas suite of nested contracts for the main contract and sub-contracts.
Contracts were readily adapted to suit (a) the split responsibilities for delivery between client and contractor, and (b) the unpredictable nature (risk) or working in the Antarctic
The programme is an integral contract document making it a powerful project management tool.