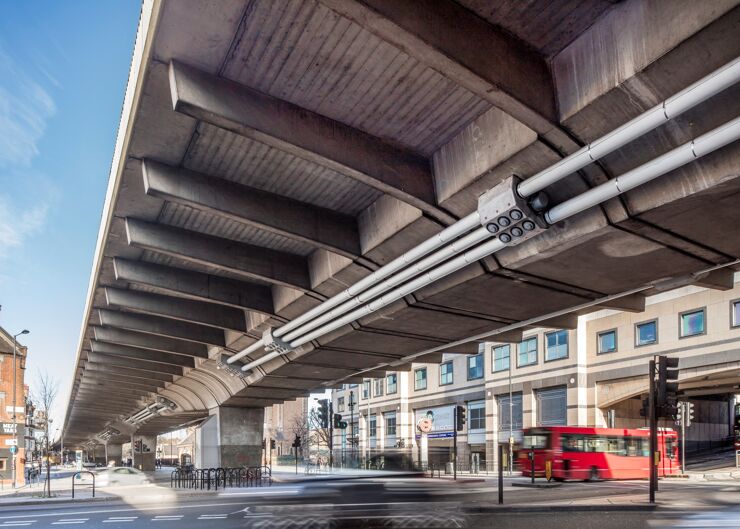 The post-tensioning tendons on the 1961 flyover, which carries up to 70,000 vehicles a day, were found to be rapidly deteriorating in 2011. Emergency strengthening of five spans enabled the critically important route to remain open for the London 2012 Olympics.
The main 'phase 2' strengthening works, carried out between April 2013 and September 2015, included installing a complete new post-tensioning system, replacing roller bearings at 16 piers and upgrading drainage, the central reservation barrier and road surfacing.
In a world first, the brief required the 6.5km of new tendons to remove any reliance on the original tendons, which were to remain in place. The work was also urgent as the old tendons were decaying fast, so a high level of cooperation between the client, designer, contractor and key sub-contractors was essential for successful and timely delivery.
Early Contractor Involvement
In April 2013 Transport for London (TfL) awarded phase 2 to Costain as part of a four-year, NEC-based early contractor involvement framework. For the first 6 months Costain and joint-venture designer Ramboll–Parsons Brinckerhoff each worked under an NEC3 Professional Services Contract (PSC) option E (time based contract) as part of an integrated design team led by TfL.
Costain commercial manager Andrew Morse says, 'We also appointed post-tensioning specialist Freyssinet and other key subcontractors early in the pre-construction phase under the NEC Engineering and Construction Subcontract (ECS) option C (target contract with activity schedule). By using an innovative additional scheme budget share, we ensured a primary investment in managing risk but with a hold point on transition to the construction phase to safeguard performance.'
Ramboll–Parsons Brinkerhoff project director Matthew Collings says, 'The NEC principles of mutual trust and cooperation together with co-location of the design team helped facilitate a dynamic decision-making process. This resulted in a number of non-standard design approaches being adopted to address the unique technical challenges on this project within the tight time frame.'
He says building information modelling was also vital to co-ordinating design innovation. 'An accurate three-dimensional model was created from the original as-built construction drawings and verified against internal and external laser scans. This was used as a planning, design and construction tool to identify hazards, constraints and risks for both design and construction.'
Continuing the One-Team Ethos
On completion of the design phase in October 2013, TfL appointed Costain for construction under an NEC3 Engineering and Construction Contract option C. Ramboll–Parsons Brinckerhoff was novated from TfL to Costain and retained under PSC option C. The project team were again co-located in open-plan offices on site, facilitating ease of communication and a 'one team' ethos.
'We appointed all key subcontractors, including those engaged early, under ECS option C or option E (cost reimbursable contract), and used the NEC3 Supply Contract (SC) for all programme-critical and quality-dependent material and plant suppliers,' says Morse. 'This supported collaboration throughout the supply chain in the mitigation of project risks.'
He says secondary options X12 on partnering or X20 on key performance indicators were used to reward delivery of common project objectives and to focus supply chain prioritisation. 'We also used option X13 on performance bonds to promote continuity of relationships, and option X14 on advanced payment to ensure positive cash-flow to mitigate and improve offsite lead times. We used key dates throughout the contract to align and promote delivery of shared milestones.'
A lessons-learned workshop was convened at the end of the design phase, in which frank and open exchange was encouraged to enable a clearer understanding of each party's drivers and perceptions as the project moved into the construction phase. Whole-team-building social and charitable events supported by senior management were organised on a regular basis.
According to Morse, 'One of the benefits of the absolute trust developed between the parties was that the project team could progress the significantly changing services and works without always relying on fully implemented change. This trust allowed for the smooth progress of the project.'
He concludes, 'The open and successful cooperation fostered by NEC allowed the project team to continually challenge drivers and constraints to manage both technical and commercial risks. Without this, the effective use of new technologies and the one-team approach, it is unlikely that a solution to such a complex problem could have been defined and delivered.'
Benefits of NEC3
NEC contracts defined and delivered a large, high profile and uniquely complex infrastructure strengthening project in the heart of one of the world's leading financial centres as efficiently and quickly as possible.
NEC facilitated early involvement of the main contractor and key subcontractors in the design phase, helping to ensure all risks were identified and managed from the outset.
The NEC requirement to act in a spirit of mutual trust and cooperation ensured a high degree of collaboration between the client, designer, contractor and supply chain throughout the design and construction phases.
Back-to-back NEC3 PSC, ECC, ECS and SC contracts ensured alignment of key dates and full collaboration on mitigation of risks throughout the supply chain.
NEC options on partnering, key performance indicators, performance bonds and advanced payment further helped to foster supply chain cooperation and efficiency.