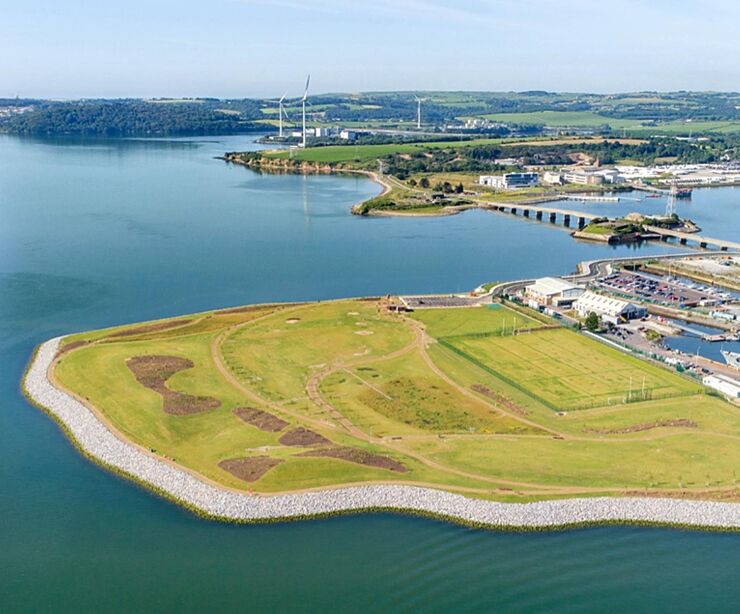 By Simon Fullalove

NEC has been successfully used on a high-profile project to remediate a steel slag tip in the south of Ireland. The €25 million (£22 million) award-winning scheme for Cork County Council was the first time NEC had been used for a major contract let by an Irish local authority.

The work on Haulbowline Island in Cork harbour – one of the largest and most beautiful natural harbours in the world − was awarded to local contractor PJ Hegarty & Sons under an NEC3 Engineering and Construction Contract Option (ECC) C (target contract with activity schedule). RPS was appointed NEC project manager and work started on site in July 2017.

The project involved converting a 650,000 m3 waste tip on the east side of the island into a public park. The tip had been created between 1961 and 2001 by Ireland's only steel works and included steel scrap, slag, asbestos and other hazardous materials and pollutants.

Existing structures and 350 t of steel were removed from the site, after which it was regraded and capped with a 1 mm polyethylene membrane, a geocomposite drainage layer and 1 m of soil. The site's 830 m shoreline was re-formed with 35,000 t of rock armour and 45,000 m3 of low permeability subsoil to control seawater and leachate flows, during which a 950 m long floating curtain was used to contain silt.

Other works included provision of drainage, attenuating wetlands, wildflower meadows, walkways, seating, car parking, toilet facilities, an access road upgrade and a new sports pitch. The main remediation activities were completed in December 2018 and the overall contract was completed on time and budget in October 2019.

The project won the Civil Engineering categories of the 2020 Irish Construction Excellence Awards and the 2020 Association of Consulting Engineers of Ireland Engineering Excellence Awards, as well as the Engineering Project of the Year and Local Authority Engineering Initiative Award in the 2019 Engineers Ireland Excellence Awards.
Collaborative Approach

Cork County Council senior engineer Dr Cormac Ó Súilleabháin says, 'Given the unprecedented nature of the project and the inherent variability of the slag deposits, it was important that our procurement strategy allowed for innovation, value engineering and efficient management of project risk. We also needed to ensure the value of any steel from the site would be realised in a transparent manner.'

He says NEC was chosen after reviewing various forms of contract and engaging with the supply chain. 'We selected the NEC target cost contract due to its ability to deliver the project's objectives through promoting a collaborative approach, supporting risk management and providing transparency. We were also able to include specific Z clauses to allow the management of risks that could not be managed by other forms of contract.'

However, the use by a local authority of NEC rather than the government's standard Public Works Contract required a derogation from the Government Construction Contracts Committee, paving the way for future use of NEC on Irish public works.

Dr Ó Súilleabháin says a collaborative approach with bidders was initiated during early market engagement and in the technical and competitive dialogue phases of the procurement process. 'Ensuring this collaborative ethos endured into the construction stage was a significant benefit of using NEC, with its clause 10.1 obligation for the parties to act in a "spirit of mutual trust and co-operation".' He says the clearly defined programme management tools within NEC − such as early warnings, the risk register, programme reviews and strict timelines for action by all parties − greatly contributed to the administrative control of the project during construction.

'Issues which might affect the cost or programme were quickly identified through the NEC early warning mechanism and mitigated at risk reduction meetings. The contractor was also incentivised by the NEC target cost and pain-gain mechanism, which had the further benefit of providing an upper limit on our financial exposure.'

Overall Dr Ó Súilleabháin says that NEC processes improved cost certainty throughout the contract, ensured value for money at all stages and led to efficient delivery of the project through minimising project risk. 'The use of ECC Option C also provided transparency in relation to both costs incurred and future forecasts of costs. This facilitated timely reporting and commercial management throughout the contract.'
Benefits of Using NEC
NEC clause 10.1 obligation on parties to act in a 'spirit of mutual trust and co-operation' fostered collaborative engagement and open dialogue from the outset.
NEC risk-management mechanisms helped to ensure this high-profile project with many unknown ground risks was delivered safely, on time and on budget.
NEC early warning process ensured all issues which might affect cost or programme were addressed promptly and efficiently.
NEC target cost contract provided transparency of costs, facilitating timely commercial reporting throughout the works.
NEC pain/gain mechanism incentivised the contractor and capped the client's financial exposure.