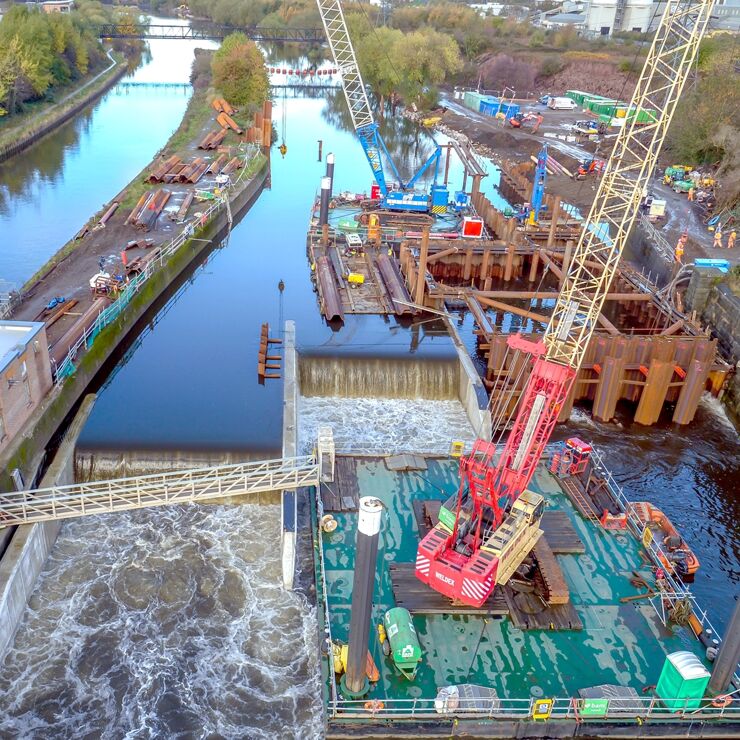 The City of Leeds on the banks of the River Aire in northern England suffered major flooding in December 2015 following some of the highest river levels ever recorded. Despite this event, a much-needed £50 million, NEC-procured flood alleviation scheme was successfully completed in August 2017 to provide 1:100 year flood protection to over 3500 residential and commercial city-centre properties and associated infrastructure.
Leeds City Council appointed Arup in 2011 under an NEC3 Professional Services Contract to develop the scheme in conjunction with the Environment Agency. It then awarded the detailed design and construction of phase 1 to BMM, a joint venture of Bam Nuttall and Mott MacDonald, under an NEC3 Engineering and Construction Contract (ECC) Option C (target contract with activity schedule) in April 2013, with the main works starting in January 2015.
Extending over 4.3km between Leeds train station and Thwaite Mills downstream, the scheme involves extensive construction of high-quality flood walls and embankments as well as replacing two existing fixed weirs with pneumatically operated moveable weirs, removal of a 600m long island and building a new cycle and pedestrian bridge.
One-team ethos
According to Leeds City Council project manager Richard Dennis, 'In line with the NEC requirement to work in a 'spirit of mutual trust and co-operation', a one-team ethos was embedded from the very start. Co-location was successfully achieved by intermingling staff from the client, consultant, contractor and other stakeholders in an open-plan office environment. This resulted in excellent communication and a clear appreciation of each other's drivers and perceptions, enabling priorities to be fully aligned.'
BMM project manager Andy Judson added that collective stakeholder engagement was also given utmost importance, with twice-weekly social media updates, operation of a flood information centre, monthly videos, bi-monthly newsletters, participation at local festivals and apprentice events, and numerous engagements with schools. 'Feedback surveys show very positive results in areas of staff helpfulness, pre-construction information and the overall improvement achieved,' says Judson.
Volunteer days and regular charity donations have also been made by the NEC project team, who were all committed to promoting the industry through work experience placements. Additionally a staff exchange programme was established, demonstrating an unequivocal level of trust.
Balancing risks
Dennis says the main works contract was procured using ECC Option C in recognition of the need to balance risks. 'We made minimal use of additional Z clauses to keep the integrity of the core contract and to avoid skewing the risk profile.'
An initial workshop was held on NEC procedures and how the comprehensive range of risk-management tools in ECC would be utilised. 'This reinforced our collaborative approach to managing change, adopting the NEC principles of early warning notifications and the gateway approach to preparation and implementation of NEC compensation events in a timely manner,' says Dennis.
During the contract a shared NEC risk register was operated by the team and updated with lessons learnt at regular intervals. Weekly team meetings provided support in completing agreed actions. 'There were 34 accepted programmes and over 280 early warnings,' says Judson. 'The early warnings were raised by all parties, with the focus being on management of defined cost. This meant that up-to-date actual costs were jointly presented at monthly senior management meetings.'
Problem solving
The collaborative culture fostered by NEC encouraged highly proactive problem solving, which helped the project remain on programme and within budget despite experiencing the largest local floods on record in December 2015. 'The team went above and beyond its duties to act as an emergency service during the Christmas period, significantly mitigating the long-term impact of the flood,' says Dennis.
Collaboration also led to optimisation of the scheme as it progressed, resulting in the level of protection being raised from a 1:75 year flood to 1:100 within the existing budget and programme. Additionally, further measures to reduce the risk of surface water flooding and increase the resilience of emergency response have been provided.
The project is on course to achieve an 'excellent' rating under the Ceequal civil engineering environmental quality scheme and it also won the NEC Project of the Year award in June 2017. 'The success of phase 1 has led early contractor involvement on phase 2 from the outset, which is already achieving swift progress against an ambitious programme,' says Dennis.
Benefits of using NEC
NEC promotes a one-team ethos, resulting in excellent communication and alignment of priorities within the project team.
ECC Option C provides an optimum balance of risks between the employer and contractor together with a comprehensive range of risk-management tools.
NEC early warning mechanism encourages all parties to flag up potential risks that could impact on the budget and programme, and the compensation event process means programme and costs are continually updated.
Collaboration and no-blame culture fostered by NEC leads to proactive problem solving – including dealing the worst flooding on record – and continual scheme optimisation.
What the NEC Awards judging panel said about this project:
A one team ethos used on an important project for Leeds with impressive results including 31 accepted programmes, emergency service during the Christmas break, daily side by side working, volunteer days and a no blame culture – great examples of what we can achieve as an industry in addition to an outstanding technical achievement.
Overall, many instances of best practice to support and encourage collaborative working have been implemented on this project, with good results including instances of exceptional performance by the Contractor. The collaborative methods which have enabled this include:
Contracts containing a fair balance of risk between the parties
Few Z-clauses are introduced
Teams are co-located in an open plan environment
A staff exchange programme is in place
An initial workshop held to discuss "how" the contract would be operated
31 Accepted Programmes achieved
No blame culture established
Use of a shared risk register and effective use of NEC change management procedures
Wider stakeholder engagements
Team identity created using branding / newsletters / communications