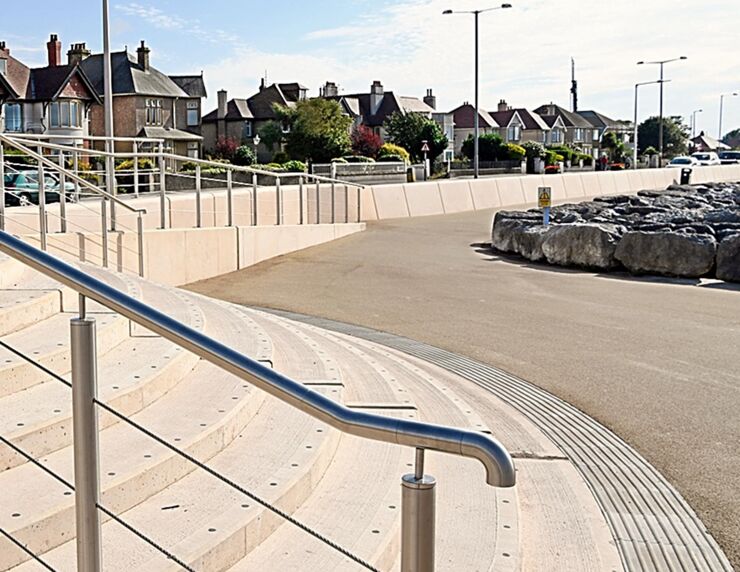 Lancaster City Council has successfully procured a replacement 4km seawall for the coastal town of Morecambe in Lancashire, north-west England using NEC. The upgraded wave-reflection wall protects up to 13,000 properties from flooding and, together with associated promenade works, has transformed the seafront area.
The council commissioned design and construction in October 2015 through the Environment Agency's NEC-based Water and Environment Management framework. Framework asset-delivery contractor VBA, a joint venture between VolkerStevin, Boskalis Westminster and SNC-Lavalin's Atkins business, was appointed by the council under an NEC3 Engineering and Construction Contract (ECC) Option C (target contract with activity schedule). The work was successfully completed on programme and budget in August 2018.
The project primarily involved demolishing and replacing the existing 1980s mass-concrete seawall, much of which had cracked and spalled due to alakali-silica reaction. A length of 2.2km of the 0.9m high wall was replaced with 998 precast mass-concrete units weighing up to 6t each. These were manufactured in steel moulds at a nearby casting yard, using blast furnace slag as a 50% cement replacement, and were delivered to site on a just-in-time basis.
The remaining 1.8km of the wall was subsequently found to be in sufficiently sound condition to repair rather than replace, which was done using a sequence of water-jet cutting, resin injection, mortar rendering and waterproof paint. New promenade surfacing, seating and lighting was provided along the entire length of the wall, together with improved disability access, creating a high-quality public realm for locals and visitors alike.
Contract of choice
Lancaster City Council project engineer Gary Bowker says ECC Option C is the council's infrastructure procurement route of choice. 'NEC's obligation for the parties to work "in a spirt of mutual trust and co-operation" helps to ensure that we have a collaborative working relationship with the contractor from the outset.
'The NEC early warning process means we work together to mitigate unforeseen risks as soon as they arise; we have full transparency of costs through the target contract's open-book approach; the contractor is fully incentivised to perform through the pain-share, gain-share arrangement; and the programme and budget are continually updated and agreed so there are no surprises or disputes at the end of a contract.'
He says the Morecambe project was carried out in three phases, with the initial contract award being for the first phase and the second and third phases being awarded as NEC compensation events. 'The flexibility of NEC allowed us to go ahead with the approved 1.8 km section between Lord Street and Happy Mount Park while we completed planning applications for the remaining sections. Once permissions were granted, we agreed target costs with the contractor and instructed changes to the works information.'
Cost savings
According to Bowker, NEC-inspired collaboration with the contractor and other stakeholders resulted in total cost savings of £3.8 million. 'The original scheme was to replace the whole seawall with a new cast-in-situ wall, which would have required extensive temporary works and concrete deliveries along the seafront. VBA opted to cast the replacement units around a kilometre away at White Lund using sister company VolkerBrooks, delivering them to site only when needed, where they were quickly lifted into position.'
He says some of the existing wall foundations were found to be in poor condition during phase one, requiring designed repair solutions before the precast units could be installed. 'This risk was mitigated on phase 2 by utilising these now "off-the-shelf" designs and repair techniques should the existing base be found defective following demolition.'
As part of its value-engineering process, Bowker says the contractor also undertook extensive testing of the existing sea wall. 'Working closely with the supply chain, we were able to develop and agree a repair solution for the phase 2 section between Regent Road and West End Gardens and all of phase 3. This not only saved money but reduced programme time and avoided disruption from road closures and more significant demolition works.'
Integrated team
He says the client and contractor were closely integrated throughout, sharing office space both on site and at the nearby town hall. 'As a fully integrated design and build entity, VBA was able to react to budget challenges swiftly and overcome key constraints with value engineering workshops. The supply chain for major elements such as the precast wall units and concrete repairs were also involved at all stages of the project to develop efficient designs, overcome challenges on site and provide efficiencies. This enabled significant savings to be made in all phases.'
Bowker says that through close liaison with event organisers and local groups, including the contractor's dedicated stakeholder liaison officer, the project team ensured the normal function of Morecambe as a tourist destination was not affected by the works. 'Access to the promenade for the public was maintained at all times, with safety and flood resilience provided by using a robust but attractive bespoke hoarding system, designed to provide a temporary flood defence while the existing wall was being rebuilt. We also rescheduled our initial construction programme so that the works affecting the central area, the focus of many tourist-oriented events, were conducted and completed in the autumn and winter months outside of the main window for outdoor events.'
He concludes, 'Not only does the scheme protect 13,000 properties from flooding, it has transformed the seafront of Morecambe making it an attractive place to live and to visit. The scheme has also brought increased investment to the town and local area, with around £6 million invested in the local economy by use of local suppliers. The project is a shining example of how collaborative working between stakeholders can achieve outstanding results.'
Benefits of NEC
NEC's obligation for the parties to work 'in a spirt of mutual trust and co-operation' helps to ensure a collaborative working relationship between the parties from the outset, leading to effective problem solving and value engineering.
NEC early warning process means the parties work together to mitigate unforeseen risks as soon as they arise, and the programme and budget are continually updated so there are no surprises at the end.
ECC Option C gives the client full transparency of costs and incentivises the contractor through a pain-share, gain-share arrangement.
NEC flexibility means later stages of work can be awarded under the initial contract through compensation events.