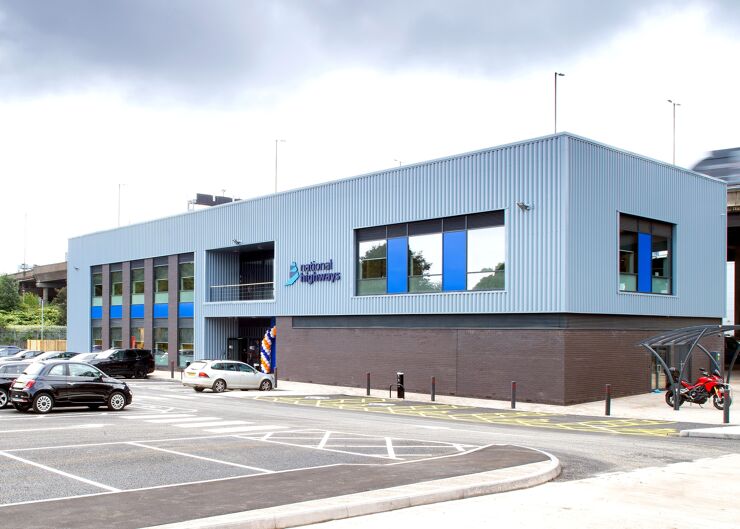 NEC Users' Group platinum member National Highways has used NEC to redevelop four highway operations depots in the West Midlands, UK as multi-functional offices. Worth a total of £20.7 million, the four projects were let to contractor Morgan Sindall Construction through the NEC4-based Scape national construction framework.

Each project was awarded in November 2022 under an NEC4 Engineering and Construction Contract (ECC) Option A (priced contract with activity schedule). The last of the four sites was completed on time and budget just 10 months later in September 2023.

The redeveloped depots are at Bescot in Walsall, Doxey in Stafford, and Strensham and Warndon in Worcestershire, and all are in National Highways' Area 9. They bring together office and operations staff for the first time, providing a more flexible and collaborative 'hub and spoke' approach to office accommodation rather than having all Area 9 office staff based in Birmingham.

The work involved building new two-storey office buildings at Bescot and Doxey and refurbishing existing offices at Strensham and Warndon for use by operational and non-operational staff, traffic officers, contractors and partners. A new salt barn, garage and eco-garden were also installed at Strensham.

Sustainability features of the new and upgraded offices include variable refrigerant flow systems, solar panels and LED lighting. Further greenhouse gas reduction was achieved by manufacturing the Strensham salt-barn offsite and recycling concrete from the demolished buildings at Bescot as aggregate. Over 3,000 t of hazardous coal tar, formerly used as a road binder, was also safely recycled.

For each contract the NEC project manager was Gleeds and the principal designer was The Harris Partnership. The depots needed to remain operational 24/7 throughout the works, which also required close cooperation between the project teams and National Highways Area 9 maintenance and response contractor Colas.
Mutual trust and co-operation
National Highways programme and project manager Ciprian Ciuraru says the choice of ECC Option A for the procurement was based on a combination of factors. 'However, the key driver for the decision was the upfront cost certainty of this option, something that enabled the careful internal assessment, approval and ultimate release of the necessary funding.'

He says the NEC requirement on the parties to act in a 'spirit of mutual trust and co-operation' engendered a strong collaborative approach on every site. 'The NEC contract's very foundation is to create an open and honest relationship between all parties while facilitating a prompt vehicle for resolving unforeseen circumstances.'

Ciuraru says the NEC early warning and compensation event processes also helped to ensure that issues were managed and dealt with as quickly and cost-effectively as possible. 'Whenever challenges were encountered on the four projects, the available NEC4 contractual mechanisms offered an issue resolution path that facilitated the avoidance of scope, cost or programme creep.'

He confirms that all four projects were completed on time and budget. 'The Warndon depot finished in March 2023, the Strensham depot was delivered in July 2023 and the Bescot and Doxey depots were both completed in September 2023. They are a testament to the NEC-inspired collaborative approach embraced by all members of the four project teams.'
Benefits of using NEC
ECC Option A provided the client with upfront cost certainly to enable approval and release of the funding.
NEC requirement to act in a 'sprit of mutual trust and co-operation' created an open, honest and collaborative approach between all parties and external stakeholders.
NEC contractual mechanisms ensured issues were quickly and fairly resolved, keeping all four projects on track for completion on time and budget.