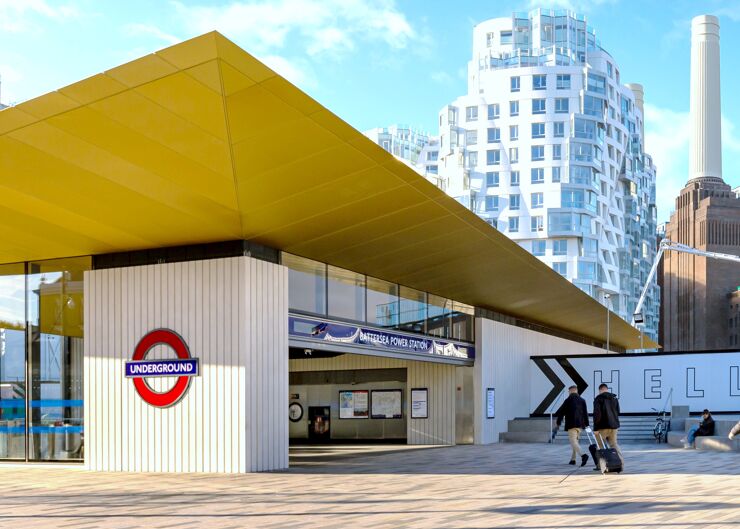 NEC has been used to deliver a £1.1 billion extension to the Northern line underground railway in London, UK. It is the largest project on the Tube for 22 years and will improve access to the Vauxhall Nine Elms Battersea opportunity area, which aims to create 20,000 new homes and 25,000 new jobs.

Operator Transport for London (TfL) let the work in September 2014 to a joint venture of Ferrovial Construction UK and Laing O'Rourke under an NEC3 Engineering and Construction Contract (ECC) Option C (target contract with activity schedule). TfL subsidiary London Underground Limited acted as NEC project manager. Despite the Covid-19 pandemic, the line opened for passengers in September 2021 and the contract was completed on time and within budget in June 2022.

The work involved tunnelling a 3 km long twin-bore extension of the Northern line's Charing Cross branch, taking it from Kennington in central London to new stations at Nine Elms and Battersea Power Station to the west. In addition to 6.2 km of 5.2 m internal diameter tunnels, the contract included two new ventilation shafts, new step-free underground stations, removal of 1.1 Mt of soil by river and installation of track in 92 m lengths. Railway systems and signalling were supplied by Thales Ground Transportation Systems under a separate contract.
Shared risk profile
Programme delivery manager Ian Burnham says TfL had successfully used NEC contracts on previous large and complex projects. 'Specifically, ECC Option C enables both TfL and its contractors to share the appreciable known risks at the project initiation stage, and this shared risk profile allows the parties to strive for optimal delivery. The open-book transparency of costs in Option C also enables projects to be delivered with strict public-sector governance and oversight.'

As NEC is now ubiquitous for mega-infrastructure delivery in the UK, Burnham says it allows all parties to drawn on their existing experience and other case studies to ensure success. 'The familiarity of NEC main and subcontracts and their straightforward approach also enables them to be cascaded through the supply chain, giving increased visibility to the project manager and comfort that the supply chain will respond appropriately and in accordance with their respective contracts.'

He says the NEC obligation on the parties to act in a, 'spirit of mutual trust and co-operation', reassured all parties of fair and consistent outcomes from the outset. 'It provided a guiderail to promote the right collaborative behaviours to deliver the works, which was further supported by clear and concise communication.'

Burnham says early lessons learnt from the project highlighted the importance of maintaining clear and concise communication throughout the works. 'We encouraged initial consultation prior to issue of notifications to ensure parties directly discussed issues and sought to discourage blame and miscommunication. In addition, a joint senior team consisting of the project manager and the contractor's project director established a periodic review of contract correspondence and notifications to ensure periods of reply were maintained.'

He says the project team also effectively used NEC early warning and compensation event process to drive collaboration. 'We capitalised on the NEC early warning process for risk identification and mitigation. Early warnings were actively used by both parties and minutes from risk-reduction meetings were recorded, agreed and issued promptly. The parties needed to be both well-resourced and encouraged to ensure this was properly administered.'

He adds that progressively notifying and implementing NEC compensation events, and clearly articulating reasons for rejection when necessary, was a further demonstration of collaborative behaviour.
Managing change
Burnham says there were many changes instructed to the works information, including major revisions to the Battersea Power Station oversite development. 'Despite this occurring early in the contract life cycle, the parties continued to adhere to the contract so that collaborative delivery was maintained. Where necessary, the escalation paths within the NEC were effectively utilised to settle any disagreement.'

He says maturity in the relationships between the parties was also key to effective continuation of the project following the onset of Covid-19 in March 2020. 'Crucially this enabled the project teams to deliver the works to a publicised opening date despite the impact of the virus. Notwithstanding its very low likelihood and high impact, NEC provided the tools needed to manage the contract throughout the pandemic.'

Burnham says the NEC requirement to produce and agree up-dated programmes was critical for success too. 'This ensured the main contractor could coordinate its work schedules with the railway systems contractor and other stakeholders, striving collaboratively for common programme goals. It also meant the project manager had credible cost forecasts to inform its decisions, including determining the project pain/gain share and understanding the parties' financial exposure.

'We further capitalised on clauses within NEC to drive value. Significantly, the contractor and project manager agreed effective value-engineering proposals by seeking to lower the estimated final cost while not amending the target cost. This incentivised the contractor to deliver value-engineering efficiencies.'

Burnham concludes, 'In what is testament to the hard work of the project team through years of delivery, the project successfully reached financial settlement just nine months after the extension came into revenue service. This reflects collaborative and active management of the contract throughout, transparent sharing of data, and a shared understanding of risk.'
Benefits of using NEC
NEC is familiar to the full UK infrastructure supply chain, with back-to-back NEC sub- and-supply contracts increasing visibility of project manager.
ECC Option C target cost contract enabled collaborative risk sharing and provided a high level of financial transparency.
NEC obligation on parties to act in a, 'spirit of mutual trust and co-operation' ensured collaborative behaviour from the outset.
NEC early warning and compensation event process were used to drive collaboration, supported by clear and concise communication
NEC change management processes dealt well with major oversite revisions at Battersea and the Covid-19 pandemic.