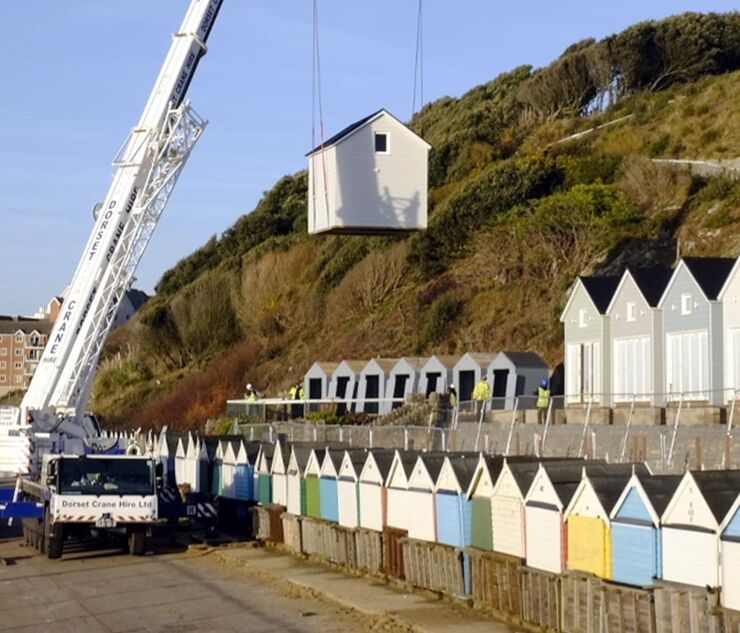 Bournemouth Beach Lodges is a £1.7 million development of 15 NEC-procured overnight-stay beach huts at Boscombe beach in Dorset, southern England.

Bournemouth Borough Council let the design, off-site manufacture and installation of the timber lodges to UK beach-hut specialist Ecologic Developments Limited under an NEC3 Engineering and Construction Short Contract (ECSC) in June 2015.

The cleverly designed 3.2 m by 4.7 m buildings provide sleeping for six people on two floors and each include a bathroom, equipped kitchen, seating and wi-fi. One lodge is wheelchair friendly, with an access ramp, wider doors and level-access shower and toilet.

Demolition, groundworks, electrical installation and related facilities – including a new beach office, catering kiosk and laundry – were carried out by the council's internal contractor Bournemouth Building and Maintenance Limited. Engineering and NEC project management services were provided by WSP under an NEC3 Professional Services Contract (PSC).

Despite the challenging site, the innovative tourism accommodation project was completed on time and within budget in April 2017. It is expected to create 26 permanent jobs and generate over £1 million visitor spending a year.
Logistically challenging
The lodges are located on a narrow site 7.33 m above sea level at the foot of 30 m high cliffs. Royal Haskoning carried out detailed modelling to ensure the site will be safe from 1-in-100 return period waves over the next 100 years. WSP assessed the cliffs behind the site as stable, with erosion protection provided by regular beach replenishment.

Construction operations were logistically challenging due to the linear nature of the site, with only one point of access and up to five different trades working at any given time. These included a specialist abseiling team to create a trench down the cliff face for the new electricity supply.

The heated and insulated lodges and their external decking are supported on narrow concrete foundations behind an existing masonry retaining wall, which was first strengthened with ground anchors to carry the additional load.

Designed for a low-maintenance lifespan of 40 years, the lodges were manufactured off-site in the New Forest in June 2016. They were delivered to site, complete with all finishes and fittings, in January 2017 and lifted into position over a three-day period.
Strong relationships
According to Andrew Emery, resort development and strategy planning manager at Bournemouth Borough Council, 'We regularly use NEC contracts to manage our various capital works schemes and framework contractors.' The relatively straightforward and low-risk contract for designing and building the lodges was therefore let under an NEC3 ECSC.

'The flexibility of NEC enabled payment applications to be agreed up front as part of the contract, along with regular visits to the off-site factory to monitor progress. As a result our relationship with the contractor was strong and maintained throughout the project.'

He says a key benefit of the ECSC was the clear documentation of what was agreed between the parties. 'Based on the successful outcome of this pioneering project we will be using a similar NEC contract for future overnight lodge construction.'
Benefits of using NEC
NEC3 ECSC is effective for procuring relatively straightforward and low-risk design and build works on time and within budget.
NEC flexibility and collaborative ethos helps to build and maintain a strong relationship between the client and contractor.
NEC provides clear documentation of what is agreed between the parties, including payment provisions and programme monitoring.