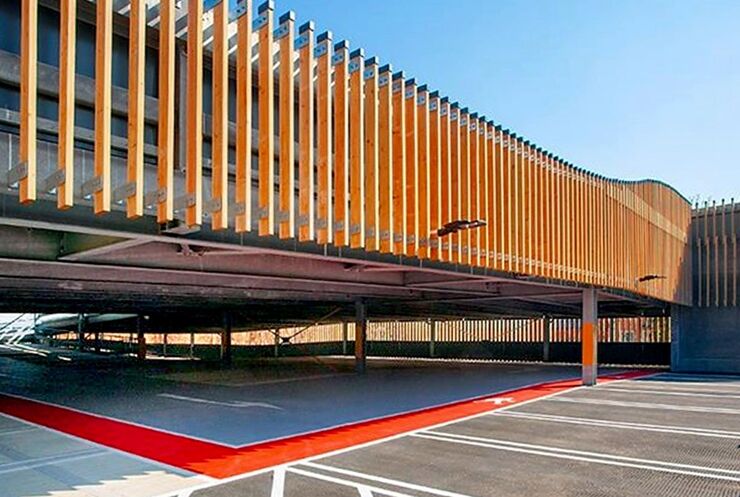 NEC has been used to deliver a state-of-the-art multi-storey carpark in the centre of Canterbury − a cathedral city and world heritage site in Kent, south-east England. The three-storey building includes automatic number plate recognition technology, an app-based payment system, up to 40 electric vehicle charging bays, cycle racks and a living wall.
The £9.1 million reinforced-concrete structure has increased the capacity of the former Station Road West carpark next the city's railway station from 129 spaces to 380. It will enable Canterbury City Council to cater for commuter and short-stay parking in the St Dunstans area for the next 25 years.
The council let the design and construction to Willmott Dixon under an NEC3 Engineering and Construction Contract Option A (priced contract with activity schedule). Work started on site in March 2019 and the building was handed over on time and within budget in January 2020. Following easing of the Covid-19 pandemic lockdown, the carpark was finally opened in June.
Council project manager Harriet Baillie says it was one of the largest capital projects the council had undertaken for many years. 'The complicated site constraints along with intense political and public scrutiny provided significant challenges. It was also my first experience of using an NEC contract'.
She says although other forms of contract, particularly the JCT suite, were considered for procurement, it was decided to use NEC primarily as the client team were familiar with the using the contract suite for local authority civil engineering works.
Collaborative approach
'I had completed my NEC3 Project Manager Accreditation in early 2019 and understood the NEC clause 10.1 obligation to act in a "spirit of mutual trust and co-operation". However, I was apprehensive of how this would work in practice, and whether this idealistic principle would remain for the duration of the project – especially when the inevitable issues arose.
'But main contractor Wilmott Dixon's extensive experience with NEC contracts reassured me that the correct contractual procedures would be followed, and sure enough they demonstrated a collaborative approach consistently and throughout. This was evident when the site team attended a council meeting at one day's notice over the Christmas holidays to accommodate last-minute scope changes.'
Baillie says the contractor also collaborated closely with the council's specialist suppliers of various car-park services and equipment, such as closed-circuit television, electric vehicle charging points and automatic number plate recognition systems. 'Willmott Dixon were extremely helpful, hands on and detail orientated, ensuring their building works were perfect for when our specialist suppliers needed to start.
'This was no mean feat, with considerable advances in technology having taken place since the original scope was agreed. Plans were changing at the 11th hour, and the contractor worked with us to adapt to these changes. For example, lengths of tray and ducting that had just been fixed had to be taken down and made good, and the plant room had to be reconfigured post-completion to accommodate additional equipment.'
She says the contractor's site team were always looking to find a solution to her concerns, and often went outside their direct remit, meeting with specialist suppliers and finding solutions for their issues. 'I have no doubt this added value and genuine interest in delivery contributed to the success of this project.
'I was particularly impressed with the snagging element of the works. There was an open and honest approach and the contractor's technology, which tracked snags and de-snags, instilled confidence and created a thorough record. Like us, they too had very high standards and were looking for ways to improve and check tolerances. This collaborative method of working, both towards the same target, worked well and lead to a successful handover − and a positive lasting impression of both the contractor and NEC.'
Effective communications
According to the council's head of transportation and environment Richard Moore, 'From a client perspective, NEC worked exceptionally well in practice. The contract enabled the early establishment of clearly defined roles and responsibilities, which formed the basis for effective communication.'
He says NEC dealt with change in a most efficient way through early warning notices and then compensation events. 'Using this formalised approach focused attention of both parties on resolving disputes quickly and effectively, meaning greater financial control. From a client perspective, this gave us confidence to agree to a significant number of additional works at an early stage that were funded from the project contingency sum. It made a huge difference to the final car park finish.'
Moore adds that the tight financial control also meant that the final account was agreed a week after project completion and helped to ensure that the project was completed on time and within budget.
Baillie concludes, 'With NEC's clear and concise communications it was simple for all parties to log compensation events, quotations and instructions. This was much easier than the "confirmation of verbal instruction" forms that I had previously used, which often led to items being missed and instructions misinterpreted.
'I would favour using NEC again due to the positive experience and outcome of this project. What made this so rewarding was the cooperative methodology and working ethos, which ensured that everyone involved felt invested in the project and the success shared.
Benefits of using NEC
Plain English made the contract easy to understand, while clearly defined roles and responsibilities ensured effective communication.
The obligation to act in a "a spirit of mutual trust and co-operation" helped to facilitate collaborative working and accommodate numerous last-minute scope changes required by fast-evolving technology.
NEC early warning and compensation event processes ensured that project risk and financial control was closely managed, enabling project to be delivered on time, within budget and to a high standard of finish.