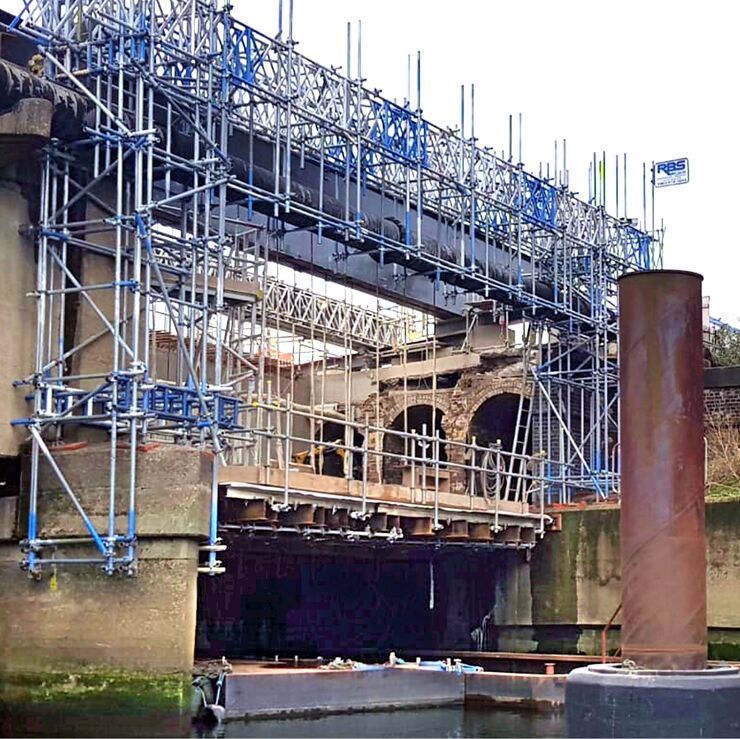 Seven NEC subcontracts have been used to reconstruct a vital 160-year-old bridge in Stratford, east London. The 40m crossing of Waterworks River next to the Queen Elizabeth Olympic Park carries the northern outfall sewer, which transports sewage from 4 million people in north London to Beckton sewage treatment works, plus a watermain and the Greenway pedestrian and cycle path.
Originally built by Joseph Bazalgette in the 1860s, the three-span structure carried flows from five 2.7m diameter brick sewers in a mix of iron, steel and concrete ducts. The oldest eastern span, which had three leaky wrought-iron ducts supported by wrought-iron girders, as well as two steel-box-section ducts, has been replaced with a new five-cell reinforced concrete structure. The upper flange of the newer concrete spans has also been strengthened.
Client Thames Water procured the £14.3 million reconstruction through its Eight2O alliance, which was set up with two design-and-build joint ventures − Costain, Atkins and Black & Veatch (CABV) and Skanska, MWH and Balfour Beatty (SMB) − to carry out £1.75 billion of works during the 2015−2020 asset management period (AMP6). It was agreed by alliance partners from the outset that all works would be procured using NEC3 subcontracts.
For the Waterworks bridge reconstruction, SMB let the main civil engineering works, including demolition, temporary works and concrete construction, to PC Richardson in August 2017 under an NEC3 Engineering and Construction Subcontract (ECS) Option C (target contract with activity schedule). The subcontractor was also initially engaged under a separate NEC3 Engineering and Construction Short Subcontract (ECSS) for trial holes and preconstruction activities.
Subcontractors Getec, Sian Formwork, RBS Scaffolding and Rhodar were also each engaged under ECS Option A (priced contract with activity schedule) for monitoring, watermain wrapping, watermain support and asbestos removal respectively, while Wood Hall & Heward was hired under ECSS for providing inspection barges. The sewer and navigable waterway remained operational throughout the reconstruction works, which were successfully completed on time and within budget in August 2019.
Managing risk
According to project manager Luke Mosley, 'The alliance's decision to use NEC across all of our supply-chain engagement was due to its proactive approach to managing risk, collaborative culture and embedded best-practice tools for project management.
'For Waterworks bridge, we chose ECS Option C for the main works subcontract because of the significant risks involved − there were many unknowns concerning the condition of the structure and how it would react when load paths were changed. The subcontractor's target price was based on an assessment of the risks, which with Option C meant we benefitted when conditions were better than site information and works information, but paid the contractor fair compensation when conditions were worse.'
Demolishing and replacing each duct in the bridge required the use of a moveable temporary crash-cum-formwork deck under the bridge suspended from large moveable temporary girders above. 'As the temporary works had led the design of the permanent works but the subcontractor was responsible for the final temporary works design, the use of Option C benefitted the project in driving innovation from the subcontractor,' says Moseley.
For example, he says the subcontractor proposed removing the main crane indicated in the works information at tender stage and replacing it with a gantry system. 'This reduced the programme, the risk of additional load on the structure and the cost. But even further reductions were achieved post contract award, with the subcontractor using a 360 degree slewing forklift instead of a gantry. This removed wind-loading risks associated with the gantry, further reduced costs and provided additional assistance with other lifting activities on site.'
Mosley says both parties to the Option C contract felt empowered to raise early warnings to discuss risks as soon as they became aware of them. 'The early warnings triggered risk reduction meetings, which were held in an open-forum format with everyone's views being respected, leading to joint resolutions on how to mitigate each risk. A great example of this was the risk reduction meeting held after replacing the first wrought-iron duct, which resulted in the second wrought-iron duct taking 50% less time to demolish and replace, leading to significant cost savings.'
Managing change
Senior quantity surveyor Lana Salih says that because of the open and transparent culture driven by NEC and the project team, all subcontractors were able to notify compensation events for what they believed were clear changes to the works information. 'This was on the understanding that discussions would be held between the parties to ensure everyone was aware and clear of the facts before compensation events were assessed by the project manager. It ensured a good working relationship between the parties was maintained and meant construction activities were not impacted when contractual disagreements were encountered.'
She says that due to the complex and unpredictable nature of the works, it took six months to achieve an accepted programme for the main subcontract. 'This involved both parties' planning engineers, project managers and construction managers collectively sitting together and going through the issues, resolving and discussion how to move forward. Once this activity was undertaken, an accepted programme remained in place until the end of the project, with any revisions quickly agreed.'
She adds that NEC's clear guidelines on communication and collaboration were also a key to the project's success. 'Without the project management tools written into the contracts, such as periods of reply and what is required to be notified by when, each party would have a different opinion on what should be done and how the contracts should be administrated. As NEC contracts are so clear and transparent, both parties fully understood their obligations and expectations.'
Benefits of using NEC
NEC encourages a proactive approach to managing risk, with early warnings and risk reduction meetings ensuring all risks are dealt with collaboratively and promptly.
Option C contracts incentivise the subcontractor to provide innovative solutions that lower risks, reduce costs and save time.
NEC openness and transparency ensures subcontractors are fairly and quickly compensated for change, thereby maintain a good working relationship between the parties.
NEC contracts are clearly written and embed best-practice tools for project management, ensuring both parties fully understand their obligations and expectations.