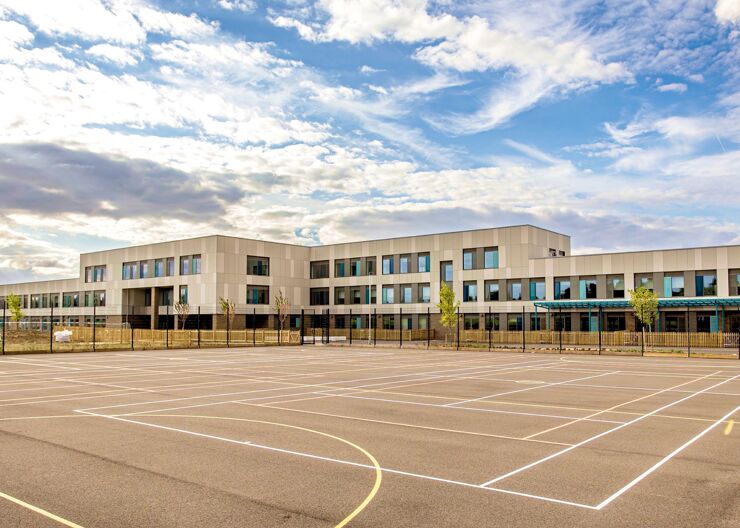 NEC has been used to deliver a large fossil-fuel-free school in Milton Keynes, UK. Glebe Farm School provides over 1500 nursery, primary and secondary places and eliminates 40 t of carbon dioxide emissions each year by not using gas.

Client Milton Keynes City Council engaged contractor Morgan Sindall via the Pagabo major works framework in February 2021 under a £31.5 million NEC3 Engineering and Construction Contract (ECC) Option A (priced contract with activity schedule). The NEC project manager was Currie & Brown and design was by Synergy Architects and Aecom.

Work on the 95,000 m2 site included building a steel frame two-to-three-storey school structure with precast concrete upper floors and a mix of curtain walling and brickwork cladding. There is also a new sports hall, multi-use games areas and several sports pitches for both school and community use.

Sustainability features include installation of air-source heat pumps for heating and hot water, and 500 m2 of roof-top solar panels for powering all LED lights. Thermal transmittance of windows, doors and all external structures was optimised to achieve an air-permeability rating of less than 3, 40% better than building regulation requirements, and 840 trees were planted on site to offset carbon emissions.

The school was completed to the agreed programme and budget in September 2022, and it was highly commended for the Social Infrastructure Project of the Year Award at the 2023 British Construction Industry Awards.
Collaborative approach
Currie & Brown associate Laura Magee says the NEC requirement on the parties to act in a 'spirit of mutual trust and co-operation' was at the heart of the project's success. 'A key focus of the works and NEC contract application was forming and maintaining a truly collaborative team with all stakeholders.'

She says the challenges faced by the project were unprecedented, including the Covid-19 pandemic, Brexit and the Ukraine war. 'The project kicked off the day after the Covid-19 lockdown in 2020. The team only met for the first time in-person on site a year and a half later to sign off the steelwork.'

Despite these challenges, Magee explained how the team found different ways of working virtually. 'The key to project delivery was the fostering of a clear, collaborative and structured delivery plan, while maintaining open and honest communication.'

She says market volatility triggered disproportionate cost increases and lead times for selected materials following contract agreement. 'While this was not specifically a client risk, it had the potential to influence the overall project in terms of delays to completion.'

Magee says the project team constantly reviewed potential impacts and mitigation measures for the supply issues. 'We worked within the contract to facilitate bulk material orders to secure materials to maintain progress, including reconfiguring the works to provide additional storage areas. The contractor was instructed to amend the activity schedule to reflect this, helping to maintain cashflow.'
Good communications
Throughout the project, she believes that good communications were vital to achieving a successful outcome. 'With clear instructions, and prompt discussion and mitigation of NEC early warnings flagged by the contractor, we were able to maintain progress – even reaching a final account agreement prior to completion on site.'

Magee concludes, 'The delivery of Glebe Farm School is testament to exemplary NEC-inspired collaborative relationship and risk management within the project team. This resulted in successful completion on time and budget.'

Marie Denny, head of education, learning and inclusion at the Council, wrote to the project team after completion to say, 'I know how hard you and the team have worked to ensure that, despite the pandemic, we remained on track and hit all key milestones.

'We are on programme because of this excellent work and commitment from the team and are really excited about delivering what I know will be an exceptional school building for the residents of Milton Keynes.'
Benefits of using NEC
NEC requirement on the parties to act in a 'spirit of mutual trust and co-operation' helped to form and maintain a collaborative project team.
NEC-inspired collaboration helped the team to overcome the challenges of Covid-19, Brexit and the Ukraine war to deliver the school on programme and budget.
NEC early warnings and other contract communications helped to maintain progress and reach final account agreement before completion.