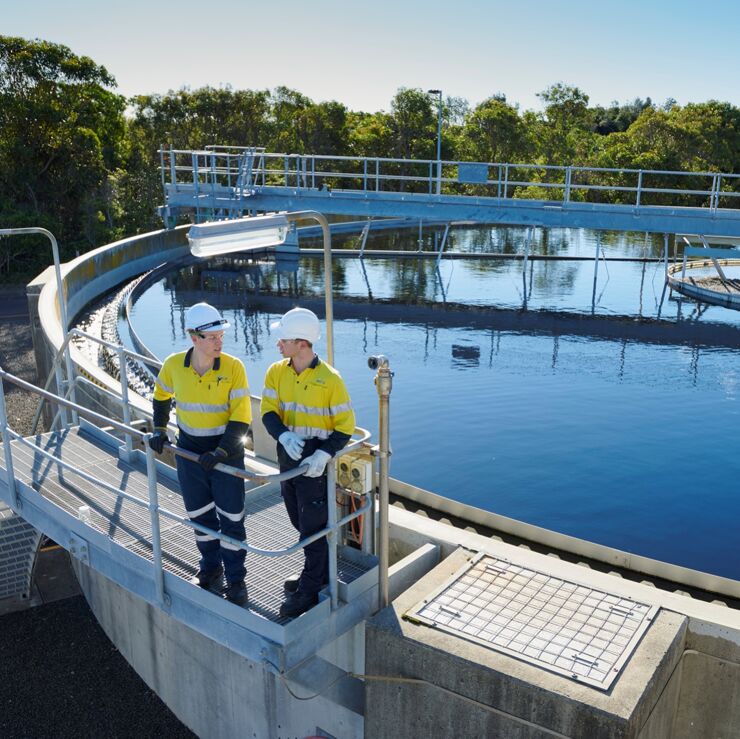 Sydney Water, Australia's largest water and wastewater services provider, has adopted NEC4 contracts for its new collaborative enterprise model for delivering up to AU$4 billion (£2.2 billion) of construction works and services between 2020 and 2030. It is the country's first major infrastructure provider to use NEC as its standard procurement route.

Called Partnering for Success (P4S), the new NEC4-based model involved replacing its traditional, transaction-based supply chain with three regional delivery consortia. Each consortium now provides an integrated range of design, construction, maintenance and facilities management services for all water and wastewater assets in each region, which is expected to lead to 5−10% annual programme savings.

The three consortia are Confluence Water in the north, consisting of Broadspectrum, Downer Utilities Australia and Jacobs; Delivering for Customers (D4C) in the south, comprising Comdain Infrastructure, John Holland, Lendlease Services and WSP; and the West Region Delivery Team of Stantec, Atlas Personnel Services, Abergeldie Contractors, Fulton Hogan Industries and Programmed Facility Management.

Framework agreements were signed with the consortia in December 2019 and, following six months of mobilisation and programming, the 10-year delivery periods started in July 2020. Works are now being let under the NEC4 Engineering and Construction Contract (ECC) (options A to E) and NEC4 Engineering and Construction Short Contract (ECSC). Services are being contracted using the NEC4 Term Service Contract (TSC) and NEC4 Professional Service Contract (PSC), and supplies are being procured using the NEC4 Supply Contract (SC) and NEC4 Supply Short Contract (SSC). Sydney Water is acting as project, service or supply manager on each contract with initial planning and design support provided by Aurecon−Arup.

Owned by the New South Wales government, Sydney Water supplies water, wastewater, recycled water and stormwater services to more than five million people in Sydney, the Illawarra region and the Blue Mountains. With the population expected to increase 2.7 million by 2036, significant new infrastructure is needed. Assets currently include 243 reservoirs, 16 wastewater treatment plants, 835 pumping stations, 22,000 km of water mains and 25,000 km of sewers.

The new NEC4-based contractual model for procuring asset-related goods and services aligns with the New South Wales government's ten-point plan published in 2018 to develop a more collaborative relationship with the over-stretched construction sector.
Global best practice
Portfolio procurement manager Pouya Razavi says, 'We selected NEC4 contracts because they are global best practice. They have been used for three decades internationally and are endorsed by the governments of the UK, South Africa and Hong Kong. They bring plain English and a collaborative way of working upfront in relationships with the supply chain, and the simple contract structure reduces disputes between parties and enhances project outcomes.'

He adds that Sydney Water is also an early adopter of the Institution of Civil Engineer's Project 13 procurement approach, which is based on an enterprise model rather than traditional transactional arrangements. 'Project 13 aims to boost certainty and productivity in delivery and achieve better whole-life project outcomes in operation. Selection of NEC4 contracts will help us to achieve these objectives.' Prior to work starting, Sydney Water updated its contract administration system in collaboration with the regional delivery consortia to make it compliant with NEC4 requirements. 'We have developed an NEC4 contract management manual which contains all NEC4 management flow charts along with NEC's guidelines and user guides,' says Razavi.

'Each regional delivery consortium has developed an agreed annual integrated works programme containing design, construction, maintenance and facility management for their region. The consortia are committed to delivering 70% of this through their directly employed workforces and owned plant through the life of their contracts, though we expect this to increase each year to reduce the risks of subcontracting. We have also set up shared purchasing arrangements with a pool of specialist suppliers to make subcontracting safer, quicker and easier.'

He says all NEC4 contracts are standard, simple, flexible and use plain English. 'This approach facilitates fairness, transparency and collaboration, as well as reducing disputes, contract renegotiations and their associated costs. Such procurement simplicity and contract clarity shift the focus onto delivery, outcomes and community value. For option C and D target cost contracts, a regional programme-wide pain/gain sharing incentive have also been set up to ensure fair and appropriate risk allocation.'
Collaboration is the key
Overall Razavi says collaboration is the key to P4S. 'Collaboration goes beyond individual projects under P4S. Supported by NEC4 contracts, the model integrates design, construction, maintenance and facilities management in an end-to-end asset lifecycle. NEC4 option X22 enables early contractor involvement and NEC4 clause 10.2 fosters a "spirit of mutual trust and co-operation" in commercial relationships with suppliers. This replaces traditional hierarchical relationships with dynamic ones, and creates a level playing field.'

He says improved collaboration, teamwork and integration across the supply chain are already being seen. 'The key performance indicator framework was collaboratively developed with the consortia to measure the performance of NEC4 users. This includes use of the NEC4 early warning mechanism to mitigate risk and address issues proactively and collaboratively. The establishment of a regional performance and innovation fund funded by aggregated programme underspend will further help to stimulate innovation and collaboration.'

Sydney Water has also established a major training programme to upskill client and consortia staff in contract and project management, using a cloud-based learning management system to facilitate course delivery. According to Razavi, 'The NEC contract practitioners' course was the first to be delivered via the new training programme. This was initially piloted with some Sydney Water staff prior to distribution to a wider audience across all regional delivery consortia.'

Click the video below to hear from Dafydd Wyn Owen, Partner, HKA discuss about Australia's infrastructure boom giving an overview of the current project pipeline in Australia and sharing a short case study on Sydney Water's Partnering for Success (P4S) initiative - the first program in Australia to use NEC.
Benefits of using NEC
NEC4 contracts are global best practice for construction and infrastructure procurement. They bring plain English and a collaborative way of working upfront in relationships with the supply chain, and the simple contract structure reduces disputes between parties and enhances project outcomes.
NEC4 provides a comprehensive range of compatible agreements and payment options for procuring works, services and supplies across major regional infrastructure systems, making them ideally suited to a Project 13 enterprise approach.
NEC4 clause 10.2 fosters a 'spirit of mutual trust and co-operation' in commercial relationships with suppliers and NEC4 option X22 facilitates early contractor involvement, helping to improve working relationships and project outcomes.
NEC4 option C and D target cost contracts have pain/gain mechanisms to incentivise suppliers and ensure fair and appropriate risk allocation.
NEC4-compliant key performance indicators has been used to encourage use of the NEC4 early warning mechanism, which mitigates risk by encouraging issues to be addressed proactively and collaboratively.
By Simon Fullalove