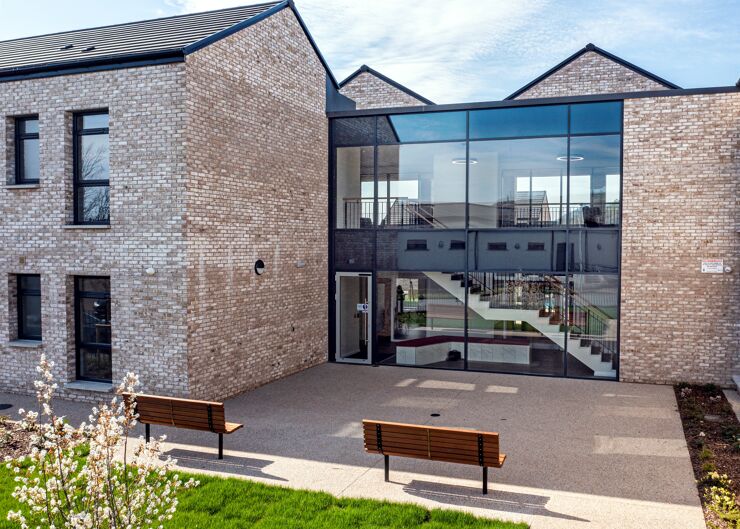 NEC contracts have been used to deliver over 700 new homes in Northern Ireland on time and budget in a little over three years. Radius Housing, a leading housing association managing more than 13,000 properties across Northern Ireland, procured the properties through an £80 million NEC3- and NEC4- based framework with Belfast-based multidisciplinary consultancy McAdam.

The consultancy has acted as NEC project manager and lead consultant on all schemes under multiple NEC3 and NEC4 Professional Services Contracts (PSC). The three-year framework started in March 2020 and followed on from a previous four-year NEC3-based framework.

The main construction works for each development were usually let with an NEC3 or NEC4 Engineering and Construction Contract (ECC) Option A (priced contract with activity schedule) or ECC Option B (priced contract with bill of quantities). A variety of X and Y options were used, and all schemes were delivered in phases to the agreed programme and budget. Any enabling works for each scheme were generally procured using an Engineering and Construction Short Contract (ECSC).
New developments
The new developments include former St Patrick Barracks in Ballymena. The 135-unit £23 million scheme was designed by Hall Black Douglas and is being built by contractor MJ McBride. Another 119 units were delivered at Creevagh Heights on Bligh's Lane in Creggan, Derry. The £18 million scheme includes a new community indoor sports centre at the adjacent Seán Dolan's Gaelic Athletic Club. The housing units were designed by Hall Black Douglas with Farren Architects designing the sports club and both built by contractor P&K McKaigue. The first homes were handed over in March 2023.

A further 20 units were built by Kelly Brothers at Moylinney Court in Newtownabby. Again designed by Hall Black Douglas, the £3 million scheme was the first of its kind in Northern Ireland designed to the Housing Ageing Population Panel for Innovation (HAPPI) principles. This pilot project ensured that older people have homes that are welcoming and where they can age with dignity and safety in their own homes.
Resilient relationship
McAdam's technical director Chris Hughes says the client and his team of over 25 NEC-accredited project managers have built a resilient professional relationship underpinned by NEC-inspired collaboration. 'Establishing and nourishing the NEC's requirement on the parties to act in a "spirit of mutual trust and co-operation" was essential in weathering storms such as Brexit, Covid-19, the war in Ukraine and inflation, while still delivering the ambitious pipeline of projects envisaged under this framework agreement.'

He says his project management team's core ethos is that effective, high-performance professional relationships are built upon mutual trust and co-operation and underpinned by collaboration between all key project stakeholders. 'From the inception of each scheme through to completion, we actively listened to stakeholders' concerns and comments. We were proactive, innovative and always keen to share our wealth of knowledge, experience and resources to develop holistic solutions to any concerns.'
Effective communication
Hughes says his project management team strongly advocated the NEC requirement for clear and effective communication while respecting differences of opinion. 'In construction, arguments too often arise because of a lack of empathy, which can result in contractual dispute. Despite differing motivations between stakeholders, consultants and contractors, maintaining effective communication helped to manage relationships and ensured all parties were treated fairly and consistently.'

For example, he says that at the Creevagh Heights scheme in Derry, all correspondence was communicated in a form which could be read, copied and recorded, as per NEC clause 13.1. 'When one party claimed an instruction had been provided but could not provide evidence of this, we deemed it not to have occurred and therefore we notified the resulting works as defective. By holding all parties to the same standard and setting clear communication policies, differences of opinion could be dealt with respectfully and contractually and disputes avoided.'
Ambitious targets
According to Radius director of development Anita Conway, 'We were delighted to be working with McAdam again on the successful delivery of our ambitious target for 400 new builds every year. The McAdam team have again worked collaboratively with Radius as project managers for some of our biggest construction projects.'
She says simultaneously managing complex, high-value schemes at various stages across a wide geographical area was a huge challenge. 'It was only possible through our NEC-inspired collaborative engagement with all delivery partners and supply chain members. The project manager forged and maintained relationships which upheld the "trust property" and contractual rights of each partner and supplier.'

Conway adds that Radius and the project manager were consistent in their approach. 'We set clear goals, worked with all, treated all equally and with respect, celebrated our successes together and shared the pain of losses. These are the guiding principles which have resulted in our ongoing success and reputation for excellence in delivering one of the largest portfolios of social housing across Northern Ireland.'
Benefits of using NEC
NEC requirement on the parties to act in a "spirit of mutual trust and co-operation" was essential in weathering economic storms while still delivering £80 million of housing projects on time and budget.
NEC-inspired collaboration flowed through the supply chain, with all designers and builders engaged on back-to-back NEC services and works contracts for each scheme.
NEC requirement for clear and effective communication helped to manage relationships and ensured all parties were treated fairly and consistently.