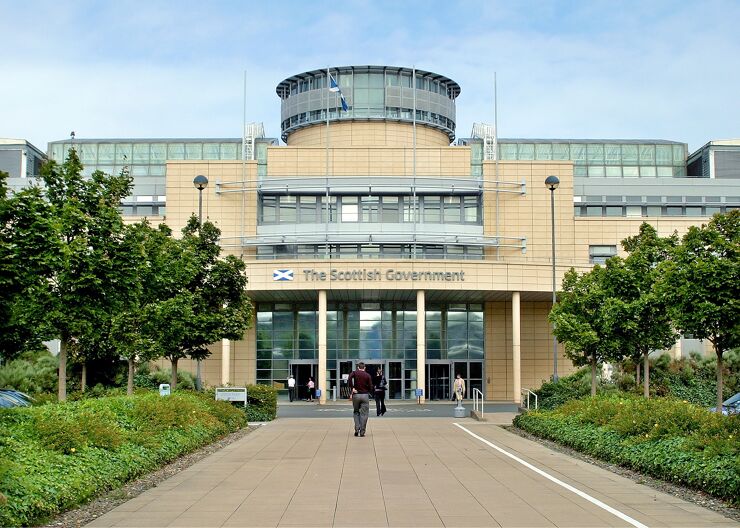 NEC is being used to maintain the buildings of the core Scottish Government and four of its executive agencies. The government, an NEC Users' Group member, let a £400 million 10-year NEC4 Term Service Contract (TSC) for facilities management to Mitie commencing in October 2021. The award followed successful completion of two previous NEC3 TSCs awarded to Mitie in 2007 and 2012.
The contract covers 70 sites across Scotland, ranging from main office buildings St Andrews House and Victoria Quay in Edinburgh to a major marine research facility and the official residence of the first minister. It includes engineering and maintenance, energy management, cleaning, security, grounds maintenance and waste management services.
Sustainability is central to the contract, with the parties working collaboratively to cut greenhouse gas emissions across the government estate. This includes auditing all 70 sites to collect data on water and energy consumption and identifying opportunities to make the buildings more efficient by delivering projects to increase insulation, improve building fabric and remove gas from heating systems. Work is also being undertaken to improve the ecology on land surrounding buildings and to reduce the amount of waste produced within each property.
Space FM, also an NEC Users' Group member, advised the government on all stages of procurement, from initial stakeholder workshops and market engagement through to tender evaluation and contract mobilisation. The collaborative ethos of the contract was manifest in the joint approach to training in both NEC4 and Cemar contract management software. The contract was highly commended in the 2023 NEC Building/FM Contract of the Year Award.
Future-proof contract
Grahame Anderson, the government's head of facilities services contract management, says, 'The switch to NEC4 helped to ensure the contract was future-proofed. Our previous facilities management contracts were procured under the NEC3 TSC and it was identified that adopting the NEC4 TSC would be the most appropriate route for us and our appointed service provider. As well as ensuring the service was delivered in an open and collaborative manner, it would also be future-proofed for innovation and continuous improvement.
NEC4 TSC is enabling the government to achieve its facilities management objectives. This includes engaging all parties in a collaborative working relationship to drive efficient service delivery and having clear process and procedures for communications. The contract has helped to: enhance services to provide an improved customer experience; integrate facilities support provision to allow a more flexible and responsive service; and rationalise delivery with increased adoption of cross-skilling with facilities support, remote operation and continued innovation.
Anderson says, 'Space FM was an integral part of the team that specified, tendered, awarded and mobilised the contract. They worked with us through each step of the procurement journey, helping to achieve all our key milestones in line with government policy. This included preparations for the application of NEC4 TSC through joint training, the development of procedures and the introduction of contract management software. Their professional support has been a key aspect of our successful migration, through mobilisation, to business as usual.
Shared goals
Miguel Montenegro, head of facilities management consultancy at Space FM, says, 'The first year following the contract award, our team participated in regular NEC training sessions with representatives from both parties, resulting in a common understanding of shared goals, an ethos of team spirit and a desire to achieve continuous improvement. We also participated in the NEC4 TSC service manager accreditation process alongside members of the government's management team.
He notes one of the main benefits of the NEC training was that a one-team approach was formally adopted by the client and service provider as the overarching principle by which all interactions took place. Integrated staff training sessions, informal meetings and joint planning sessions all contributed to a collaborative environment that was based on good communication and trust.
NEC service level agreements and key performance indicators have helped both parties measure and monitor key areas as part of a collaborative approach used to drive enhanced service delivery outcomes. Montenegro says, 'The collaborative approach to service delivery has resulted in overall efficiency savings, which are underpinned by the principles of the NEC4 approach to contract management.
Implementation of Cemar NEC contract management software has ensured efficient communications between the parties. The total number of users, across both the client and the contractor, is around 130. Communication and performance standards have continually improved as evidenced by monitoring of outputs.
Benefits of using NEC
NEC4 TSC ensures the facilities management service is being delivered in an open and collaborative manner.
NEC provides a clear process and procedures for communications, helping to ensure efficient service delivery.
NEC service level agreements and key performance indicators have helped both parties measure and monitor key areas used to drive enhanced outcomes.