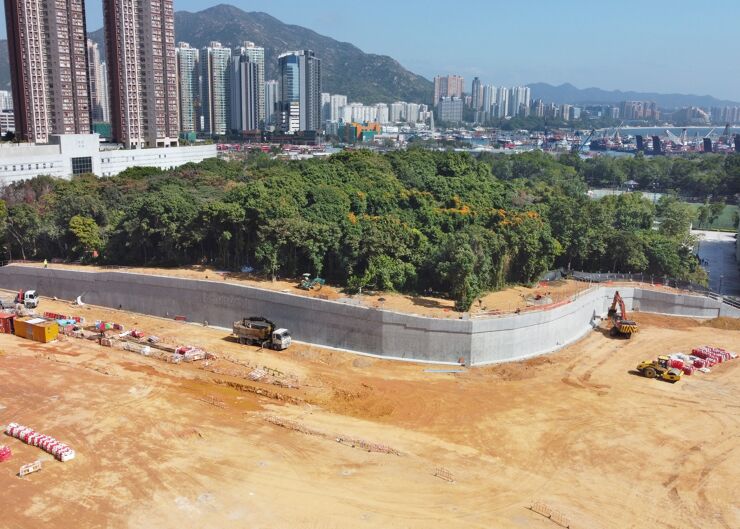 NEC has been used for a site formation project in Hong Kong that was completed in just 20 months. The Civil Engineering and Development Department of the Government of Hong Kong Special Administrative Region let the Wu Shan Road site formation and infrastructure works for the Tuen Mun Central phase 1 development under an NEC3 Engineering and Construction Contract (ECC) Option B (priced contract with bill of quantities) in June 2021.

The contractor, a joint venture between China Civil Engineering Construction Corporation and China Railway 15th Bureau Group, completed the HK$268 million (£27 million) works on budget and two weeks early in February 2023. Binnies Hong Kong Limited was the NEC project manager and supervisor.

The 2 ha of site formation works for public housing development included felling 782 trees, excavation and disposal of 54,000 m3 of soil, construction of a 187 m long bored pile retaining wall, modification of an existing pedestrian and cycle bridge, construction of a lift tower for the modified bridge, drainage and sewerage works, road improvement works and landscaping.

The supervisor's delegate Ir Benson Lam of Binnies says the NEC requirement to work in a 'spirit of mutual trust and co-operation' was embraced by all parties. 'Although facing numerous constraints and risks, the employer, project manager and contractor worked together to overcome these constraints through a strong spirit of mutual trust and co-operation. As a result, they achieved early completion, exceeding the expectations of the employer.'
Accelerating utilities diversion
At the start of the contract, Lam says the contractor found numerous unrecorded underground utilities. 'These included three 132 kV electricity cables, six 11 kV electricity cables, two high-pressure gas pipelines and 20 telecom cables, all in the way of the future public housing development. The contractor therefore notified an early warning and the project manager arranged risk reduction meetings with the project team and all relevant utilities to discuss measures to mitigate the potential delay.'

He says permanent diversions of the underground utilities to an existing footpath using traditional method were estimated to take more than 3 years. 'The project manager therefore proposed an innovative arrangement, notifying a compensation event for construction of a 600 m long and 3.5 m wide temporary pedestrian route and excavation of a single common trench in the footpath. This enabled all utilities to be diverted at the same time, taking just six months.'

Lam says during the course of the contract, the geotechnical contractor for the housing development was required to carry out a ground investigation involving 139 boreholes within the site formation area. 'The project manager encouraged the main contractor to review its construction sequences to allow concurrent works with the ground investigation by timely notification of compensation events.'

He says the project manager was also actively involved in the coordination among different subcontractors for maximising the concurrent works, including lift tower superstructure, lift car installation, bored pile installation, excavation works, bridge demolition, and trenchless drainage works. 'All these works were finally completed two weeks ahead target.'
Effective communication
Site agent Leon Li says the contractor was well aware of the project's many challenges and constraints from the outset. 'We fully adopted the collaborative approach of the NEC contract, believing that effective communication between the parties would enable us to manage and overcome the project risks together, particularly in unexpected situations.'

He says various meetings such as initial partnering workshops, risk reduction meetings and special task meetings were held to provide a platform for raising site issues and seeking solutions. 'During the Covid-19 pandemic, frequent meetings were held via video conference to swiftly handle the site issues. Anti‐pandemic measures were also discussed online and effectively implemented to limit the spread of the virus on site and thus avoid delay.'

Li says timely completion and commissioning of the lift tower demonstrated how risks could be overcome through effective communication. 'Two H‐piles of the lift tower were found to clash with existing electricity cables. Risk reduction meetings found that slightly shifting the tower foundation and revising the link platform was more cost‐effective and efficient than constructing a temporary ramp. We reviewed the programme and proposed deploying heavier lifting plant to offset the additional time for revising the lift tower design. The lift tower construction was then shortened by 4 months and the lifts were commissioned as programmed with minimum disturbance to the public.'
Sustainable construction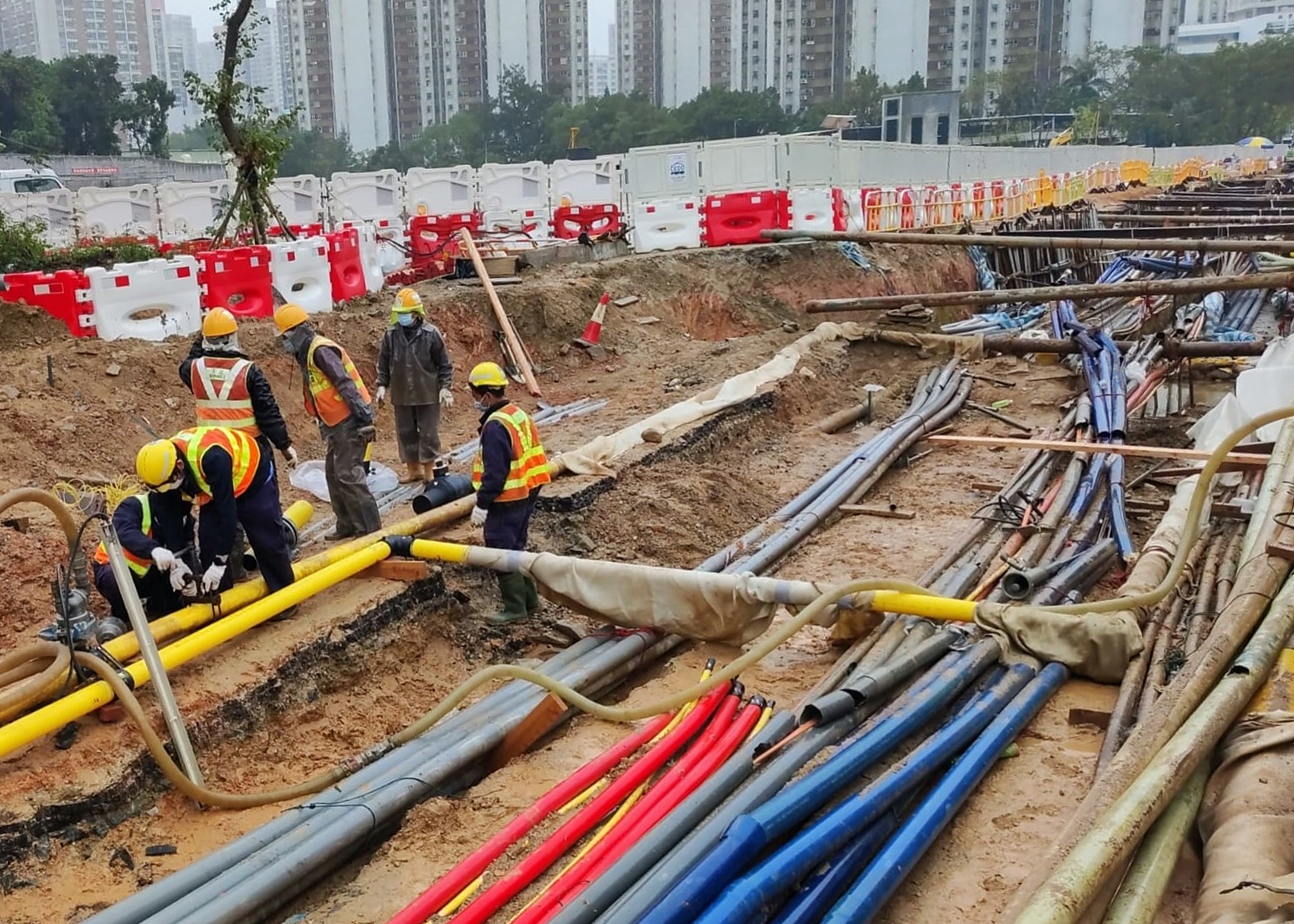 Lam adds that the project team was aware of the potentially significant environmental impact of the project. 'We set up a common goal to reduce our overall impact on the environment in the NEC workshop held at the beginning of the contract. We incorporated sustainability into every work element carried out.'

He says the project team considered various alternative designs to maximise tree preservation. 'For example, a cantilevered bored-pile wall instead of conventional L-shaped reinforced concrete retaining wall was adopted as it significantly reduced the hillside working area and tree felling. The project team also adopted trenchless construction instead of traditional open-cut excavation for construction of a 1.2 m diameter drainage pipe across the adjacent tree-covered Wu Shan playground. Fine tuning the pipe alignment meant that tree felling was completely avoided.'

Lam says for the 782 trees that had to be felled, the project team collaborated with an adjacent recycling centre to convert the trunks and branches into timber wood planks and wood chips for use in furniture, artwork and garden decorations. 'The contractor then selected a subcontractor to convert the tree stumps, twigs, leaves and grass into additives for composting, avoiding any disposal to landfill.'

Regarding earthworks, he says the project manager accepted the contractor's proposal that excavated earthworks would be reused in another project, with the shorter haulage distance producing less carbon dioxide. 'Also, to minimise the environmental impact of dust, a solar-powered artificial-intelligence system was adopted for monitoring dump trucks, hydroseeding was applied to temporary cut slopes, and water-saving mist cannons and automatic sprinkler system were used for dust suppression.'
Benefits of using NEC
NEC requirement to work in a 'spirit of mutual trust and co-operation' was embraced by all parties, enabling numerous constraints and risks to be overcome.
NEC-inspired collaboration helped to resolve issues such as extensive unexpected underground utilities, a concurrent ground investigation and reduction of environmental impact.
NEC early warning and compensation event process ensured that all risks were identified early and resolved fairly, resulting in the project being completed on budget and two weeks early.