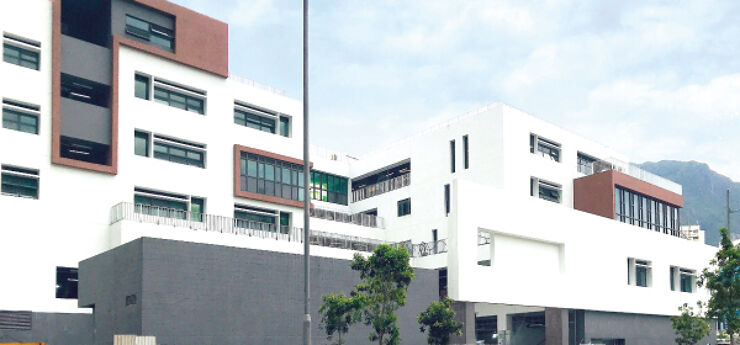 The Hong Kong government's Architectural Services Department (ArchSD) successfully delivered a new 30-classroom secondary school in the Kai Tak development zone last month following a pioneering use of NEC contracts.
In a double first for ArchSD, quantity surveying services for Cognitio College (Kowloon)'s new HK$447 million (£45 million) campus were procured with an NEC3 Professional Services Contract and construction works were let using an NEC Engineering and Construction Contract (ECC) Option B (priced contract with bill of quantities).
ArchSD engaged construction consultant Northcroft Hong Kong Limited to provide quantity surveying services under a HK$2.5 million (£250,000) PSC in July 2016.
In addition, having successfully used ECC Option A (priced contract with activity schedule) for construction of the HK$3 billion (£300 million) Tin Shui Wai Hospital project, ArchSD trialled ECC Option B for the school's main works contract. Contractor Hanison Construction Company Limited started on site in March 2017 and completed the five-storey 13,500m2 building in May 2019.
As well as 30 classrooms, the new school provides other teaching rooms and facilities, an assembly hall, a covered playground, two basketball courts, a running track and numerous other state-of-the-art student and staff facilities. Cognitio College (Kowloon) is moving to the new building from its existing premises in Wong Tai Sin district in time for the 2019/2020 academic year.
P&T Architects & Engineers Ltd was the lead consultant, providing architectural, structural and building services consultancy services, and Urbis Ltd was the landscape sub-consultant.
Enhancing project performance
According to ArchSD's project manager Willy Yeung, 'The NEC provides a "contractual partnering" approach by requiring contracting parties to work together "in a spirit of mutual trust and co-operation". We believe this helps to enhance project performance.'
He says the project team held a series of NEC and partnering training sessions at the start of the project. 'This helped the parties become more effective and efficient in their use of NEC processes, such as early warnings, risk reduction meetings, accepted programmes and compensation events.
'For example, though effective use of early warnings and risk reduction meetings, the project team and contractor were able to deploy their expertise through contractual partnering to resolve the problem of unforeseen ground conditions and minimise the cost and time implications. NEC's requirement for enhanced communications within contractual timeframes has also helped to expedite resolution of all subsequent contract issues.'
Yeung concludes, 'Overall, collaborative risk management by means of NEC early warnings and risk reduction meetings has helped us to achieve proactive identification and mitigation of project risks. This enabled us to remain on target to achieve successful handover of a much-needed school for commissioning in the 2019/2020 academic year.'