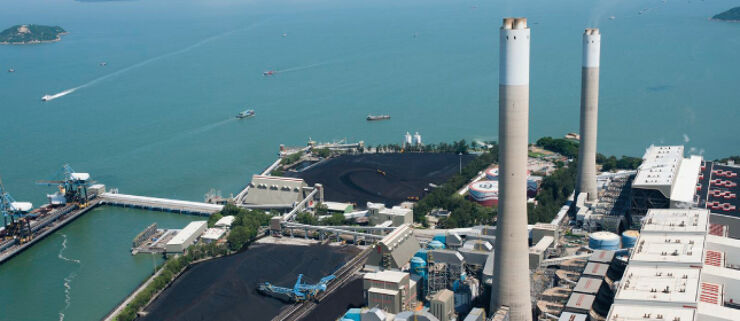 Castle Peak Power Station, located on the west coast of Hong Kong's New Territories, is the largest power plant in Hong Kong with a capacity of 4,108MW. Client CLP Power Hong Kong Limited has successfully used seven NEC3 Term Service Contracts (TSC) to procure up to HK$1 billion (£100 million) of maintenance on critical sub-systems over the past five years.
The Generation Business Group (GBC) of CLP Power has adopted the NEC TSC option C (target contact with price list) for sub-system maintenance across all three of its power stations in Hong Kong. 'These optimised NEC contracts outperform other forms of contract and play a critical role in ensuring the reliability of Hong Kong's electricity supply,' says strategic procurement manager Teddy Tsang.
For its innovative use of NEC key performance indicators (KPI) in the contracts, CLP was highly commended for the NEC Contract Innovation Award in 2018. One of its contractors at Castle Peak, Hargreaves Industrial Services, was also voted NEC Contractor of the Year Award in 2018 for its outstanding performance.
Incentivising performance
CLP Power has adopted secondary option X20 on KPI in its TSC contracts and written 21 KPIs covering health, safety, environment and technical matters. The annual overall KPI scores are then linked with the contractor's pain−gain share under option C.
Tsang says the technical KPIs measure the availability and reliability of each plant subsystem. 'Our NEC contractors effectively take ownership of the performance of each subsystem and have a free hand in planning and carrying out its maintenance. This is an excellent demonstration of the NEC "spirit of mutual trust and co-operation".'
One of the technical KPIs covers innovation. 'This aims to encourage our NEC partners to develop new working method to improve existing processes to achieve better safety, plant and cost performance. The innovation KPI drives both sides towards continuous improvement,' he says.
'Overall, through innovative use of KPIs and the pain−gain sharing mechanism, our evidence shows that NEC outperforms other forms on contract in terms of safety and plant performance as well as cost management.'
Fostering working relationships
CLP Power's senior managers hold regular meetings with the NEC contractors to help foster working relationships. 'The meetings not only review contract performance but also provide a platform for exchanging ideas on the operation of NEC. By reshaping the process from time to time, we eventually reach the optimum level of best practice,' says Tsang.
Commissioned between 1982 and 1990, Castle Peak Power Station has four 350MW and four 677MW generators. The primary fuel is coal, which it burns at rate of around 5Mt a year, but two of the units can also use natural gas and ultra-low-sulphur diesel as back-up fuels.
The fuel gas-desulphurisation (FGD) system was commissioned in 2011, reducing sulphur dioxide emissions from 24,000t in 2008 to around 5,000t in 2015. 'Continuous improvement of the FGD system is critical to its reliability and performance,' says Tsang.
Award-wining results
CLP Power engaged contractor Hargreaves Industrial Services to maintain the Castle Peak FGD and coal plant under a five-year NEC3 PSC option C worth £150 million (£14 million) in 2014. The contract includes maintenance of ash and dust handling equipment, coal stockyards, conveyors, ship unloaders, mobile plant, water collection and conservation systems, FGD absorbers and gypsum systems.
In addition to winning NEC Contractor of the Year Award in 2018, Hargreaves won the CLP Chief Operating Officer's Award in 2017 for being the best contractor as well as the CLP Golden Award for Good Housekeeping (Operation Sites Category) and the CLP Castle Peak Power Station Generation Business Group Housekeeping Award.
In addition the company was awarded a full five stars in a British Safety Council occupational health and safety audit in 2017 for its work at Castle Peak, the first such award in Hong Kong.