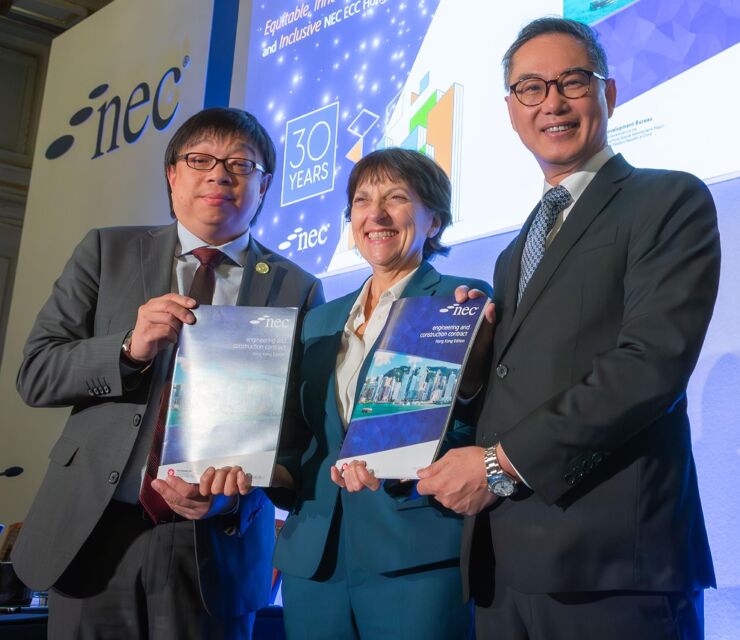 The Development Bureau of the Government of the Hong Kong Special Administrative Region (DevB) launched a Hong Kong Edition of the NEC Engineering and Construction Contract (ECC HK Edition) at the NEC annual conference in London in July 2023.
According to Ricky Lau, the DevB's Permanent Secretary for Development (Works) and the NEC Asia Pacific Users' Group chair, the ECC HK Edition for public works projects signifies a new chapter of collaborative construction in Hong Kong.
In his keynote speech, he said the new contract was better geared towards meeting local legislation and procurement practices while encouraging innovation in construction. It aimed to enhance site safety, site supervision efficiency and decarbonisation in preparation for the upcoming 'golden era' of construction in Hong Kong.
Adapted for local practice
The ECC HK Edition takes full advantage of the features of the standard contract while adapting it to suit local legislation, procurement practices and dispute resolution. The contract has also been restructured to integrate the DevB's works policies.
Tony Ho, who chaired the ECC HK Edition steering board, said, 'The process of drafting the Hong Kong Edition has been an incredibly enriching experience. It allowed us not only to harmonise our existing practices but, more importantly, to embrace the wisdom behind the collaborative approach. Through this endeavour, we have successfully restructured and reorganized the provisions to align with our local procurement practices, making the edition even more user-friendly.'
Since the DevB first piloted NEC in 2009, more than 500 NEC public works contracts have been awarded worth over HS$270 billion (£27 billion).
Over 50 Hong Kong delegates
In total over 50 conference delegates from the Hong Kong public and private sectors attended the launch, and later that day they also celebrated their respective successes in the Martin Barnes Awards.