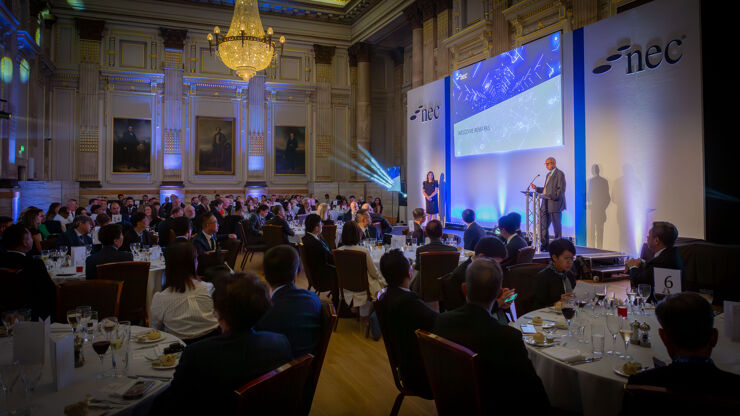 NEC Users' Group chair John Welch hosted the NEC's 2023 Martin Barnes Awards at a ceremony following the annual NEC conference in London on 13 July 2023. It was the first time the awards had been presented at a separate evening event, which included a cocktail reception, three-course dinner and after-dinner entertainment.
NEC users from all over the world submitted a record of more than 80 entries for the awards. Welch said the judges were particularly impressed by the quality of this year's entries, especially those relating to projects in Hong Kong – which featured strongly among the winners.
Sustainability and energy awards
Hong Kong successes included the 2023 NEC Sustainability and Climate Resilience Contract of the Year award, which went to Dragages Hong Kong Limited for a new 17-storey fire and ambulance station and accommodation block at Tseung Kwan O. The contractor is working for the Architectural Services Department under an HK$584 million (£58 million) NEC3 Engineering and Construction Contract (ECC) Option B (priced contract with bill of quantities) and is due to complete the works in early 2025.
The new NEC Energy Contract of the Year award also went to Hong Kong, in this case to ATAL Engineering for its 2019−2024 NEC4 Term Services Contract (TSC) with client CLP Power Hong Kong Limited. The contract is for electrical and mechanical maintenance at Hong Kong's four main power plants.
Client, consultant and contractor awards
NHS England won the 2023 NEC Client of the Year award for its outstanding £9 billion NEC4-based 2022−2026 ProCure 23 procurement framework. Since the first iteration of the framework started in 2002, it has delivered over £13 billion of NEC-procured hospital and healthcare projects in England.
Arup−Mott MacDonald Joint Venture secured NEC Consultant of the Year for its role on the HK42 billion (£4.2 billion) Central Kowloon Route (CKR) in Hong Kong, which is due for completion in 2027. Client the Highways Department has or will let four of the eight CKR main contracts using a mix of NEC3 and NEC4 ECC forms.
The UK's SMP Alliance celebrated a double win, securing both the NEC Contractor of the Year and NEC Transport Project of the Year awards for designing and constructing smart motorway works for England's National Highways. The contractor is engaged under a £2 billion NEC4 Alliance Contract (ALC) running from 2020 to 2030.
Water and building/FM awards
Back to Hong Kong, the NEC Water Contract of the Year award went to the Water Supplies Department for its HK$808 million (£81 million) Dongjiang water mains improvement at Sheung Shui and Fanling. Contractor Ming Hing Vasteam Joint Venture successfully completed this 5 km long upgrade project in January 2023 under an NEC4 ECC Option C.
The Hong Kong Architectural Services Department won the NEC Building/FM Contract of the Year award for its 21-storey office development over the Cheung Sha Wan sewage pumping station in west Kowloon. Due for completion in 2025, the building is being delivered by Shui On Joint Venture under a HK$1.8 billion (£180 million) NEC3 ECC Option C − the client's first use of an NEC target cost contract.
NEC contract innovation award
Finally, the NEC Contract Innovation of the Year award went to the project team working on the HK$1.1 billion (£100 million) Sha Tau Kok sewage treatment works expansion project in Hong Kong. The project is due to be completed for the Drainage Services Department by Build King–Kum Shing Joint Venture in early 2025, with Binnies as supervisor.
The NEC3 ECC Option C contract features innovative use of option X14 for advanced payments to the contractor during Covid-19 pandemic, and innovative informal key performance indicators for implementing compensation events.
The awards were presented by NEC4 contract board chair Peter Higgins. Congratulations are due to all the winners, runners up and highly commended entries for their outstanding achievements.
For further information visit neccontract.com/projects/awards.
Highlight Video
Photos