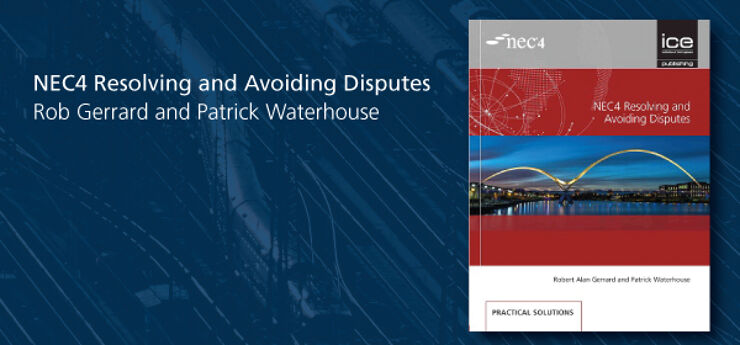 NEC experts, Patrick Waterhouse and Rob Gerrard, have co-authored a book on dispute avoidance and resolution in NEC4 Contracts which has recently been published by ICE Publishing.
NEC4 Resolving and Avoiding Disputes primarily considers the NEC4 Engineering and Construction Contract (ECC) and focuses less on dispute resolution in other NEC4 contracts. An explanation of the new NEC4 Dispute Resolution Service Contract is provided including its role in appointing people to the Dispute Avoidance Boards.
The commentary goes into detail how to manage the NEC4 ECC to avoid disputes between the parties and others. The principles of dispute avoidance which will enable better management of projects are clearly explained in the book. Coverage includes commentary on communication requirements in the ECC, the early warnings process, managing the programme, assessing payments, managing change with compensation events, and how to follow the termination provisions in NEC4 ECC.
Patrick Waterhouse shares his insights and advice: "We have relied on our own experiences in the industry and on wise counsel from others. The techniques that contribute towards dispute avoidance also assist parties in successfully resolving disputes. The message to those managing contracts is clear; do what the contract requires you to do and you should be successful in many respects; time, money, quality and relationships."