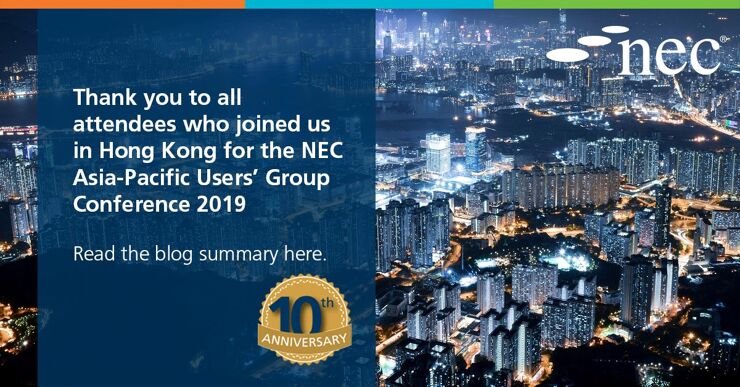 On the 29th of November, NEC welcomed 280 delegates into the annual NEC Asia Pacific Users' Group conference held at the Cordis Hotel, Mong Kok. The conference marked 10 years of NEC in Hong Kong and featured speakers from the UK and Hong Kong Government as well as showcasing case studies from Hong Kong and overseas.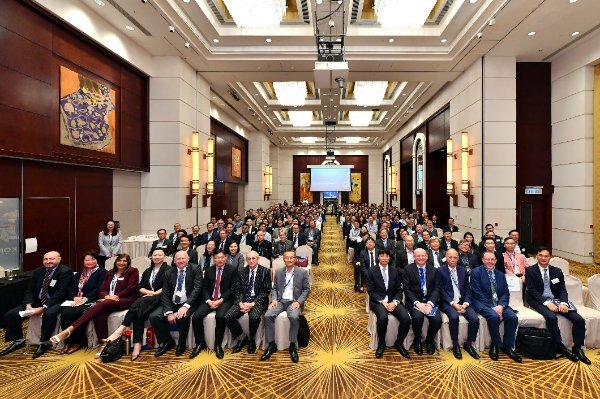 The Asia Pacific Users' Group (APUG) was specifically designed to encourage learning, discussion and debate and commenced with opening talks from Mr. Lam Sai-hung, NEC APUG Group Chairman and Permanent Secretary for Development (Works) within the Development Bureau, HKSAR Government. Mr. S.H. Lam gave an insightful talk on driving collaborative culture within our construction industry and the wider use of NEC in public works projects. Following Mr. S.H.Lam, Dr. David Hancock the NEC UK Users' Group Chair and Construction Director of the Cabinet Office for the UK Government discussed the UK Government priorities, how UK practices align with the Construction 2.0 objectives and how we can use NEC in order to drive best practice.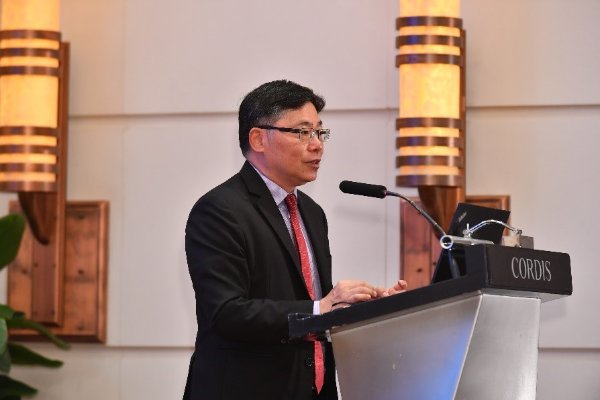 Jimmy Chan, Director of the Highways Department, HKSAR Government gave an overview of the implementation of NEC within the Highways Department as well as the adoption, challenges, influence and predictions for the future. "This experience enabled us to deliver better projects, giving us the confidence to use the contracts in a mega-scale, multi-contract project such as the Central Kowloon Route. We did this to ensure projects were delivered on time, within budget and of high quality."

The Highways Department used NEC3 ECC for the Central Tunnel Project; "Our previous experience in delivering mega-scale projects and delivery cycle was that the contractor, employer and engineer using the traditional GCC would deliver the project in a more protective manner sometimes detouring from the interests of the project. Since introducing the NEC ECC contract, we saw more success in delivering projects in other countries and therefore considered if this could work in Hong Kong too".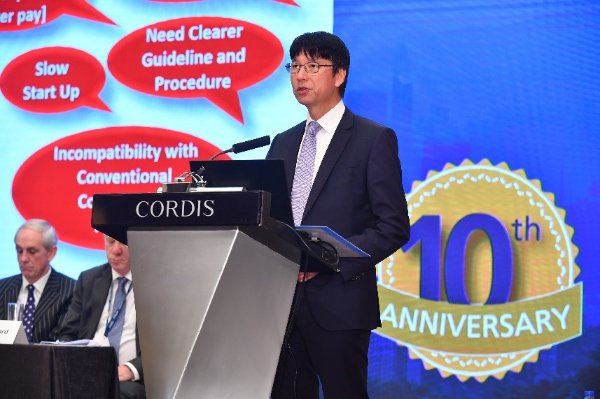 Dr. Isabelle Chan, Assistant Professor and Deputy Programme Director of BSc surveying in the Department of Real Estate and Construction, University of Hong Kong (HKU) gave an interim review of NEC within public works. Dr. Chan explored the 10-year NEC project experience in Hong Kong, this was an independent study commissioned by the government detailing the most important lessons that were learnt: "The NEC contract is more than a contract type or form, it's a tool for the PM to better deliver and manage a project. With this perspective in mind, perhaps it's time for us to move away from thinking about just the mechanism or terms of clauses to the human orientated aspects. It's time for us to change mindsets so that we can help to shape the culture for the future developments of NEC. We can see that the NEC is becoming more and more popular amongst public works in Hong Kong however, it is still quite rare within the private sector… maybe we can do more case sharing whilst identifying NEC champions and strategically train them and locate them into different projects. This is how we could gradually, step by step change the culture in the whole sector".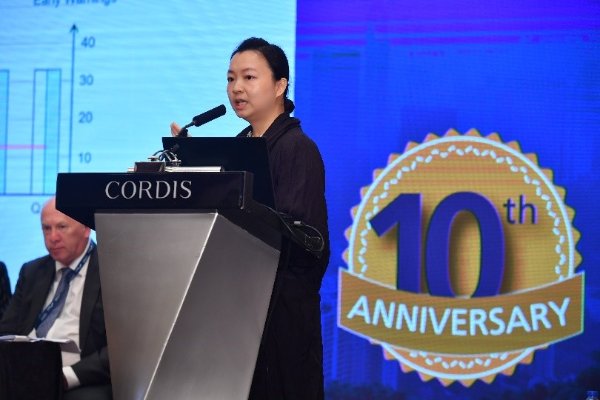 The morning progressed into a Q&A session with Darrel Kingan, Deputy Director of Airport Authority Hong Kong and Victor Wu Deputy General Manager, China State Construction about adopting NEC for the Third Runway System, followed by Frank Randles, Operations Director for Project Management at Mace who told the story of how NEC was used to successfully deliver the Lima 2019 Pan American and Para Pan American Games, Mr. Kan Jun, the Managing Director of China Road and Bridge Corporation about using NEC from a Contractor's point of view and Ben Mellors, Partner at HFW who presented on using NEC for Underground Works.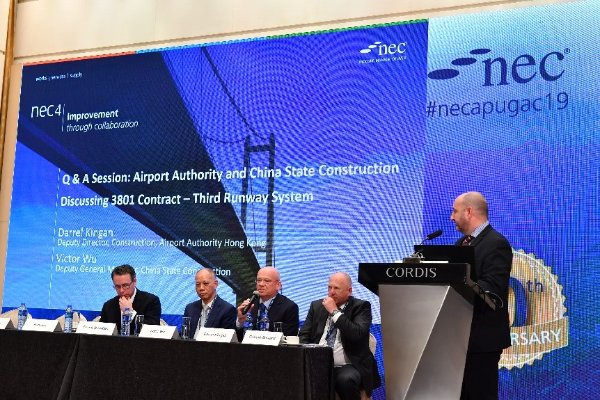 Drawing a close on the morning Ian Heaphy, NEC4 Contract Board Member outlined the benefits of target cost contracts, the use of NEC for building works and supporting the Hong Kong Market. "Going forward, NEC will continue to support the industry within Hong Kong by putting on events such as the Users Group seminar and workshops whilst looking to provide training required by its users. We have also recently published a white paper on specific issue that was raised by users in Hong Kong. We look to the users to ask us what they need, and we will be here to help and support them going forward".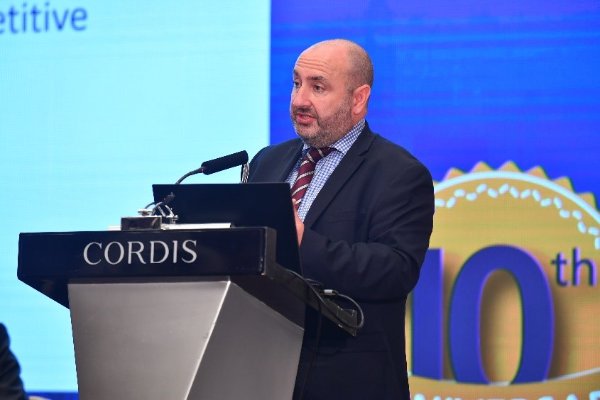 For the duration of the afternoon delegates were divided into three practical application workshops delivered by NEC experts. Each delegate was given the opportunity to attend one of the following as well as a chance to meet some of the NEC4 drafters:
NEC4 ECC Early Contractor Involvement (ECI) – Tim Knee Robinson, NEC4 Drafter
Risk management throughout the supply chain - Ian Heaphy, NEC4 Drafter
Hong Kong Institute of Construction Adjudicators – John Cock, Chartered Arbitrator
Dr. David Handcock, NEC Users' Group Chair drew a close on the fantastic day and all attendees were invited to a cocktail reception.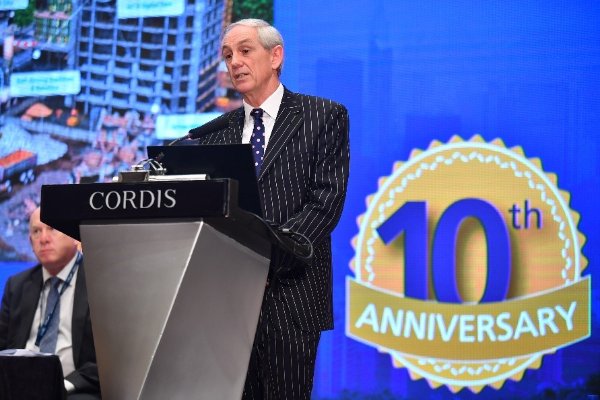 NEC would like to thank all attendees, sponsors, exhibitors, partners and supporters:

Sponsors: CEMAR, Hong Kong Institute of Construction Adjudicators (HKICAdj), Build.IT, Projection Group, The Contracts Group, Pinsent Masons, Turner & Townsend, Mace

Partners and Supporters: Construction Industry Council, The Department for International Trade, The Hong Kong Construction Association Limited (HKCA), The Association of Consulting Engineers of Hong Kong (ACEHK), The Royal Institution of Chartered Surveyors, Institution of Civil Engineers HK, Association of Landscape Consultants, Society of Construction Law Hong Kong, The Hong Kong Institute of Landscape Architects, Charted Institute of Arbitrators, The Hong Kong Institute of Surveyors, Hong Kong Green Building Council Limited, Hong Kong Institution of Highways and Transportation

Finally, NEC would like to extend its thanks to the Cordis Hotel and their fantastic staff who ensured the event ran smoothly.

If you are interested in learning more about the NEC Users' Group visit our Users' Group page here.