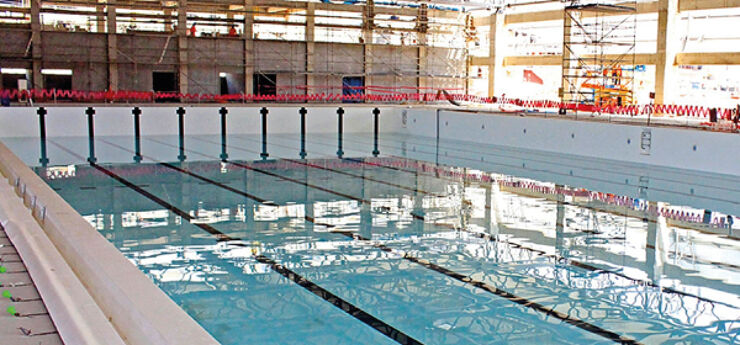 The NEC-procured venues for baseball, rugby, hockey, softball, water polo and Basque pelota at the Lima 2019 Pan America and Parapan American Games are on schedule for completion this month, four months before the opening ceremony on 26 July.
A Spanish−Uruguayan joint venture of Sacyr and Saceem won a PEN 227 million (£52 million) contract in December 2017 to remodel and expand the 21 ha Andrés Avelino Cáceres sports complex at Villa María del Triunfo in Lima under an NEC3 Engineering and Construction Contract (ECC) Option F (management contract). The works include new open-air stadia for baseball, rugby, hockey and Basque pelota, with a total capacity of 6,400 spectators, plus a new 2,000-seat twin-pool aquatics centre for water polo.
The joint venture also has a PEN 152 million (£35 million) contract for the El Callao sports complex in Lima, which includes a new 6,100 seat covered sports centre for the volleyball and taekwondo competitions. The adjacent 33,000 seat National University of San Marcos open-air stadium and 2,400 capacity Miguel Grau Coliseum have also been upgraded for football and wrestling respectively.
NEC advantage
NEC contracts were a key part of Britain's successful 2017 bid to act as the Peruvian government's delivery partner for around £300 million of venues and facilities for the games. The UK Department for International Trade DIT engaged Arup, Mace and 4Global to provide technical, construction management and legacy support respectively.
Lima 2019 president Carlos Neuhous Tudela said recently that NEC contracts, 'are designed by engineers to carry out the works in an efficient manner' and had dispute mechanisms 'that did not let the works stop'. Other venues and facilities are being delivered using ECC Option F at Villa el Salvador (total £96 million) and Videna (£110 million). Overall the works are now 95% complete.