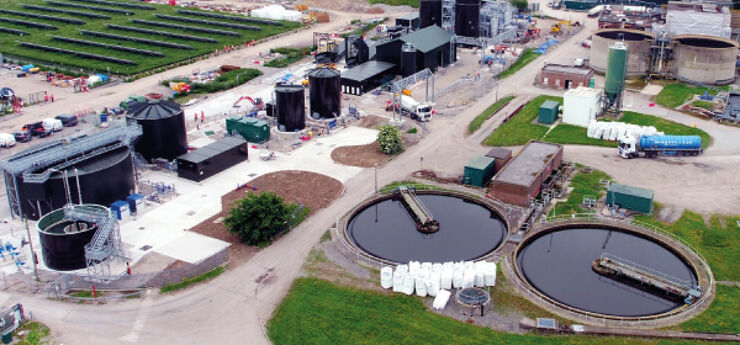 NEC-procured projects have again featured strongly at this year's British Construction Industry Awards (BCIA), which were presented at a ceremony in London last month.
North Wales sludge strategy, a complex project to centralise treatment of all wastewater sludge generated in north Wales in Wrexham, won the Utility Project of the Year. Procured by Dwr Cymru Welsh Water using an NEC3 Engineering and Construction Contract (ECC) Option C (target contract with activity schedule) in July 2019, it has resulted in production of more biogas for renewable energy and an overall reduction in operating costs.
Climate resilience and transport winners
The Climate Resilience Project of the Year was awarded to Shoreham Adur Tidal Walls, a challenging scheme to upgrade 7.2km of sea walls along the River Adur near Brighton. The £46 million project for the Environment Agency, which protects 2,300 properties from sea-level rise for over 50 years, was delivered on time and budget in February 2019 using an NEC3 ECC Option C.
Northern Spire, a 336m cable-stayed bridge over the River Wear in Sunderland, was voted Transport Project of the Year. The £117 million crossing – the first new crossing of the river in 44 years − was successfully delivered for client Sunderland City Council by an Anglo-Belgian project team using NEC3 ECC Option A (priced contract with activity schedule) in August 2018.
Finally the Small Project of the Year went to Greener Grangetown, a £2.6 million project to retrofit sustainable drainage in Cardiff. Cardiff City Council used NEC3 ECC Option B (priced contract with bill of quantities) for an exemplar green infrastructure scheme.
Overall NEC-procured projects accounted for four of this year's 10 BCIA project awards. Those procured with JCT won three, a Scottish NPD procured scheme won two and a bespoke alliance contract won one.
Initiative awards
NEC-procured projects also did well in the BCIA initiative awards. Tideway's river transport strategy for the Thames Tideway tunnel project won the Environment and Sustainability category, while Costain Skanska's approach to improving diversity on High Speed Two enabling works won the Equality, Diversity and Inclusion award.
Atkins' reinforcement modelling on Hinkley Point C nuclear power station won the Digital Transformation in Buildings category; the Thames Estuary Asset Management 2100 project won the Health, Safety and Wellbeing award; and Robert Bird Group won the Temporary Works in Buildings prize for temporary works on the Bank Station Capacity Upgrade.