Following the NEC Users' Group Annual Seminar last month, NEC is reiterating the importance of planning for risk and change in order to avoid commercial pitfalls, which was highlighted within compelling keynote speeches during the event.
The 18th Annual Seminar took place at the prestigious One Great George Street venue in London last month and was attended by over 240 delegates. A programme of keynote speeches, interactive workshops and panel sessions took place, but the focal point of the day was the debate raised by two keynote speakers, who discussed the importance of avoiding commercial drawbacks by actively managing risks and opportunities.
In particular, Philip Joyce of the Orange Partnership discussed the common themes of incorrect contract management. These themes included complacency and different contractual interpretations, weaknesses in reporting, breakdown in commercial processes and fraud. Joyce's presentation provided guidance on the pitfalls to look out for and the importance of addressing problems early. Steven Williamson from Manchester City Council complemented Joyce's debate and commended the NEC philosophy of collaborative working.
Steven Williamson delivered a speech on the part the NEC3 suite played in transforming the Manchester Town Hall complex, to create an innovative and contemporary design, which has in turn changed the way the council's services are delivered to customers. Williamson commended the NEC3 suite for facilitating a smoothly run project that met time and budget expectations and ultimately 'opened up the "heart" of the building for customer service, creating a series of welcoming spaces'.
Rekha Thawrani, General Manager for NEC, comments: "This year's event has been a huge success and attracted high profile speakers including Lord Deighton, Richard Mould from HS2 and Mr Tsui Wai of the Drainage Services Department in Hong Kong."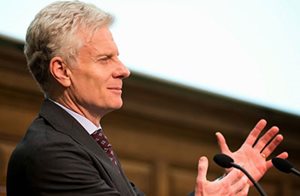 "We were pleased to welcome Mr Tsui Wai to the UK and to deliver his keynote speech. Following the announcement that the Hong Kong Government will use NEC3 contracts for all its projects put out for tender in 2015/16, Mr Wai discussed the continued adoption of NEC by the government and how it has been adapted for use in Hong Kong. It was also great to see Peter Hansford, Chief Construction Adviser in the audience throughout the day, reflecting the importance that the government place in NEC."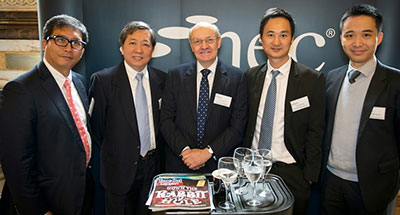 "The event provided great networking opportunities with its sponsors and exhibitors, which included the Met Office, Conject, 4Projects, Association for Project Management (APM) and BIFM. Throughout the day, delegates were able to share experiences and get their NEC3 questions answered informatively. Three interactive workshops on Soft Landings, Adjudication and Disallowed Cost, facilitated by an impressive 11 industry specialists from Government, legal, consultancy, engineering and architectural backgrounds, offered delegates exclusive NEC3 insights and knowledge-exchange. An interesting panel session also took place on Risk Management throughout the supply chain, chaired by Tiffany Kemp, Director of Devant Ltd."
Gary Newman, Assistant Procurement Category Manager for the South West and Wales Regional Procurement Team at the Ministry of Justice Procurement comments: "Another superb NEC event, conducted to the usual excellent standards in an enchanting venue that is a national institution. Despite only having one day, a broad range of critical matters were covered efficiently and at a depth that allowed significant insight and will doubtless spark further development. The calibre of the speakers and the quality of their presentations cemented a memorable day."
Rekha Thawrani, continues: "We're now looking ahead to the BIFM Think FM conference, which will see the launch of the new NEC for facilities management suite of contracts, which is a product of an NEC and BIFM partnership."
You can see photos from the events here.

Media contact
Fiona Lane,
Beattie Communications,
tel: 0113 213 0307,
email: fiona.lane@onlybeattie.com