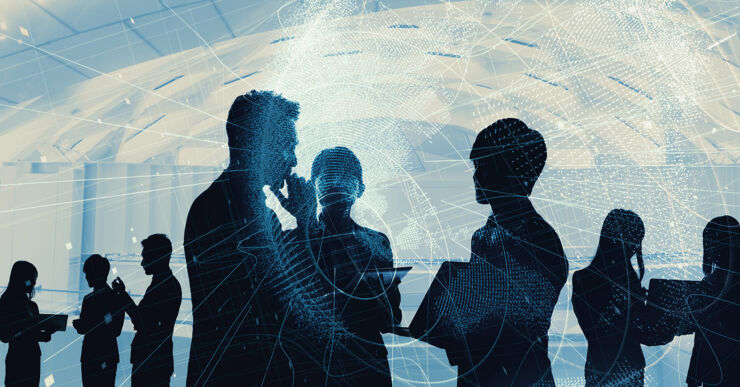 Due to Covid-19, this year's conference was delivered virtually, with the safety of our speakers and delegates taking priority. The theme of this year's conference was heavily influenced by Net Zero and what we are doing across the built environment to combat climate change.

21 June – morning session

Kicking off day one, Dr. David Hancock passed the baton to John Welch, Deputy Director, Construction, Crown Commercial Services, after 3 successful years as the NEC Users' Group Chair. Over the years, David has proven to be an invaluable asset to the Users' Group, and we would like to thank him for his outstanding contribution to NEC.

We welcomed Rachel Skinner, President of the Institution of Engineers. Rachel delivered a passionate, thought provoking presentation on the critical importance of moving to a more sustainable mindset within the construction sector and highlighted the existential threats we face to our environment, should we fail to adapt new processes and behaviours.

Rachel's goal for her presidency is to reach as many people as possible and deliver a simple message: "speed and behavioural changes matter". She expressed the importance of acknowledging the links of what we do to climate change, and to consider the hundreds of actions we can take as practitioners, even if that means starting small. Rachel finished her presentation with her question of the year: "What are you going to do?"

Following Rachel, The Rt Hon Anne-Marie Trevelyan MP, Minister for Business, Energy and Clean growth discussed the Prime Minister's Net Zero challenge: The role of CO2nstruct zero in meeting these challenges and the government's broader approach to delivering the green industrial revolution.

Bridget Rosewell, Commissioner, National Infrastructure Commission explored the roadmap to decarbonisation. She discussed the commission's annual monitoring review 2021, the road to net zero and environmental net gain.

Closing off a fantastic morning session, Matthew Browne, Deputy Director, Outsourcing Programme, Cabinet Office focussed on the element of collaboration, and how it continues to be so very important in the construction and engineering industry.

21 June – afternoon session

The first of our practical application workshops was hosted by consultants David Hunter and Patrick Waterhouse who took us through best practice in NEC contracts on delay damages. This session encouraged interaction from our attendees who had the opportunity to discuss their views, questions, and knowledge with other NEC users.

22 June – morning session

This morning session was an exciting glimpse into NEC across the sectors. Linda Hausmanis, CEO, Institute of Workplace and Facilities Management opened day two of the conference with 'Standardisation of FM contracts – what it means and where next?' Linda explored, in detail, the advantages of the new NEC4 FM contracts and the benefits of its implementation - "This could not have come at a better time as we build a better Britain".

Following Linda, Sean Kennelly, Palm Commercial Services Ltd and John Richardson, Head of Innovation, SGN & Chair Pipeline Industries Guild discussed the use of NEC4 within the Oil and Gas sector. Sean explained; "It's common for oil and gas contracts to be executed in their native versions. The NEC4 reduces the risk of translations errors." He continued to express the critical value of investment in training and contracts to avoid failure and disputes. Sean shared his belief that there needs to be a "change in mindset to see a change in results".

Closing off the morning session, Peter Alexander from AstraZeneca discussed the benefits of using NEC contracts for project delivery in the pharmaceutical industry. "We found our old process to be clunky, moving to a new system was more intuitive and allowed us to focus on the communication of the project". He continued; "NEC is flexible and implements a more precise working regime that you can easily tailor to your specific needs. I have found that setting the scope up early, will easily add value to your project".

22 June – afternoon session

Day two finished with a terrific, interactive session 'NEC4: Programming Workshop', delivered by Tim Willis and Manoj Bahl. The session focused on NEC4 programme and how to put together an effective programme to maximise its success on your NEC project.

23 June – morning session

On the final day of the conference the winners of the NEC awards 2021 were announced. Judges expressed their delight in the quality of the projects submitted and explained that choosing the winners was no easy feat! Congratulations to all involved and we will be announcing the winners to the wider public shortly.

Following the awards, Mr. S. H Lam - Permanent Secretary, Development Bureau, opened the Global Reach sessions. He discussed the challenges presented by Covid-19 and the new era of collaboration in Hong Kong.

Following Mr. S. H Lam, Ian Hastings, Head of Procurement Services, SKA Observatory Intergovernmental Organisation introduced NEC in Australia and South Africa: SKA Telescope case study. On the implementation of NEC into this project he expressed; "This framework helps to keep everyone aligned and ensures objectives are met" he continued, "one decision in one party can affect everyone else, so it is important to keep that element of relational contracting".

23 June – afternoon session

The final workshop of NEC Users' Group Annual Conference: NEC Adjudication: The role of DABs on international engineering projects - an introduction with Rob Horne Partner, Osborne Clarke, and Peter Higgins, NEC4 Board Chair. Rob and Peter discussed, DABs, the focus on NEC provisions and dispute Avoidance in Practice.

Rob advised attendees; "ensure your communication with the board is clear so a solution to the problem can be met sooner" and "If the board is doing its job and is functioning properly, once the board is in place, they gain trust and parties rely on them".


Peter summarised the session with the advice that "If you work together, you will avoid dispute".

We would like to thank all speakers and attendees for making this year's conference a success. All recordings will be uploaded to our YouTube channel in due course and slides from the presentations will be made available.