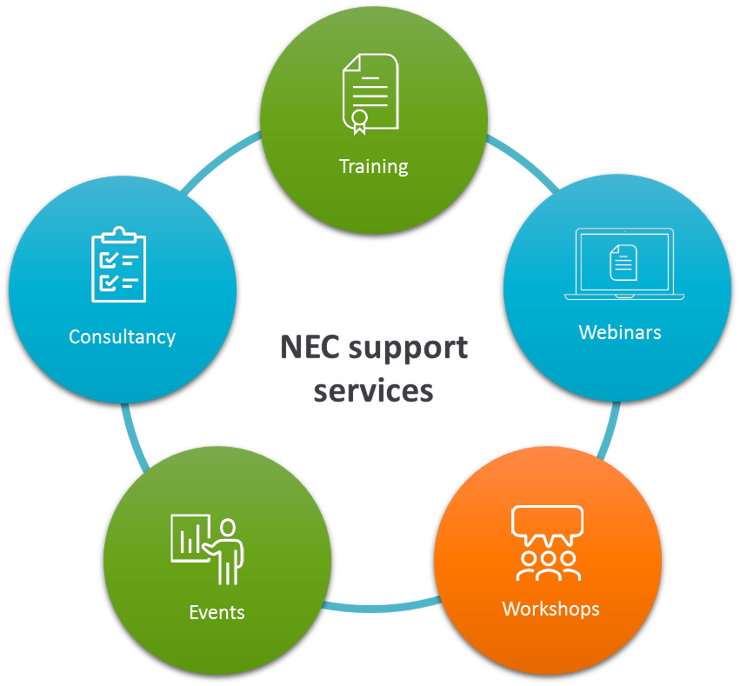 NEC support services


NEC4 will be launched following the NEC Users' Group Annual Seminar on 22nd June 2017.

NEC provides dedicated support to our users with a range of products of services, designed to support the best practice use of the contracts to facilitate the best project outcome.
Pre-order

The pre-order of hard-copies ahead of launch is available, guaranteeing the dispatch on the 22nd June 2017.

There's also a 10% discount for all pre-orders made until the launch – for that quote the promocode NEC4PRE on the checkout.

The pre-order is only available for paperbound contracts. ePrint and eView will be available for purchase online upon launch.

Find out the NEC4 suite of contracts and make your pre-order now.
Training courses

NEC will be announcing soon the NEC4 training courses. There will be elearning modules for NEC4 main contracts. There will also be "Introduction to NEC4" courses for new users and for those who just want to know what is new.

The new NEC4 classroom courses will be rolling from June 2017 onwards, with bookings opening shortly.

For the currently Accredited NEC3 professionals, there will be an upgrade course. This will allow them to receive their NEC4 accreditation without the need of doing the full accreditation course again.

NEC will also be introducing throughout the year the "NEC Learner's Journey". It will comprise 3 levels: Level 3 Certificate, Level 4 Diploma and Level 5 Accreditation. This is designed to encourage the continued learning and development and support the route towards becoming NEC4 accredited professionals.

Sign-up to NEC updates here to stay up-to-date.
Webinars, workshops and events

NEC has developed an agenda of webinars to support the understanding and transition to NEC4. There will be eight NEC4 related webinars throughout 2017. Click here to find out the next session.

Following the biggest NEC event ever, the NEC Users' Group Annual Seminar 2017, NEC will be announcing the conferences in Asia-Pacific and Australasia. The autumn series of NEC workshops will also be focused on NEC4. Click here to find out the upcoming events.
Consultancy

NEC has a range of consultancy services to users and project management teams. Our experts are able to provide guidance, advice and assistance on NEC3 and NEC4 contracts, to achieve the best project outcome. Click here for more information.