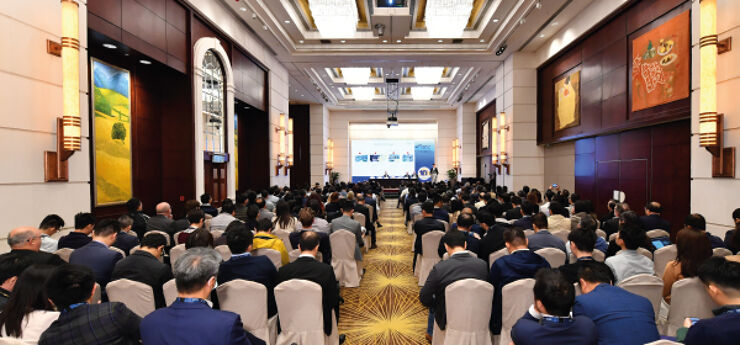 More than 280 delegates attended the NEC Asia Pacific Users' Group Conference held at the Cordis Hotel in Mong Kok, Hong Kong on 29 November 2019. The one-day event marked 10 years of NEC procurement in Hong Kong, where over HK$70 billion (£7 billion) of projects have been successfully delivered using NEC contracts since 2009.
The conference was opened by Lam Sai-hung, NEC Asia Pacific Users' Group chair and permanent secretary (works) at the Hong Kong Development Bureau. Dr David Hancock, NEC Users' Group chair and constuction director for the UK government's Infrastructure and Projects Authority, gave the keynote presentation.
Other speakers included Highways Department director Jimmy Chan, University of Hong Kong assistant professor Dr Isabelle Chan, Airport Authority deputy construction director Darrel Kingan, China State Construction deputy general manager Victor Wu, Mace operations director Frank Randles, China Road and Bridge Corporation−Build King joint venture managing director Kan Jun, Holman Fenwick and Willan partner Ben Mellors and NEC4 Contract Board member Ian Heaphy.
Afternoon practical workshops were followed by a 'meet the drafters' panel session. Sponsors included Cemar, the Hong Kong Institute of Construction Adjudicators, Build.IT, Projection Group, The Contracts Group, Pinsent Masons, Turner & Townsend and Mace.
ECI and subcontracting workshop
Two months earlier the NEC Asia Pacific Users' Group also held a one-day workshop on early contractor involvement (ECI) and subcontracting when using NEC4 ECC. The well-attended event at Pinsent Masons' offices was led by NEC Users' Group secretary Robert Gerrard. He described the practical application of ECI clause X22 and subcontrating clause 26. I then led a discussion on NEC Z clauses used by government departments and Pinsent Mason partner Peter Clayton gave a legal perspective on current issues.