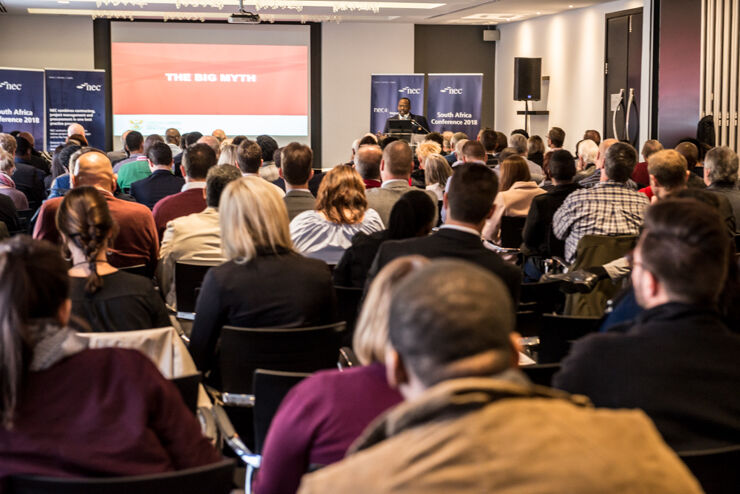 Over 180 delegates attended the NEC South Africa conference in May. The successful one-day event at the Protea Hotel Fire & Ice in Johannesburg included an announcement of a new regional NEC users' group.

Delegates included representatives from many of the country's leading construction clients including National Treasury, Eskom, Sasol, Transnet and the universities of Western Cape, Wits and Mpumalanga, all of which are NEC users.

Also in attendance were African Development Bank and Development Bank of South Africa; numerous law firms, professional services providers and consulting engineers; and sponsors Pinsent Masons, Cemar, Contract Communicator, Sivest, Pangea Professional Services and ECS Consulting.
Public-private partnerships

The keynote address was delivered by Pule Setai, chief director of provincial and local government at the National Treasury of South Africa. He highlighted the role of NEC in procuring public–private partnerships to deliver South Africa's fundamental infrastructure needs.

Other speakers included Abdullah Gamieldien and JP Meintjes of Sasol, Aubrey Baloyi of Aurecon, Ron Watermeyer of Infrastructure Options, Richard Patterson of Mott MacDonald, Peter Higgins of the NEC4 Contract Board and Rob Morson of Pinsent Masons.

The event was chaired by Trevor Govender of Pangea Professional Services, who will become chairman of the new NEC South Africa Users' Group when it is launched later in 2018.
Collaborative framework

Commenting on the event Trevor Govender says, 'The huge interest shown at the conference reflects the upsurge in interest following publication of NEC4. NEC has been used for 25 years in South Africa and is widely seen as a collaborative contracting framework ideally suited to deliver housing, energy and transportation projects.

'The case studies presented at the conference by Sasol and Wits University provided a clear demonstration of the effective application of NEC for managing complex, high value and schedule-constrained projects.

'The conference confirmed there is a clear scope for further application of NEC in South Africa and also an imminent need for in-country NEC support. I am therefore delighted to be setting up the new NEC South Africa Users' Group and look forward to working with a growing number of NEC3 and NEC4 users in the region.'

Govender has extensive experience of using NEC in South Africa, having worked for 18 years in supply chain sourcing with international energy and chemical group Sasol before setting up his own consultancy in 2015.