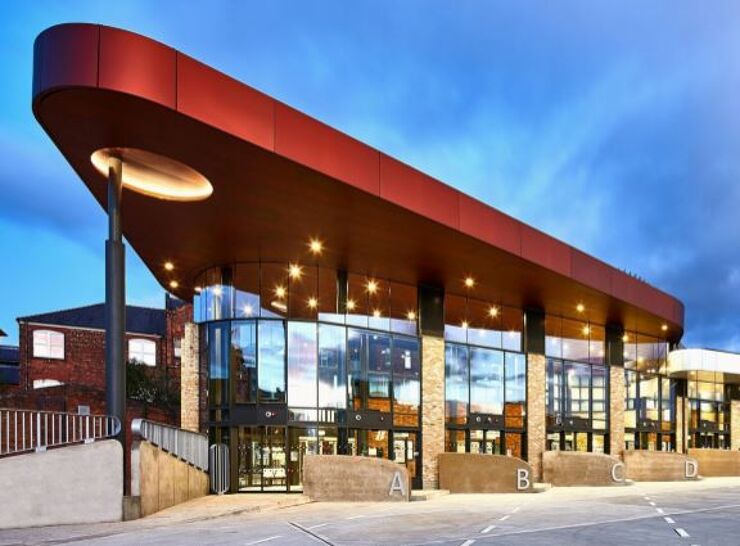 NEC contracts have been used to deliver a new state-of-the-art bus station serving over 100,000 people in the town of Wigan in Greater Manchester, northwest England. The work was completed on budget and two months early in September 2018.

Client Transport for Greater Manchester (TfGM) let the £8 million main contract to Vinci under an NEC3 Engineering and Construction Contract (ECC) Option A (priced contract with activity schedule) in July 2017. Atkins was the project manager and supervisor.

The work involved building a new more efficient, safe and attractive bus station on the site of the existing 1987 bus station at New Market Street in the town centre. Designed by Austin-Smith: Lord and Mott MacDonald, the new station can accommodate 152 bus movements an hour and offers enhanced levels of passenger convenience, comfort and safety. It is a key part of the regeneration of Wigan town centre.

The new brick- and glass-clad, steel-frame structure provides a fully accessible covered passenger concourse with waiting areas, information points and seating. The striking concourse roof is clad underneath in anodized aluminium sheeting and features two large ethylene tetrafluoroethylene rooflights. The station also includes a new travel shop, coffee shop, newsagent, accessible toilets and cycle parking. Prior to the main contract starting, a temporary travel shop, ticket and passenger information facilities and staff accommodation were built in an existing nearby building under a three-month NEC3 Engineering and Construction Short Contract (ECSC).

Cost certainty

TfGM senior project manager James Nairn says the project was funded by the UK Department for Transport's Growth Deal Programme with a strict £15.7 million budget. 'It was essential that the project was delivered with the stated benefits while remaining on budget, which required a strong emphasis on cost certainty to ensure it remained viable.'

He says detailed cost estimates were undertaken at each stage of the design development and, where required, value engineering was undertaken to ensure affordability.

'Following a "lessons learnt" exercise from previous TfGM projects and programmes, we chose a single-stage design and construct arrangement using NEC3 ECC Option A as this enabled accurate cost and schedule forecasts to be attained at the procurement stage. By understanding the contract conditions and completing a robust quantitative schedule and cost-risk analysis, we ascertained the P80 cost and schedule data to ensure viability could be achieved.'

Collaborative ethos

Nairn says the use of NEC for both design and construction enabled a collaborative working ethos to be developed during the advanced design development stage and then continue through to construction. 'The client, design and construction teams worked positively to overcome any issues throughout the project. The NEC requirement to act "in a spirit of mutual trust and co-operation" was also facilitated by all members being in shared accommodation on-site.'

He says NEC fostered improved communication and relationships, enabling decisions to be taken quickly. 'The team worked transparently, implementing NEC early warnings and holding regular risk reduction meetings. Monthly progress meetings were also held to review health and safety and keep us on top of design issues, compensation events and programme.

'Overall, NEC facilitated a strong collaborative working environment and helped to ensure the success of this high-profile project, which was completed on budget and opened ahead of the publicly committed date.'

Benefits of using NEC
ECC Option A provided maximum cost certainty by enabling robust cost and programme forecasts to be achieved at the design stage.
A single NEC design and construction contract enabled a collaborative ethos to be developed during the latter contractor design stage which then continued through the construction stage.
NEC early warnings, risk reduction meetings and monthly progress meetings ensured the project was completed early and on budget.