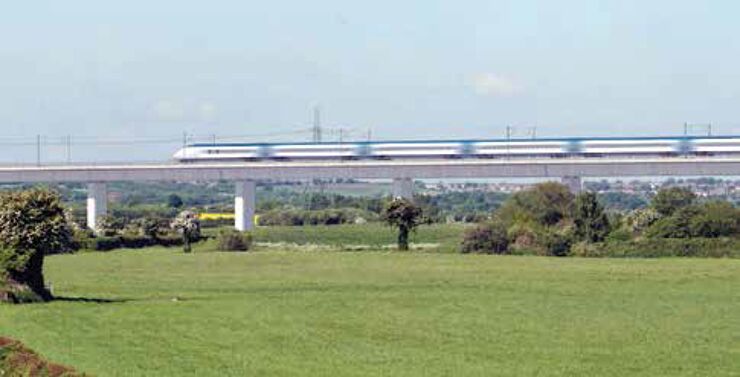 The UK government has opened the bidding process for £11.8 billion of NEC contracts for phase one of the High Speed Two (HS2) rail project. All contracts will be let under the NEC3 Engineering and Construction Contract option C (target
contract with activity schedule).
Chancellor George Osborne launched the seven main civils packages for the 230 km London-to Birmingham section during a visit to China in September. He also announced an HS2 'partnering day' to encourage the creation of Anglo-Chinese
bid teams.
HS2 forms a major part of the government's plan to build a 'northern powerhouse' by providing 360 km/h rail services between London, Birmingham, Manchester and Leeds. Construction of the London-to-Birmingham section is due to
start in 2017 and, when opened in 2026, will cut the travel time between the two cities from 81 minutes to 49 minutes.
HS2 Ltd chief executive Simon Kirby said, 'The start of the civil engineering bidding process is a major milestone for HS2 as we continue to move towards the start of construction in 2017. Over the next decade, the winners of these contracts will go on to build 230 km of bridges, tunnels and earthworks and create thousands of jobs across the construction industry.'
Tendering process
Contractors will be allowed to submit prequalification questionnaires for all seven civils packages and, if successful, will be invited to bid for a maximum of four packages. There will be a maximum award of two packages per tenderer. The seven contracts are split over three
geographical areas − north, central and south − along the London to Birmingham route, as follows:
South − Euston tunnels and approaches (£0.9 billion); and Northolt tunnels (£1.4 billion).
Central − Chiltern tunnel and Colne Valley viaduct (£1.3 billion); North portal Chiltern tunnels to Brackley (£1.3 billion); and Brac to south portal of Long Itchington Wood Green tunnel (£0.9 billion).
North − Long Itchington Wood Green tunnel to Delta junction and Birmingham spur (£1.5 billion); and Delta junction to West Coast main line tie in (£1.3 billion).
Framework contract
Winning contractors will also enter a framework agreement in which additional contracts worth up to £3.25 billion will be let for the route 80 km north of Birmingham, subject to ministerial decisions later in the year.
The civil works represent the first tranche of tier one NEC contracts and cover the phase one surface route, tunnels and structures. The second tranche will include the stations and the third tranche will comprise railway systems. These will be launched in 2016 and 2017 respectively.
Construction work on phase one will start following royal assent of the phase one hybrid bill, which is currently being considered by Parliament.