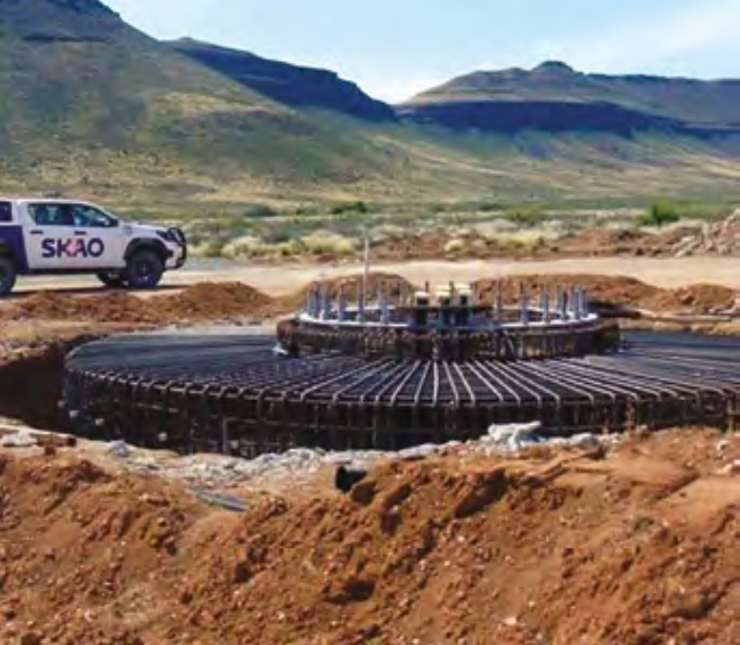 Work has now started in Australia and South Africa on the €2 billion (£1.7 billion) NEC-procured Square Kilometre Array Observatory (SKAO). Due to start operating in 2029, its two arrays of antennas will together form the world's largest radio telescope observatory.

At start-of-construction ceremonies held at both work sites in December 2022, a further €210 million NEC contracts were announced, bringing the total let since July 2021 to nearly €500 million. The latest contracts include two €61 million NEC4 Engineering and Construction Contracts (ECC) Option E (cost reimbursable) to Ventia for power networks, fibre networks and central and remote processing facilities at the Murchison site in Western Australia.

A €52 million NEC4 ECC Option A (priced contract with activity schedule) was also let to Power Adenco for power networks, fibre networks, gravel access roads and over 130 mid-frequency dish foundations at the Northern Cape province site in South Africa.
Low-frequency antennas
Other awards include a €36 million NEC4 Supply Contract (SC) to Sirio Antenne in Italy for low frequency antennas. Over 130,000 of these tree-shaped devices will eventually be installed at 512 stations in Australia.

As well as ECC and SC, recent awards have been made using the NEC4 Framework Contract (FC), NEC4 Professional Service Contract (PSC) and various NEC4 short-forms. Contractors to date include large and small companies, universities and national research bodies in Australia, India, Italy, the Netherlands, South Africa, Switzerland and the UK.

SKAO head of procurement Ian Hastings says NEC4 was chosen as it aligned with SKAO's culture and values, which include a strong focus on collaboration. "The NEC4 suite lends itself extremely well to an international mega-science project, providing grounded flexible contracting solutions based on commercial fairness and a process-driven approach. They are also already being used in South Africa and Australia."
NEC training
In March 2023, NEC provided training to eight members of the SKAO project team in Australia. NEC Users' Group secretary Robert Gerrard and New Zealand NEC consultant Marc Palmer ran a four-day face-to-face NEC4 ECC Project Manager Accreditation course at SKAO infrastructure partner Aurecon's offices in Perth.

Aurecon has worked on the project for many years through Australia's national science agency CSIRO, owner of the Murchison site, and the firm is now engaged by SKAO under an NEC4 PSC. Aurecon's former South African business, now called Zutari, is providing a similar project management and design role for SKAO at the South African site, also under NEC4 PSC.