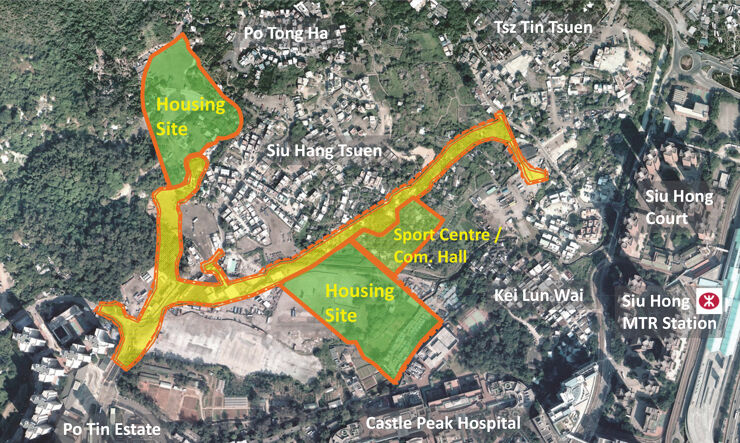 Area 54 in Tuen Mun is a major Hong Kong government project to provide building land and infrastructure to meet long-term housing demand. The final HK$428 million (£45 million) phase is being procured using NEC.

In 2011 Hong Kong's Civil Engineering and Development Department started a HK$2.2 billion (£225 million) project to provide the site formation, roads and infrastructure for around 15 ha of public housing and community facilities in Tuen Mun, one of the New Territories' largest residential areas.

Following the government's subsequent decision to adopt NEC contracts for public-sector projects from 2015, the Civil Engineering and Development Department opted to trial the NEC3 Engineering and Construction Contract (ECC) Option C (target contract with activity schedule) for the final phase of the Area 54 project.

The final phase includes the site formation and landscaping of 7.4 ha of land for public housing, a community hall, a sports centre and a public transport interchange. It also includes construction of new local distributor roads, noise barriers, footpaths, cycle tracks, retaining walls, drainage, sewerage, water mains and other ancillary works.

The contract was awarded to a joint venture of Hsin Chong Construction and Tsun Yip Waterworks Construction. Work started on site in November 2015 and is due for completion in May 2019.
Familiarising The Project Team
A consultant was engaged at the outset of the final phase to provide professional contract administration services, to support the in-house project manager and to help familiarise the project team with NEC concepts and procedures.
During the course of works, the consultant has provided advice and assistance regarding various aspects of ECC Option C implementation, including programming, early warnings, risk reduction, compensation events, subcontracting and financial matters.
In addition, a series of NEC training workshops on topics such as partnering and collaboration, reviews, contract administration and cost auditing have been held with the contracting parties to facilitate familiarisation with NEC.
From the start of the contract the employer collaborated with the contractor to establish a fair and efficient payment mechanism and to understand jointly how the ECC Option C process of open-book to accounting would work in practice.
As the works have progressed, the project team has gained further familiarity with NEC early warning procedures and quick assessment of compensation events, as well as experienced the benefits of mutual trust and collaborative working.
Risk Reduction Meetings
The employer and contractor have embraced the NEC spirit of mutual trust and co-operation to tackle day-to-day site issues that could affect price and completion of this fast-track site formation project.
The contractor's early warnings and subsequent risk reduction meetings have addressed various issues that could have delayed completion of the project. For example, as soon as it became apparent that utility diversion works within the site areas were progressing more slowly than expected, measures were formulated to minimise the foreseeable risks.
Another example of how NEC worked in practice was when the contractor submitted an early warning to express its concern about the potential conflict of a proposed storm drain with existing utilities. Through a joint effort of the project team, measures were developed and implemented – including trial trenches and a review of construction methods – enabling the drain alignment to be adjusted with minimum impact on the completion date.
Overall NEC has fostered a cooperative relationship between the contracting parties on Area 54. This has resulted in any potential impact to the price or completion date being identified and addressed at an early stage, which is crucial for successful project management and delivery.

Benefits of Using NEC
The NEC early warning process enables risk mitigation to keep the project on track
NEC fosters collaboration between the employer and contractor to minimise the potential impact of risks on price and completion date
The NEC pain/gain share mechanism introduces an incentive for the contractor to reduce the actual cost, leading to a gain situation for the project