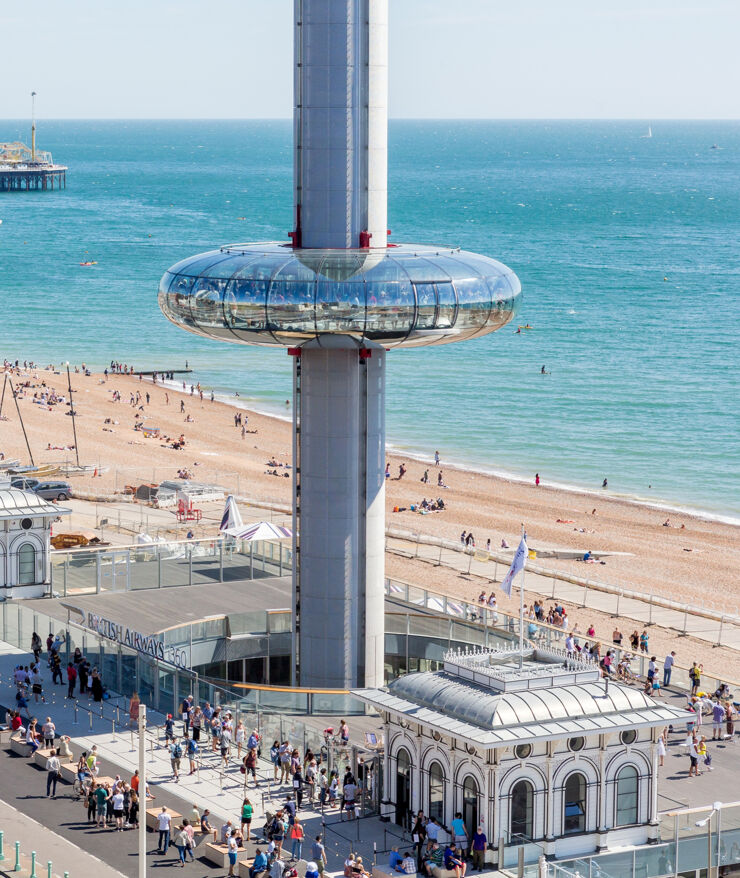 This case study is part of the Spotlight Campaign for Building. To read more on how NEC Contract suite has been utilised in the Building Spotlight, please click here.
Prince Phillip, the Duke of Edinburgh, officially opened the £49 million NEC-procured British Airways i360 tourist attraction in Brighton, UK in October 2016. The 162m tall structure is among the most slender towers ever built. 'Flights' on the 18m diameter glass observation pod carry up to 175 passengers up and down the 3.9m diameter steel tower every half hour.
Designed by the architects behind the London Eye, Marks Barfield Architects, the unique project was delivered for Brighton i360 Limited by a Dutch, French and British construction team in just 24 months using an NEC3 Engineering and Construction Contract (ECC) Option A (priced contract with activity schedule). The main contractor was Hollandia Infra of the Netherlands, the pod and drive system subcontractor was Poma of France and the civil engineering and site works subcontractor was local firm J T Mackley.
Construction of the 4150t foundation required a temporary retaining wall of 2000 interlocking concrete piles 10–20m long, after which a 3m deep, 24m square reinforced concrete base was cast directly onto the Chalk bedrock. The 900t tower was then bolted together from 17 steel cylinders 4.5–12m long and 20–85mm thick. These were manufactured in the Netherlands, delivered via ship directly to the shore and then jacked into position and clad with aluminium. The 100t fully-serviced steel and glass pod was manufactured, test assembled and checked in France before being delivered in 60 sections for final assembly, along with the basement drive system and counterweight.
Construction started on site in July 2014 and was completed in August 2016. The new attraction carried more than 100,000 passengers in its first month and has since gone on to win 20 awards for innovation, design, and the quality of the visitor experience.
Single Contract Solution
According to project manager John Roberts of Jacobs, 'The i360 contract needed to be familiar and understandable to our pre-selected Dutch and French contractors. They both knew of NEC contracts and found them to be neutral and easy to understand.
'We also needed a contract that was sufficiently adaptable to deal with a complex arrangement of design responsibilities. In particular, Poma had full design, manufacturing, assembly and testing responsibilities for the pod. This could be easily described in the works information of the ECC Option A contract that was ultimately adopted.'
He goes further to add other complexities ECC accommodated included: having a large part of the works procured in euros but paid for in pounds; having a Dutch contractor where UK VAT needed to apply to contract pricing; having to re-define completion to include the issue of a specific 'passenger-carrying device' certificate; and having a pre-agreed definition of wind speeds applying to erection of the 162 m tower. Despite the many unusual conditions, very few Z clauses were needed to incorporate these points.
Control and Responsibility
Overall Roberts says NEC worked very well on what was a complex and highly innovative project. 'NEC provided a basis for control and responsibility for all parties, removing grey areas of aspects like responsibility and ownership when works had the potential to overlap from the three contractors. In addition, the NEC discipline of valuing the works monthly and dealing with changes as they occurred rather than storing them up for a large claim on the final account was a major benefit that was largely achieved in practice.
'The NEC processes of requests for changes and issuing quotations and acceptances also worked well. The contract defined when changes or quotations were to be issued, to whom and by when a response was required, allowing for the tracking of change by all parties. The monthly valuations were also carried out to the principles and timescales the contract dictated, again allowing for a regular schedule of expected applications, assessments and payments.
'Early warnings were a very useful tool here, being issued both by the contractors and subcontractors to highlight site or factory-based issues, and by the design team to give advance warnings about the upcoming building designs which had not been initially priced.
'In conclusion, NEC provided a sound basis for this project's contractual needs.'
Benefits of Using NEC
NEC contracts are easily understandable by non-English-speaking contractors.
ECC is sufficiently flexible able to deal with complex design, manufacturing, assembly and testing responsibilities within a single contract.
ECC is able to accommodate works being procured and paid for in different currencies with different VAT regimes.
The NEC discipline of monthly valuations and change management ensures there are no large claims at the end of the contract.
ECC provides clarity on responsibility and ownership of overlapping areas of work.
NEC early warning process ensures all design, manufacturing and construction issues are highlighted well in advance.